MKV stands for Matroska Video Stream. It was announced December of 2002 and from then on quickly became one of the most popular video file formats. MKV is comparable to AVI and other multimedia formats. It can support variety of files such as audio/video streams and subtitles all in one single file. With its convenient and easy approach over combining different file types, MKV rapidly becomes a favorite video format.
MKV is commonly used for full length movies, large video clips, web video streams, uploaded TV series, streaming videos and all others. However beyond its efficient handling of media files, not all multimedia players can play MKV files. It is such a disappointment that after you have downloaded your most wanted video clip, opening it on your default player software that comes with your system will only yield an error message saying "this file is not supported and cannot be played". Luckily, you don't need to be a computer geek just to decode MKV files. All you need is the right tool and together with easy-to-follow MKV converting instructions, you can play that clip in no time.
Methods to Decode/Convert MKV Files
Way 1: Apowersoft Free Online Video Converter
When it comes to free MKV decoder, the Apowersoft Free Online Video Converter offers a substantial amount of features. Aside from being free, this program is an online based app that needs not to be installed on your computer. It supports popular multimedia files such as MKV, MOV, MP4, WMV, SWF, FLV, 3GP, and WEBM while MP3, WMA, AAC, OGG, and RA audio formats are likewise supported.
Comparing to other MKV decoding tools, what makes this tool a clear cut amongst the rest is its output setting modification feature. Depending on your needs, you can modify the video resolution, bitrate, frame rate, channels, sample rate and file format. Moreover, this online program doesn't have time or file size limitation.
Visit the Apowersoft Free Online Video Converter page.
Upload the MKV video you want to decode by clicking the "Browse" button.
A java notification pop-up will appear and make sure to hit "Allow".
After the video has been uploaded, adjust settings accordingly.
Click "Convert" button below and wait until decoding process completes.

Way 2: MKV Codec – Free MKV Player
For those who don't want to bother themselves to convert MKV files, you can instead using free MKV players. You could find a tool which specially contributes to playing MKV format. These players have built-in decoders so it's readily to use and you don't need to look for extra decoder from web. There are tons of free MKV players downloadable online, though not all of them are guaranteed to be safe from malwares and viruses.
One completely free and adware clean player is the "Free MKV Player". This software is lightweight and guaranteed to be safe from viruses. The Free MKV Player offers two types of MKV codecs. First is the CCCP or the Combined Community Codec Pack that can be used to specifically play MKV files while the other one is called Matroska Pack Full which allows playback of modern video formats including MKV files.
Bear in mind that this software does not decode MKV files, instead it uses a special codec to support file playback. After installation you can use your Windows Media Player or Classic Player to play MKV files. The only drawback of using MKV Codec is that installing full packages can take up a huge space on your hard drive.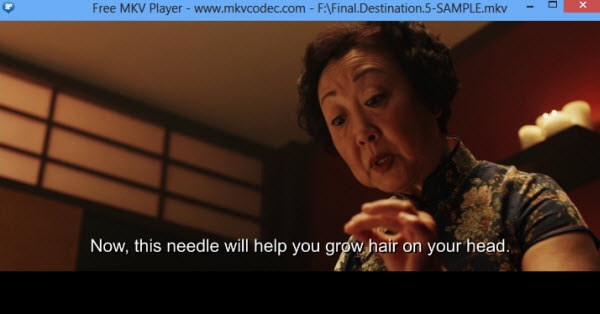 Way 3: Apowersoft Video Converter
Sure that there are tons of MKV video decoders out there but only a few can offer complete and amazing features. With the Apowersoft Video Converter, you're likely to have a professional MKV converter tool right inside your PC. This program can convert MKV files to almost all video as well as audio formats, allowing direct conversion of MKV files to different digital devices. It also comes with basic video editing function, supports batch conversion of MKV files, merges various files into one, and imports or exports subtitles directly into the video.
This program is simple to use. In fact, it doesn't require technical knowledge or in-depth perspective about decoding. Check out these steps:
Download and install the shareware on your PC.
Open the program and on the main menu click the "Add" button above.
Browse your file and upload the video you want to decode.
Scroll down the bottom and select the appropriate video format.
You could also edit the video if necessary.
Click "Convert" button and wait until process completes.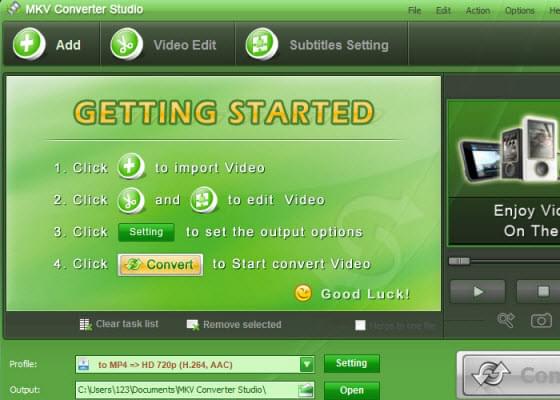 There are many ways to play MKV files. You could use free MKV players with built-in codecs, free online video decoders or comprehensive MKV decoder programs for a more efficient and complete converting of files. Depending on your needs, don't let incompatibility issues like this to hinder you from enjoying interesting video files online. After all, there are sure fire ways to play and decode MKVs without breaking the bank.