| Features | Apowersoft Background Eraser | Adobe Photoshop Mix | Online Background Eraser | Photo Scissors |
| --- | --- | --- | --- | --- |
| Automatically cutout background | | | | |
| Precise cutout | | | | |
| Multiple tools to cutout background | | | | |
| User-friendly interface | | | | |
4 Tools to Cut Out Photo Background
Apowersoft Background Eraser
User's rating: 5.0
System requirements: Requires iOS 9.0 or later and Android 4.1 and up
File size: 54.5 MB
Apowersoft Background Eraser is an easy yet powerful app for both Android and iOS users that can automatically and accurately cut out photo background without affecting the foreground. This automatic background eraser will quickly process your file within just a few seconds. What is more wonderful about this app is it allows you to remove and keep tools to let users manually edit the details. Most photo formats are supported by this app.
Here are the steps that you can follow to successfully remove unwanted photo backgrounds.
Go to App Store Google Play Store to download and install the app on your mobile phone.
From its interface, tap "BG Remover" on the screen and select the photo that you want to edit on the app.
Then another window will open, just tap the "Remove Background" button, then it will automatically remove the background.
Finally, tap the "Save" button at the upper right corner to save your photo on your phone.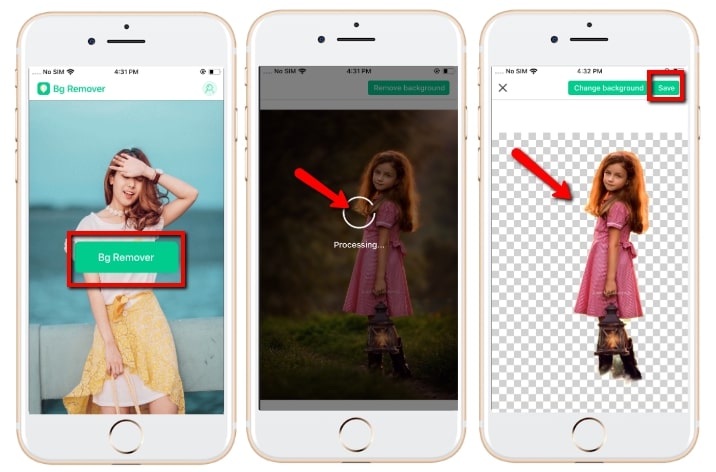 Adobe Photoshop Mix
User's rating: 4.6
System requirements: Requires Android 5.0 and up & iOS 10.0 or later.
File size: 220.6 MB
Another app that can cut the background out of a picture is Adobe Photoshop Mix. People know that Adobe Photoshop is really an amazing tool for photo editing. Its Android and iOS app version also have the powerful ability to remove background from photo, but like all programs from this family, it's a little bit difficult for beginners to use. You have to manually erase the background of your photo by using its different methods like with the eraser tool, feather tool, auto tool and more in cutting out the background. If you want a professional cut out picture app, this is the best one for you.
For your guide, below are the steps that you need to follow.
Have it installed on your mobile phone from the App Store or the Google Play Store.
Open the app, tap the plus sign icon and choose "Device".
Import the photo that you need, and choose the "Cut Out" scissors icon to select from among the methods that you will use to erase the background.
Once done, hit the checkmark at the lower right of the screen to save the photo in your device.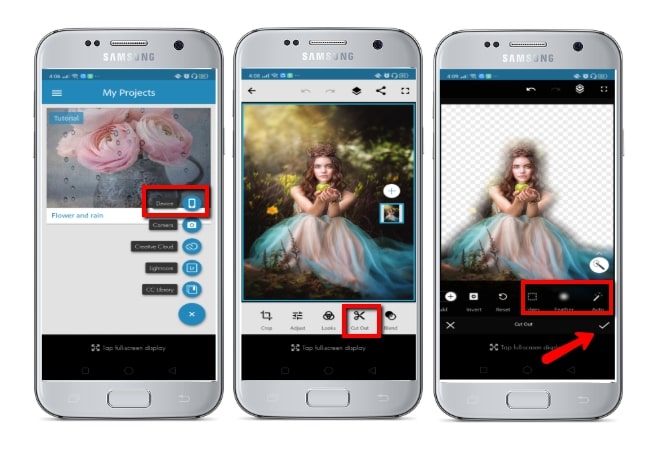 Online Background Eraser
User's rating: 4.7
System requirements: Online
File size: —
Online Background Eraser is a completely free web-based tool that can help you to cut out images online without downloading or installing anything. It is a professional online tool that can easily and precisely cut out the foreground from its background. You don't need to have skills in photo editing, because all you need to do is upload your photos and it will process your image automatically. Currently, this website only works if the subject is a person. However, it is said in the near future, it will support all kinds of subjects and objects.
To use this online tool just follow the steps below
Open the website on Google.
Click "Upload Image" and get the photo from your computer.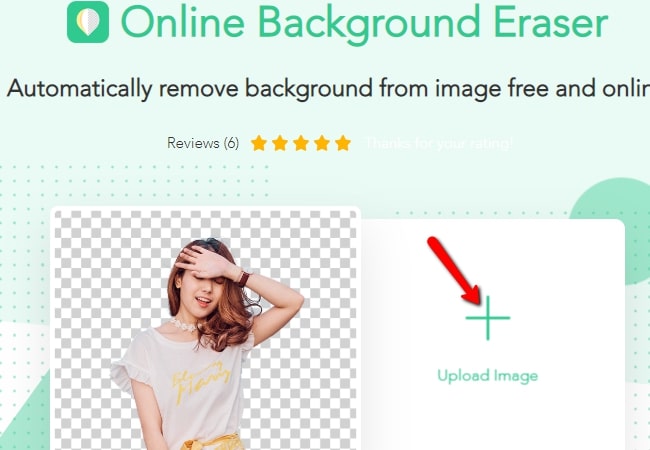 Next, the photo that you upload will automatically be processed without watermark.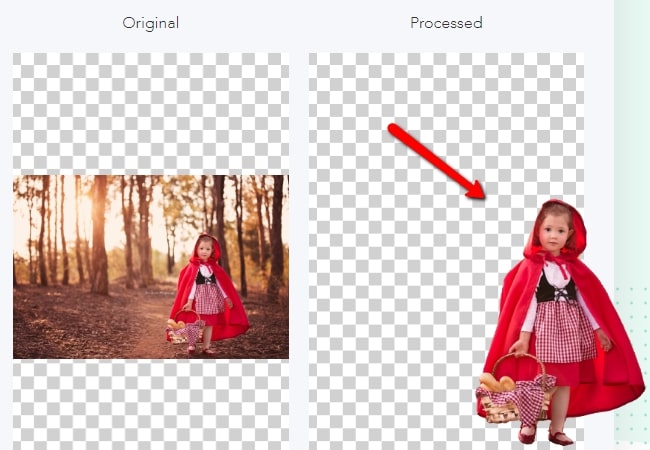 Lastly, you just need to hit "Download" to save your file on your PC.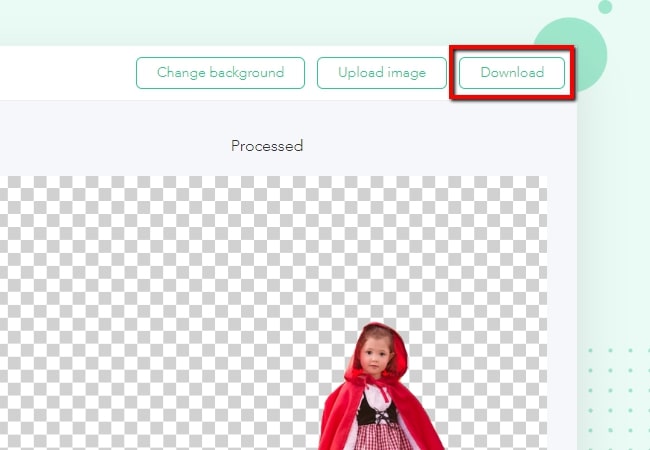 Photo Scissors
User's rating: 4.5
System requirements: Windows, Mac
File size: 68. 1 MB
If you are looking for a desktop program to cut out photo background, you can use this tool called "Photo Scissors" on your computer. This software offers new ways of deleting backgrounds from photos. You just mark the area that you want to erase in red and green for the areas you want to preserve. Then it will recognize the areas and process them for you quickly.
Run the tool, under "File", click "Open Image" and get the image file you will use.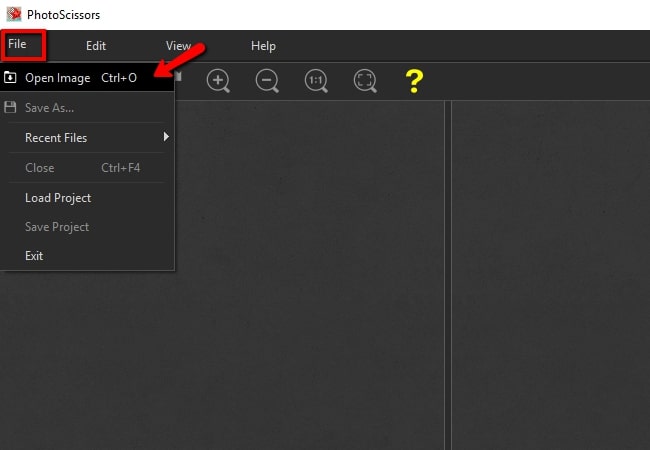 Click the green plus icon and red minus icon to select the area you want to keep and delete.
Wait for the image to be processed, then after that hit the save button on the upper left of the screen to save the process image on your computer.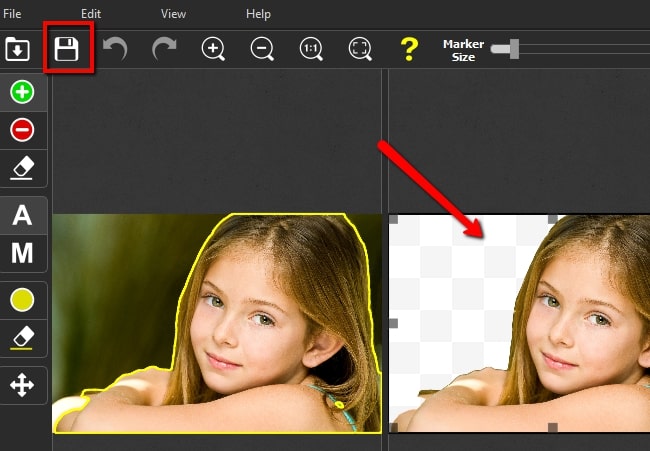 Conclusion
Those are the tools that you can rely on to cut the background out of a picture. You just need to choose which one suits you the best. Share with us in the comment section below which one you are using. We'll consider adding them into this article if it really helps a lot.