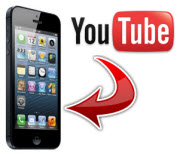 YouTube is a website that allows you to share any videos online. Everyone can share any video content such as movie clips, music videos, informational and educational videos and everything under the sun. Some international stars such as Justin Bieber were actually discovered because of their posted videos in YouTube. As for that, many people prefer to searching videos on YouTube. When surfing Internet videos out of interest, you may have the thoughts of downloading them to PC for watching without the interference of buffers. Here I recommend you to use the Free YouTube downloader to get videos in quick ways.
Free YouTube downloader on Mac and Windows
It is a web based tool which enables you to download videos without the concern of installing any other software in your computer. It has user friendly applications that anyone can easily learn and apply. Here's how you can download YouTube videos for free with this tool:
Step 1: Copy the desired video's url which you searched on YouTube.
Step 2: Paste the link into the download box.
Step 3: Click "Download".
If you already have the YouTube videos in your local drive or can manage to download it via other ways, please go straight to the next part to learn how to free convert YouTube to iPhone.
Two best methods to convert YouTube to iPhone
With the tendency of surfing Internet and even streaming videos at anywhere without limitations, it has been a lot of fun for watching videos on iPhone. But due to the unstable performance of WiFi which is restricted to places and high cost of 3G internet, you may wonder a more smooth way to watch videos on mobiles. Therefore, it's best to convert downloaded YouTube videos to iPhone.
It is one of the best YouTube converters to convert YouTube videos to iPhone online. The application is an impressive converter solution which helps you to convert videos to any compatible video or audio formats.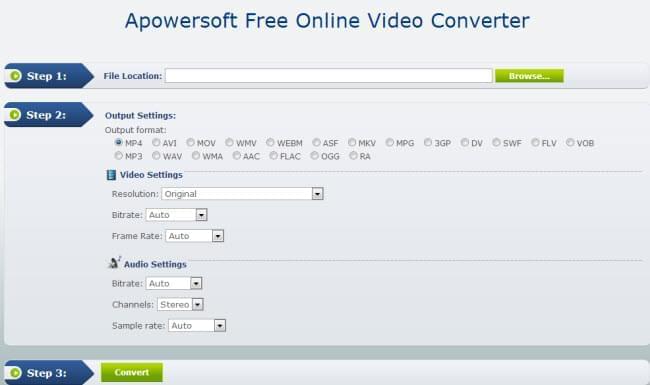 Here are the top reasons on why this online tool is highly recommended for you:
You can convert unlimited videos as you like for free. No need to worry for any additional charges.
It supports different iPhone models. It is compatible to any media format of mobile devices.
There is no fuss as to speed! You can convert shorter sized videos at an extremely fast speed. For longer videos, it may take some time but speed is definitely guaranteed.
It supports Windows OS and Mac OS.
You can customize the quality of your videos or audios with its additional feature to adjust resolution, rate and bitrate.
It has super user friendly control buttons. Anyone can easily operate it without hassle.
It has the capacity to convert videos without distorting the videos resolution. It has a wide reach ranging from 144P to 1080P.
The application is handy, convenient and accessible, and there is no need to download additional applications that may slow down your computer.
If you are looking for a free iPhone video converter, then Apowersoft free online video converter is just for you.
Freeware to convert YouTube videos
Free video to iPhone converter is also a good YouTube converter for iPhone 4 or any other iPhone model you are using. The functions include dragging and dropping the videos into the main interface for uploading, as well as customizing its encoding parameters. However, the program also has its shortcomings. Comparing to Apowersoft converter, it would take much time to convert a same video. Besides that, it runs with many plug-ins which might be inconvenient for some users.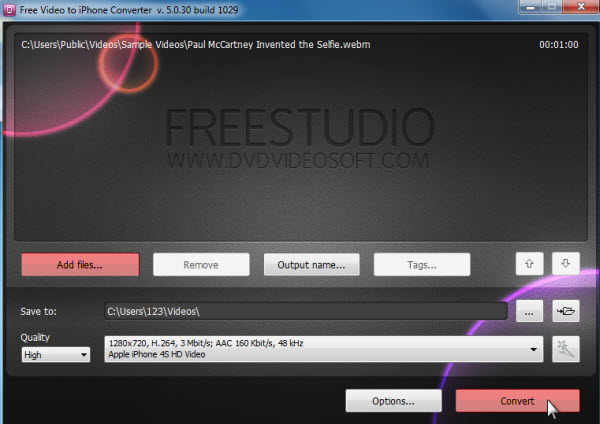 You can follow three steps below to convert videos to iPhone:
Step 1: Click "Add files" to upload your YouTube video.
Step 2: Adjust the video and output settings.
Step 3:Click "Convert".
The shareware to convert YouTube to iPhone 5s
Apowersoft video converter studio is the application you are looking for! If you are searching for the best tools to convert YouTube videos to iPhone 5s then this is meant for you. The tool works conveniently and you can enjoy your videos anytime anywhere.
You can convert YouTube video to iPhone for Mac or convert all types of video and audio formats. You can edit your video and it has an amazing import external subtitle with its built-in subtitle editor.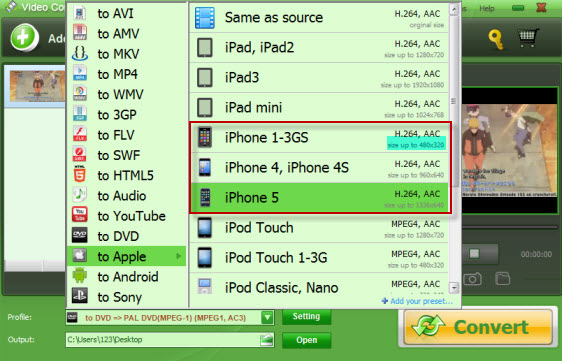 Check out the following for more of the amazing and super friendly features of this software:
It can restore the original quality of videos converted.
Ability to import external audio files and subtitles.
Have fun putting customized subtitles with its built-in subtitle editor which also supports multiple language files.
You can combine videos into one.
It works in all kinds of video and audio formats.
You can cut or crop your videos with super user friendly control buttons.
On the whole, the listed converters above are all useful for converting YouTube to iPhone, you can choose a preferable way to do it.