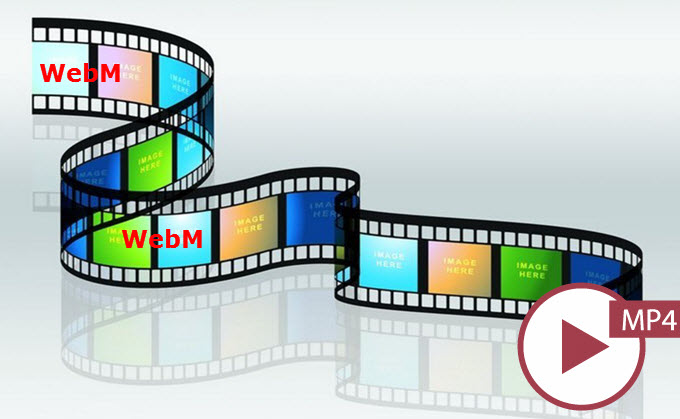 WebM is an open-source, non-exclusive and royalty-free media file format designed for special use with HTML video. As a common alternative to commercial file formats, WebM is popularly used in compressing most video content, especially in YouTube which has an HTML5 version for mobile device access. As Google declares it supports WebM files instead of flash files on its webpages, WebM becomes more and more popular today.
However, not all media players support this format. For instance, Windows Media Player can't play a WebM file. So if you have an audio or video in WebM format that you can't play in your selected media player, it's best to convert WebM to MP4 which is one of the most popular media file formats.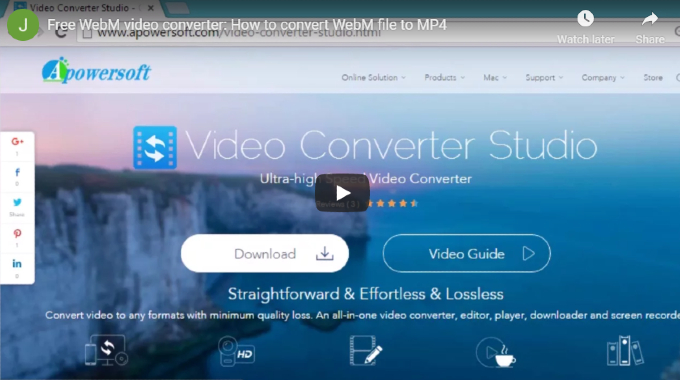 Four free ways to convert WebM file to MP4
Apowersoft Free Online Video Converter
Apowersoft Free Online Video Converter is a powerful WebM to MP4 converter that's completely free of charge. It's a web-based tool so you don't have to download any software. With this application, you can convert unlimited videos at a fast speed.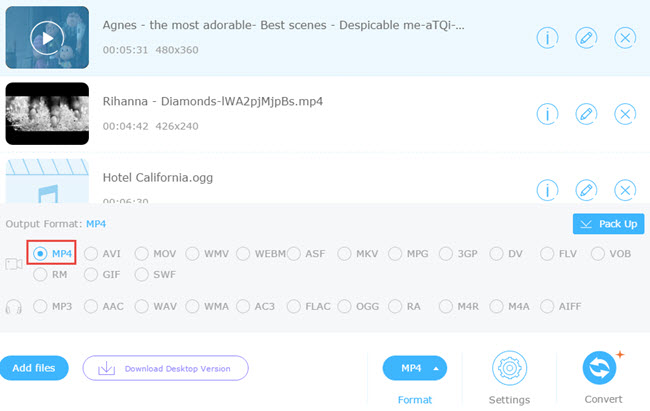 Here are its key features/advantages:
Supports a wide range of audio and video codecs for different devices and custom settings.
Fast conversion speed and high video quality guaranteed.
Converting video to animated GIF is available.
Basic video/audio editing features are provided.
Straightforward, easy-to-use interface with a quick conversion process.
All you need to do to convert WebM to MP4 online is to access the website. No sign-in or register is required but you have to install Launcher to your computer if it is the first time you run the application. Click "Select files to start", After that, the file can be selected to upload from the opened local folder. Then go to choose "MP4" from "Format", modify the settings for the file in "Settings", press "Convert" and all is done. You just need to wait until the process is complete.
Online WebM to MP4 Converter
Zamzar is a free WebM video converter that offers simple functions for converting, downloading, sending and managing files. There are four steps to convert files:
Step 1 – Select file to convert, or enter the URL address.
Step 2 – Pick your desired format.
Step 3 – Enter your email address to receive the output.
Step 4 – Click "Convert".

Compared to the previous free tool mentioned, Zamzar requires an email address for receiving the converted files. Also, you're limited to convert up to 100 MB only.
Free WebM video converter to convert WebM to MP4
Online Video Converter is another free web-based tool capable of converting a selection of media formats. It can also correct video resolution and extract sound from video.
Here's how you can convert WebM file to MP4 using this application:
Step 1 – Open file from hard disk or from a URL.
Step 2 – Choose the output format and quality.
Step 3 – Click "Convert".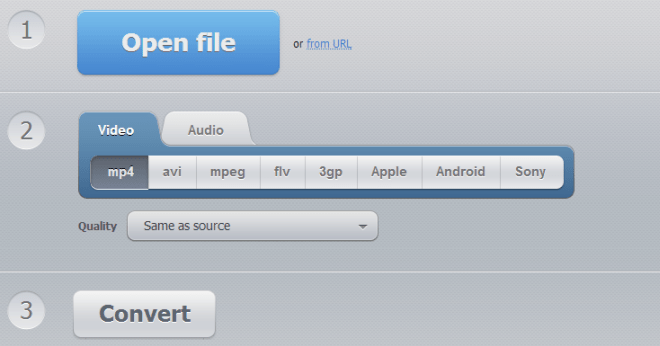 Basically, this tool offers a very simple and quick conversion process with only two options for settings: the output format and audio/video resolution.
Freeware to convert WebM to MP4 format
Free WebM to MP4 Converter is a freeware designed for converting WebM video files to the MP4 format. It has a neat, straightforward interface that lets you drag and drop selected files, and then you can click the Convert to MP4 icon to start the conversion process.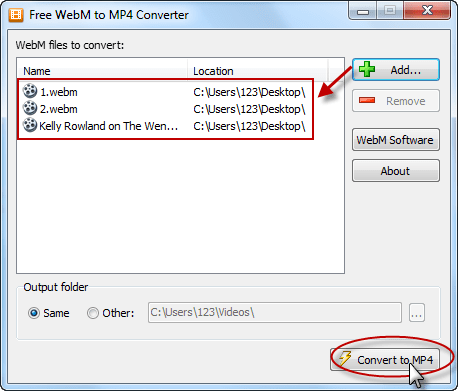 That's all there is to this application. Its sole purpose is to convert WebM to MP4 and nothing else but it's relatively fast.
The shareware to convert WebM file to MP4
Video Converter Studio is an efficient converter specially designed for converting all types of media and audio formats. It offers advanced features and functions such as editing videos: trimming video clips, cropping video size, adjusting video effects, importing external subtitle, merging multiple videos and converting video to formats compatible with portable devices, including iPhone, iPad and Android phones.
It's the all-in-one solution for video conversion and editing needs.
To use it as a WebM to MP4 converter, simply import your video, edit the video any way you want, customize the settings, and click "Convert".
On the whole, all of these solutions are useful for converting your WebM audio/video file to MP4. You just have to decide whether web-based applications or downloadable programs are more convenient for you.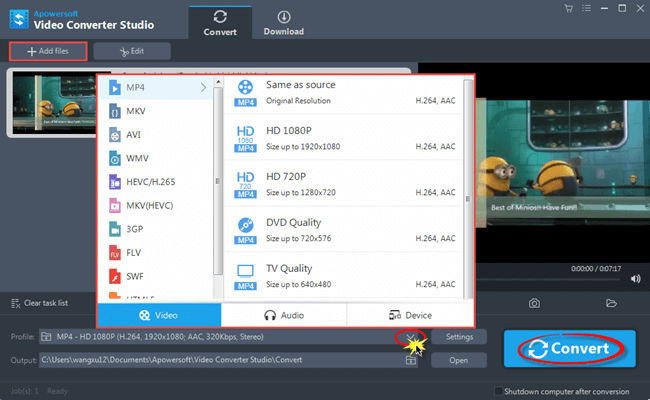 If you want an absolutely free, feature-rich and easy-to-use application to convert WebM to MP4 online, Apowersoft Free Online Video Converter is the choice to go.