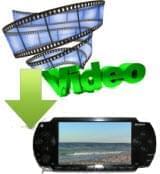 The PSP is indeed the hottest handheld game device that is out in the market for almost a decade. This device is becoming popular as soon as it was released in 2005. So far there are different PSP models such as, PSP 1000, PSP 2000, PSP 3000, and many more. What makes it appealing to users is that it is not only focus on gaming purposes, but it also has added features such as video and music player, image viewer, and internet browsing capability. Aside from playing different games, the PSP is also known for playing videos. But not all video file formats are supported in this device that is why many PSP users tend to convert their video clips into a PSP acceptable format. The only video file format that is compatible in this gadget is the MP4 format make specifically for PSP console.
How to Convert Video into a PSP accepted files
There are a lot of ways to convert video for PSP. Some of them work and some of them don't. To avoid any hassle in playing video on your device it is preferable to use this free method.
Solution 1: Apowersoft Free online video converter
This solution is by using an online based video converter which is known as Apowersoft Free Online Video Converter. It is a fully functional program that can convert video to PSP online in an instant. The good thing about this program is that it does not only serve as a video converter but also has another feature to utilize. So far this is the fastest converter out on the World Wide Web that converts any video clips in various formats such as AVI, MOV, FLV, and PSP compatible MP4 format. Aside from that, it also enables you to create a high quality video output of your choice by selecting the video and audio setting that you want. And most of all you can use it without any limitation, so you can process a huge amount of video clips without spending a buck.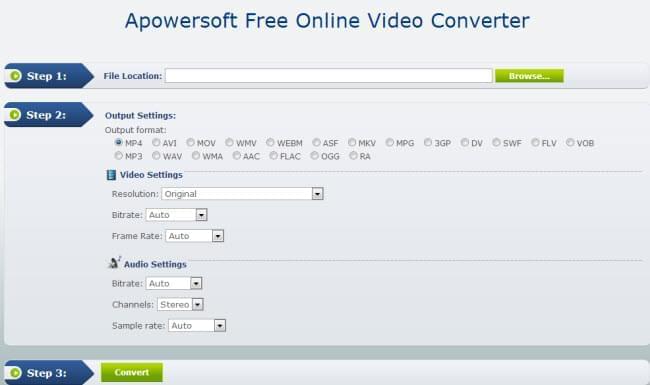 Solution 2: Handbrake
The second solution to convert video to PSP MP4 is by using HandBrake. This is also a pretty good converter that can convert multiples files you have, including PSP supported file, which will work with any portable device. You can easily use this method to play video on PSP.
However, there are some drawbacks that relate to this program.
You can't use is without downloading and installing it to your computer or laptop.
It only supports few output formats such as MP4 and MKV.
It is a little bit complicated to use for first time users.
A Perfect Shareware to do the Job
If you are not satisfied with the above mentioned video to PSP converter, then you can try this more compact program that is built to meet your every file conversion needs. This is no other than the Apowersoft Video Converter Studio.
This advanced program has the power to convert your video file to MP4 compatible format. Plus it can convert video clip into multiple video or audio formats. In addition, it also has more attractive features such as, batch conversion, merging multiple videos into one, and many more. I personally advise this program to convert video files to PSP, because this program has a specific selection of PSP formats. Just click on the PSP icon and different PSP supported formats will show and it is up to you which to choose.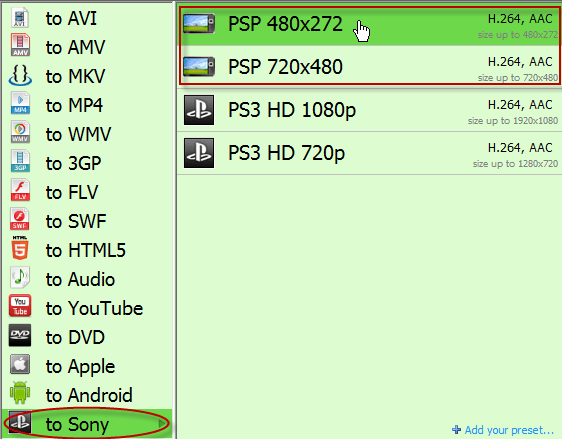 Conclusion
PSP supported formats are often complicated. Even if a video clip is converted to MP4 format, there are still times that PSP device does not accept it and will show it as an error. So to have a video file that is truly supported by PSP then use only the reputable converter like the ones being mentioned above.