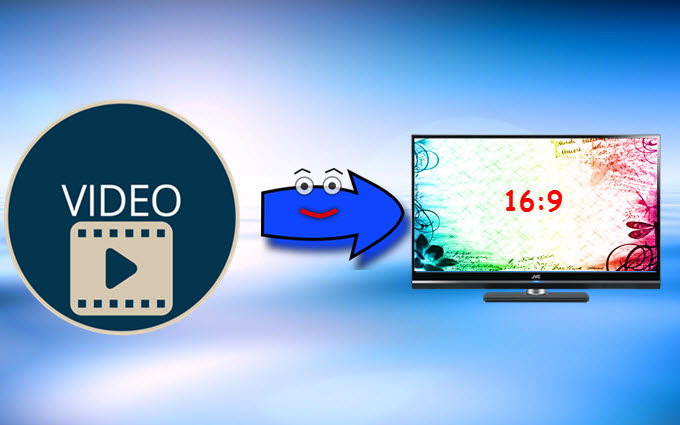 Have you ever tried to play a video with 4:3 ratio on a 16:9 widescreen but were very disappointed about the image quality? This is because the image is stretched incorrectly so that you have the bad visual effect. So when you have the desire to convert video to 16:9 widescreen for playback on TV or other devices, you'd better use some video converter tools.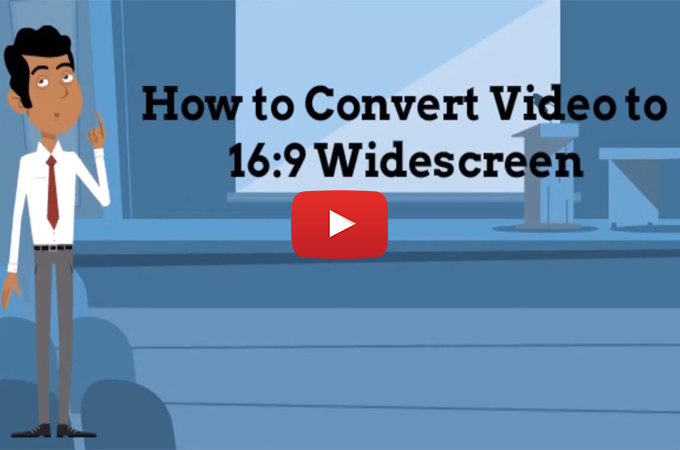 Effortless Widescreen Converters
1. Free service
1
Apowersoft Free Online Converter
Apowersoft Free Online Video Converter is a very lightweight application for converting media files, whether they are video or audio. It supports converting files to or from nearly every popular video or audio format, allowing you to output videos for any brand of mobile devices, computers or TVs. According to your needs, you can set the output video or audio parameters including resolution, bitrate, frame rate and more.

Let's see how to operate this widescreen converter to convert video aspect ratio.
If you have never used this service before, visit it, and start to click "Select files to start" and "Download Launcher" buttons. After downloading it, open it and it will run automatically.
Now go to back to the interface and click "Select files to start" again to load your file.
Click "Edit" button right to the video thumbnail. Scroll down the slider until you see Crop option on the pop-up window. Input the size number with the ratio of 16:9 here. Click "OK" and "Convert" buttons. Now you can set the output directory. At last, click "OK" button.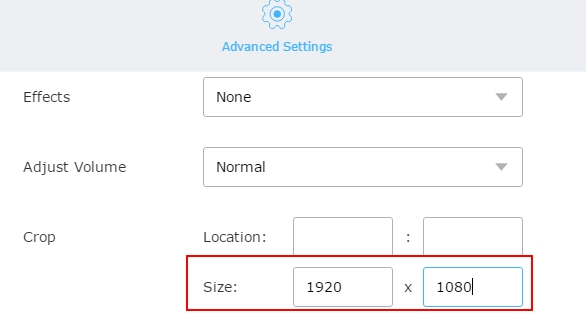 After finishing the first time to convert video to 16:9 widescreen, you can convert videos with the application more easily for next few times.
2
Video Converter Studio
Video Converter Studio is a desktop video converter, video recorder, video downloader and MV maker suite. It aids you to convert videos or audio to a wide variety of formats: AVI, MKV, FLV, WMV, MP4, MOV, 3GP, SWF, VOB, DV, HTML5/WEBM, WMA, WAV, AAC, AC3, AIFF, MP3, MP2, DTS, OGG, etc. It can finish video conversion in high quality but with fast speed.

For converting 4:3 to 16:9 without cropping via it, just follow this tutorial:
Hit "Download" button and install it on your computer.Download
Simply open folder and drag your file onto its left panel. A huge range of video, audio or device formats are sorted well in the "Profile" bar. Choose the format you would like to convert to.
Hit "Edit" button to perfect your video file. Hit "Adjust" tab on its pop-up window. In the aspect ratio bar, you can choose 16:9 or other options.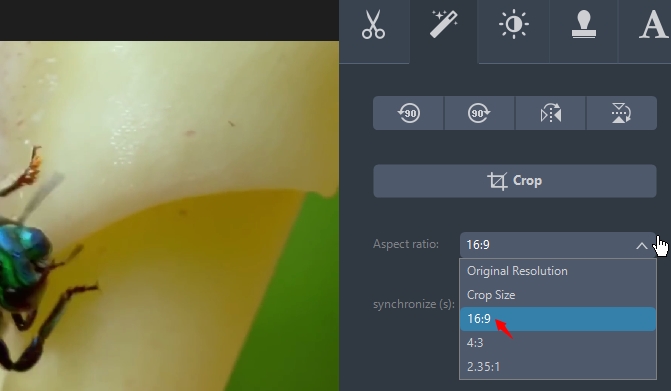 Hit "OK" if everything is done. Hit "Convert" button and you just need to wait for conversion. Using the leading-edge technology, it has the ability to convert video in the most efficient way.
Choose Online or Desktop Program?
If you hesitate to choose online or desktop 4:3 to 16:9 video converter, you may spend one minute in reading the comparisons between them.
This online video conversion can only fulfill basic needs of ordinary users. Since there are no real-time windows for preview while editing file, you can only see the results after finishing converting. However, you don't need to pay any fees to complete conversion. It only requires that your computer is connected to the internet.
Using the desktop converter, you can not only convert file to any media format instantly, but also get many exciting extras: enhancing video by trimming, cropping, rotating, adjusting, adding watermark, and subtitle through its user-friendly interface. No internet required, you can convert and edit one file to a desired one in seconds. And it allows you to make GIF from video. The only disadvantage is that there are some restrictions for its trial version.
Nevertheless, according to your actual situation, you can either use the free one or purchase the desktop widescreen converter. Both of them won't let you down!
The Development History of Movie Screen Ratio
As we all know, aspect ratio is ratio between width and height of the image. Nearly all the movies' screen ratio was 1.33:1 which was also called 4:3 from the end of 19th century to 1950s. In 1953, Fox company introduced CinemaScope widescreen format which was adopted by many movie companies in the following few years. Panavision widescreen format appeared later and entered the mainstream in the markets.
Now, there are various kinds of aspect ratios in the movie field, but two of them have predominance: one is Academy Flat, 1.85:1, while the other is Anamorphic Scope, 2.35:1. People are more sensitive to the width than the height, so they feel more comfortable about widescreen than 4:3 video. In the movie theater, there are no doubt about the effect and visual impact of widescreen, especially with 3D or 4D effect.
Though you have known the simple methods to turn 4:3 video into 16:9 widescreen, you may still be confused about 16:9 screen resolutions. Don't worry, we have gathered most of the common 16:9 aspect ratio video resolutions which involve standard definition and high definition in the below list.
| | | | | | |
| --- | --- | --- | --- | --- | --- |
| 16:9 Resolutions (SD) | 640×360 | 768×432 | 896×504 | 1024×576 | 1152×648 |
| 16:9 Resolutions (HD) | 1280×720 (720P HD) | 1920×1080 (1080P HD) | 2560×1440 (27″ Monitor) | 3840×2160 (4K UHD) | 7680×4320 (8K UHD) |