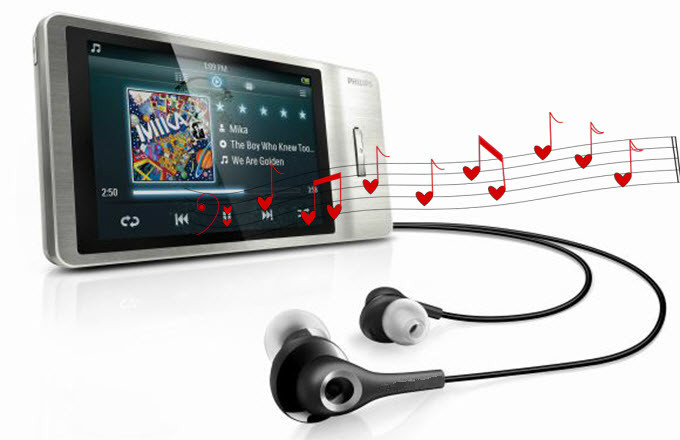 MP4 videos are usually favored when it comes to watching various types of videos. However, they tend to have bigger file sizes that's why the MP4 format is not really a practical option if you simply want to listen to the audio from a certain file.
The most common reason that people convert MP4 video to MP3 is that some people want to extract the music from MP4 file and save it as MP3, so they can enjoy the music on portable device with small file size.
Here are some of the top solutions that will help you convert MP4 file to MP3.
Three free ways to convert MP4 video to MP3
Apowersoft Free Online Video Converter
If you're looking for an entirely free solution that can be used online, Apowersoft Free Online Video Converter may be exactly what you need. For a free application, it has a very easy and lightning-speed conversion process.
This web service provides you a free MP4 to MP3 converter that you can use as much as you want without paying a cent. There are no limitations on file size and the number of files to convert. You also don't have to download any adds-on except a Launcher. Simply head over to the website and follow steps introduced below to convert MP4 to MP3 online:
Step 1 – Click "Select files to start" to upload your MP4 video. If you haven't installed the Launcher, you'll be directed to download it at first.
Step 2 – Set "MP3" as output format and adjust the audio and output settings.
Step 3 – Click "Convert".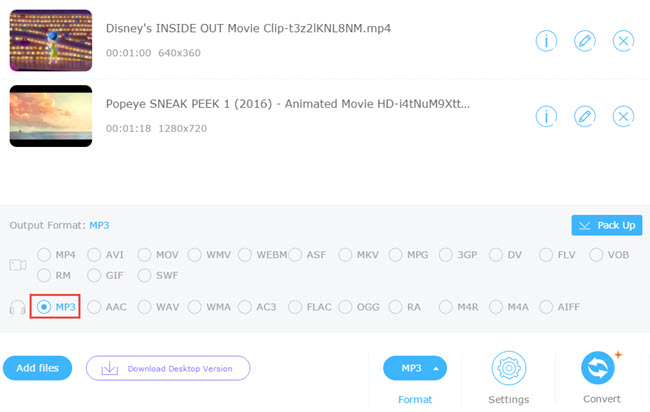 As simple as that, you can quickly get a converted MP3 file in several seconds. The best aspects about this tool are the free service, surprisingly fast speed and multiple audio settings. Don't worry about the safety of Launcher. It only works to start the app.
Freeware named "Convert MP4 to MP3"
This is a free software that you can download. This freeware extracts the audio data from the MP4 video file and converts it to MP3 format. It also supports other video formats including DivX, AVI and FLV.
When you go to its website, you'll see a simple homepage where you can find Download here (mirror) to download the application. After installing the program, follow these steps to free convert MP4 to MP3:
Step 1 – Click "Add MP4" to add your video file. You may opt to add different MP4 videos which will be displayed on the video list.
Step 2 – Choose your desired output folder.
Step 3 – Click "Convert to MP3".
You can listen to the converted MP3 files by selecting "Play MP3" button.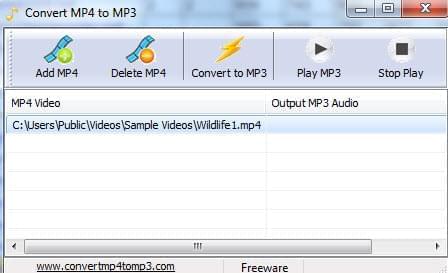 Free MP4 to MP3 Converter 1.0
This is also a free program that lets you free convert MP4 to MP3 audio. The converter automatically copies information about the source files into the converted MP3 files, including album title, album cover, artist name, etc.
Step 1 – After downloading the application, upload your MP4 files through the drag-and-drop mechanism.
Step 2 – Customize the settings.
Step 3 – Click "Convert".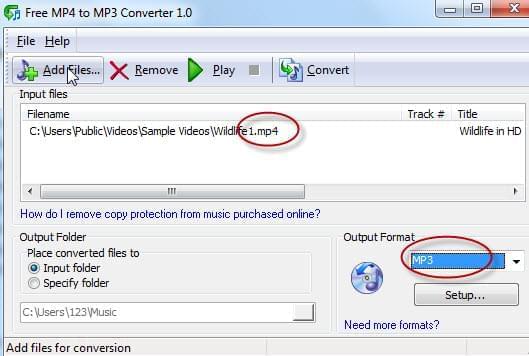 Basically, it's a simple and straightforward converter designed to convert MP4 only to MP3 and WAV formats, although it's fast enough and delivers good quality.
The shareware to convert MP4 to MP3 audio
Apowersoft Video Converter Studio is probably the best solution out there for converting files not only into MP3 but a large selection of new and popular formats compatible with media players as well as smartphones and Apple devices.
A great benefit of using this software is that you have plenty of options to edit and tweak your videos. It comprises extensive edit options that you can customize including the video effect editor and built-in subtitle editor, such as volume, contrast, brightness and saturation as well as watermarks and subtitle. If you have just downloaded separate videos from video sharing sites, you can easily merge these into a single file so that you can watch the entire video continuously. Hence, no matter you are a professional user or amateur one, Video Converter Studio will always satisfy your needs thoroughly and roundly.
Here're how you can use this tool to convert MP4 video to MP3:
Step 1 – Upload your MP4 files by clicking the "Add files" button or directly drag them to the designated area.
Step 2 – Choose the output format as MP3, and you can edit your video if necessary.
Step 3 – Click "Convert".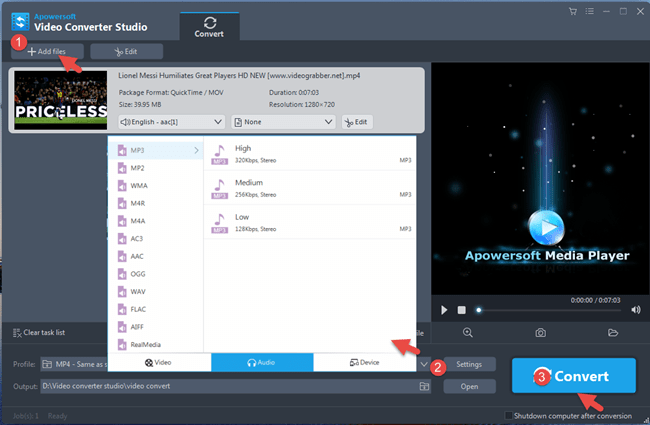 Conclusion
The tools listed in this article can help you convert MP4 video to MP3 audio for free at a fast speed. Simply use the Apowersoft Free Online Audio Converter to convert media files online, or Apowersoft Video Converter Studio if you'd like to use more functions such as editing videos.