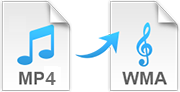 MP4 and WMA are two widely used formats when it comes to Internet streaming. MP4, or MPEG part-14, is mostly used to store video or audio streams. It allows streaming online and can handle high quality audio and video files well. WMA, short for Windows Media Audio, is an audio data compression technology developed by Microsoft. This format gains its reputation for high compression rate and good sound quality with a small file size.
Why we need to convert the MP4 to WMA
In our daily life, we may find WMA file more portable than MP4 file in many scenarios due to its much smaller file size. For example, if you find the background music of an MP4 video euphonic, you may want to extract it and save it to your cellphones, tablets, or Walkman; and if you are a language learner, you probably need to extract the audio of English MP4 videos and listen to it repeatedly to improve your skills. In such similar occasions, you guys may want to convert MP4 videos to WMA. Considering that, I would like to introduce 3 different ways to help you make the conversion.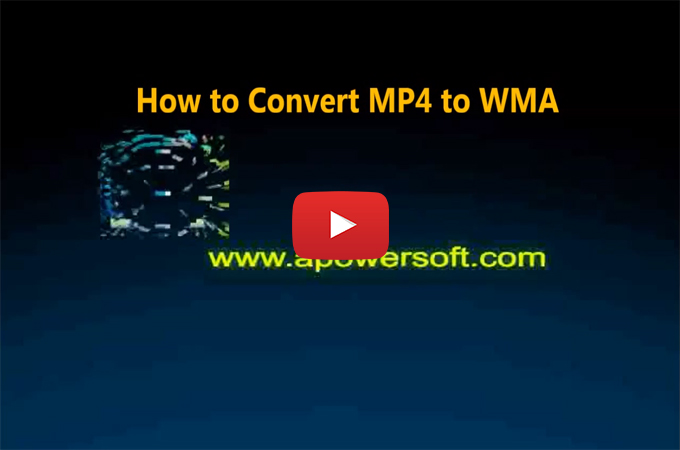 Three Easy Ways to Convert MP4 to WMA
1
Method one: use Free Online Converter
Many websites offer online conversion service, some websites will charge you; some will put up annoying ads on its page. Among all those online converters, Apowersoft Free Online Video Converter is so far the best one I have ever used to convert MP4 files to WMA online. It's easy to use even for the beginners with its concise and clear user interface. It fits both windows and Mac system. Note that you'll have to run the newest version of Java Applet because it is a Java-based app. If it is not the latest version, please follow the tips on the webpage to update it. After that, read the steps below.
Step 1: click the "Browse" to choose the MP4 file(s) you want to convert.
Step 2: choose the output format as WMA, and select bitrate, channels and sample rate.
Step 3: click the "Convert" button and the conversion begins. When it's done, the WMA file will be saved to your computer automatically.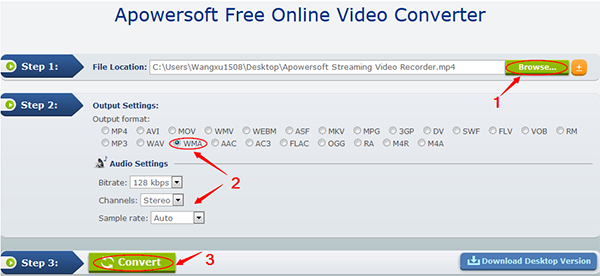 However, online converters have their limitations. First of all, they require high network speed. Secondly, MP4 file size is usually very large, always over 100M in file size, it's very time-consuming to upload and convert. So, it's advisable to use desktop converters. And we would like to introduce 2 desktop programs to you.
2
Method two: use Apowersoft Video Converter Studio
Apowersoft Video Converter Studio is a powerful and multifunctional program which can make conversion in very short time. Moreover, it supports batch conversion, meaning that you can convert more than 40 files at a time.
Step 1: download and install this tool on your computer.
Step 2: after installation, launch it and import your MP4 file(s).
Step 3: open the "Profile" list and choose "audio" → "WMA", and you can choose where to store the WMA files in the dropdown list of "Output".
Step 4: click the "Convert" button and the process will start immediately. When it's done, the corresponding WMA files will be in the output folder.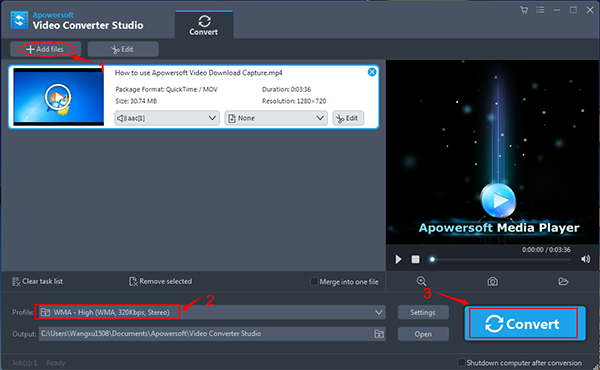 In addition, you can edit the files as well. For example, you can merge some files into one; you can cut and save one or several part(s) of the original files; and you can delete the section you dislike. What's more, Video Converter Studio can be used as multi-format video and audio player.
3
Method three: use Free Video to Audio Converter
The second desktop program is Free Video to Audio Converter. It is an easy-to-use audio extractor which you can use to convert MP4 files to WMA, and the method is similar.
Step 1: install this tool on your computer and launch it, click the "Add Task" to import you MP4 file(s).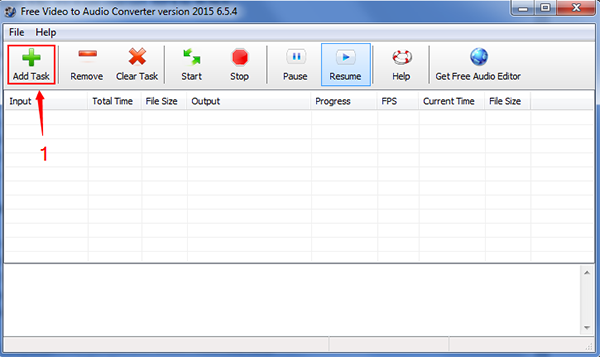 Step 2: in the pop-up window, choose the output format as WMA and set the other parameters such as sample rate, volume, channel and bitrate, if you know little about the those parameters, you can ignore them and click "OK".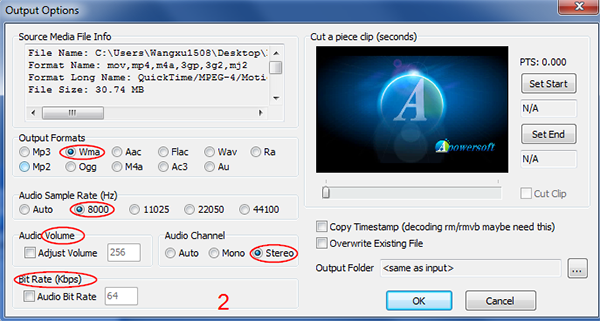 Step 3: click the start button and the conversion begins, when it's over, you can find the WMA file(s) in the folder same as input.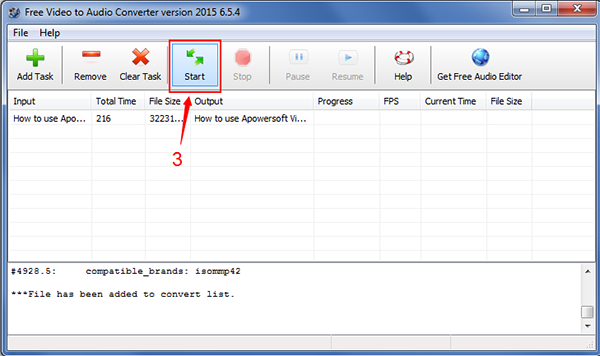 However, this program didn't leave a very good impression on me in terms of user experience. First of all, it is mono-functional, i.e., you can only convert video to audio (convert MP4 to WMA in this article) via this program. Usually after we finish the conversion, we need to do some editing. But Free Video to Audio Converter doesn't support that. We'll have to download another program to meet that end. Besides, even though it supports partial conversion, but this function is not well developed. When you move the cursor to where you want to start and end for selecting which part you want to convert, the image is obscure, causing the difficulty to choose.
Summary
The above three different ways all can help you convert MP4 video to WMA. All in all, online conversion will cost you more time; Free Video to Audio Converter doesn't offer very good user experience; and Apowersoft Video Converter Studio maybe the best choice among them.