Made exclusively by Apple to support their increasing line of multimedia devices, the first version of QuickTime Player was released on December 1991. With this premier multimedia framework, users can play songs, play videos, stream contents and organize audiovisual files all in one place. QuickTime is available for Mac, iPhone, iPad, iTouch and Windows computers. The current version of this player is is QuickTime 7 coming in with certain improvements, such as ability to play full HD videos, improved color saturation, crisp texts and images, easy file transfer, revamped interface and all others.
Though, amidst its great and convenient library features, QuickTime doesn't support all file formats like many multimedia players do. One particular file extension that it doesn't read is MKV; you need to convert MKV to QuickTime format first before you can play it. Matroska Video or more commonly known through its abbreviation of MKV, is a popular video file format that can hold unlimited number of videos, audios, subtitles, pictures and more in one single file. It's like your usual AVI or WMV but the only difference is that it is not bounded by strict standards – MKV is an open free container format.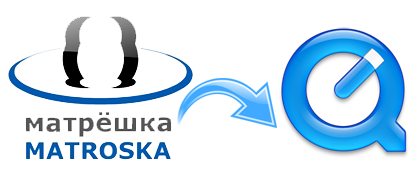 If you try to play MKV files on your Mac or iPad, don't be surprised if you get an error message saying that this format is not supported. Same thing goes for iOS smartphones and Apple multimedia players. Indeed, this is a bit of a challenge especially if you are a download junkie, because many HD movies and stunning clips on the Internet come with MKV file extension. Fortunately, there are tools and applications which can easily convert Matroska file to QuickTime compatible formats. See them after the jump.
Two Free Applications to convert MKV to QuickTime
With this web-based tool, you can not only convert MKV to MOV but also turn it to various formats according to your desires. This application supports ASF, MP4, AVI, WMV, FLV, WEBM, MPG, 3GP, SWF, and VOB while audio formats from MP3 to RA are likewise compatible. What's great about Apowersoft Free Online Video Converter is that you don't even need to install it on your PC. Just to convert MKV file to QuickTime MOV, everything can be done via cloud.
What sets Apowersoft Free Online Video Converter apart from other online-based converters is its ability to adjust video as well as audio settings. You can change video resolution, bitrate, frame rate and all others. You can even customize it according to the resolution of your device. Best of all, it comes absolutely free with no limits. You can convert as many files as you like (may it be small-sized clips to big movie formats) without even signing-up.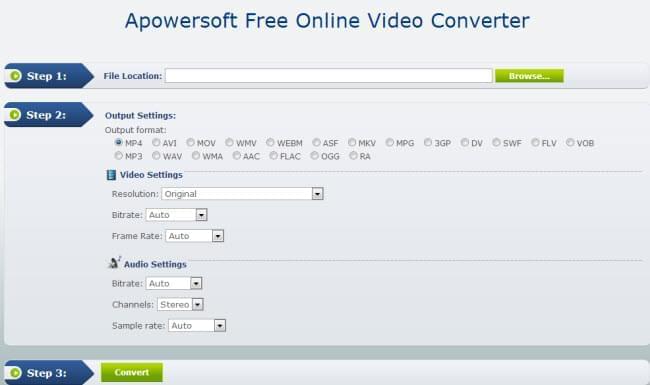 Solution 2: Convert HD MKV to MOV Online with Zamzar
Another tool that can convert MKV for Quicktime or for Windows is the Zamzar online converter. It has the same principle as the former application; you don't need to install anything on your laptop or PC. Zamzar is a free online converter that can alter video file formats in four easy steps: (1) Select the URL (2) Choose the output format (3) Enter your email address for link sending (4) Convert files.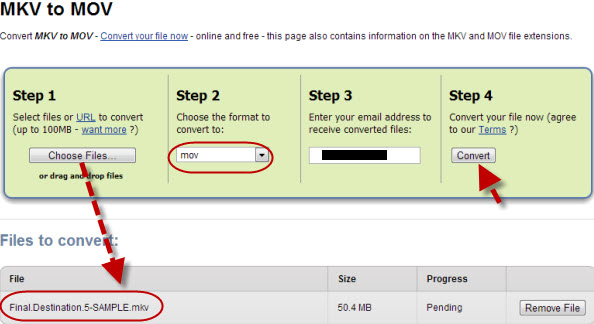 It sounds to be free but not 100% free, because users who want to convert a file large than 100MB will have to pay a specific amount. You also need to sign up and have a verified email address in which you will use to receive the converted file links. Bug are found sometimes and users are reporting incorrect links, website not supported and download expired because they can only hold converted files up to 24 hours.
The Shareware to Convert MKV File to QuickTime MOV Format
If you are not satisfied with the above free online converters, premium desktop applications are likewise available such as the Apowersoft Video Converter Studio. With this powerful tool, you can not only convert Matroska file to MOV format but you can also edit MKV videos before converting, do batch conversion, conert with subtitles included, crop and trim video parts, merge files, and more.
Interestingly, this program is not your ordinary MKV to QuickTime converter. This feature-filled desktop application supports tons of files from AVI, WMV, DivX, 3GP, FLV and the list goes on. Additionally, audio and newer file formats are supported, such as HTML5 and all others. You can equally use it to directly convert files for your gadgets because it supports all Apple devices, Mac and Windows computers, iOS smartphones, PSP, Sony, Android, Smart TVs, etc.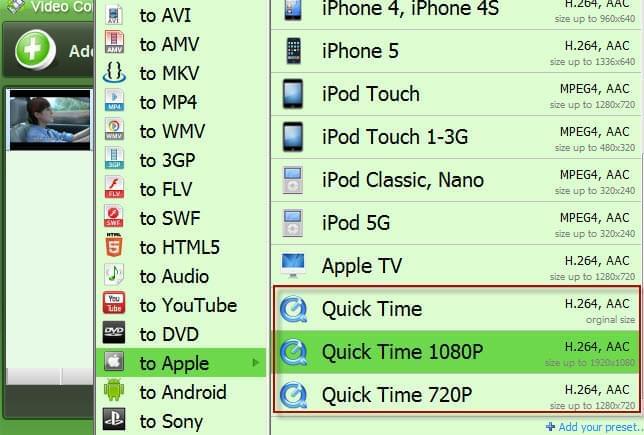 In today's increasing age of technology, don't suppress your multimedia freedom just because one extension is not supported by your media player. Use the above tools and applications to lift limitations as well as restrictions. With these programs, enjoy good movie and quality clips on your portable media device or high-end Mac laptop.