There are various video files available nowadays, but have you encountered F4V file? Do you know what it is? The F4V is actually a file format container that is utilized to deliver video across the World Wide Web via Adobe Flash Player. It is similar to FLV in some ways but F4V file extension supports H.264 video and AAC audio content. This is a great format to use if you are going to stream videos online, however, not all video players support it due to the fact that it can only be streamed with a Flash Player only.
Moreover, because of the limitation of the F4V format, many users are looking for the best way to convert F4V to MP4 which is a more manageable file type since it can be played on most video players and even some high-tech smart phones and portable devices.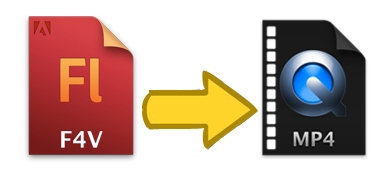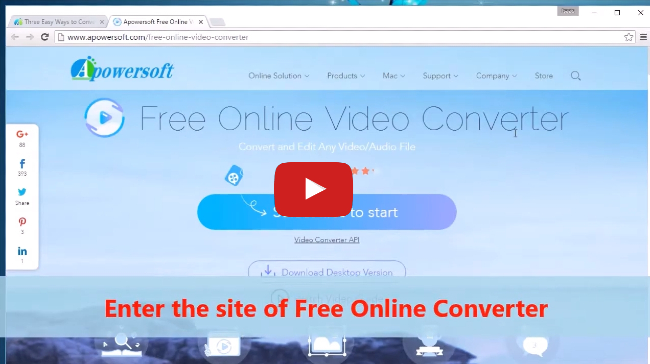 Top of the online methods to free convert F4V to MP4
There can be various ways on the web that provide conversion of F4V to a certain format that you desire. The problem is that most of them are not for free and do not work as they supposed to be, leaving you hanging with the same F4V video that you have. On the other hand, for a great free online F4V to MP4 converter here are the two methods that you can utilize.
Method 1: Apowersoft Free online video converter
The first method that we have is the Apowersoft Free online video converter. It is a web based application, therefore, there is no need for any software installation. Just open the site and convert any file instantly. This powerful online tool not only converts F4V to MP4, but fulfills just any needs on media conversion. And it provides an efficient high quality output. Furthermore, aside from F4V to MP4 conversion, it can also work on multiple type of file format such as: AVI, MOV, WMV, and many more.
This online converter is also very easy to use by just following simple steps which is perfect for green hand users. To convert F4V to MP4 you only have to:
i
Log into the site, you'll be directed to download and install the Launcher if you use it for the first time.
ii
After the Launcher is ready to use, a local folder will pop up instantly to let you choose files to convert.
iii
Click "Format" and you can select "MP4" from the available formats for the output file.
iv
Hit "Edit" to personalize the video to your desired style, otherwise, bypass this step.
v
Press "Convert" and the changed file will be saved to your computer soon.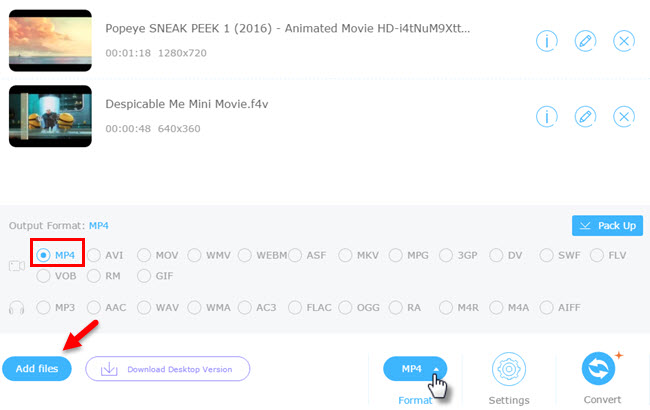 In addition, some of its key features include, an unlimited file conversion, fast converting speed, malware free. Most online converter does not offer this kind of functions, so it is safe to say that this free online video converter is a well-rounded converter that is built to perform. And it is definitely a compact program that is worth trying.
Method 2: Zamzar F4V to MP4
The second method that we have to convert F4V video to MP4 format is Zamzar – a known free online converter that is often utilized by many users due to its reliability. When it comes to conversion, this web program can process huge variety of file formats, can take up 100MB free conversion, and can be used by everyone.

On the other hand, in spite of the popularity of Zamzar, it still has flaws that can be found with this converter. The major issues with this free online converter are that it can only process up to 100MB of file and it is slow. It as well asks for an email address to continue with the conversion. Furthermore, there are times where in a spam, or malware is send together with the converted file which might be saved in your device. However, this maybe a case to case basis, you can try it but use it with your own risk.
Perfect shareware for converting F4V to MP4
In an event that you are not satisfied with the online solution then you can make use of a wonderful shareware which is Apowersoft Video Converter Studio.
Unlike the online converters, this program can be used even without an Internet connection so you can convert F4V file to MP4 anytime you want. Video Converter Studio also supports numerous file formats available. Yet these features are just some of the more exciting functions that it has.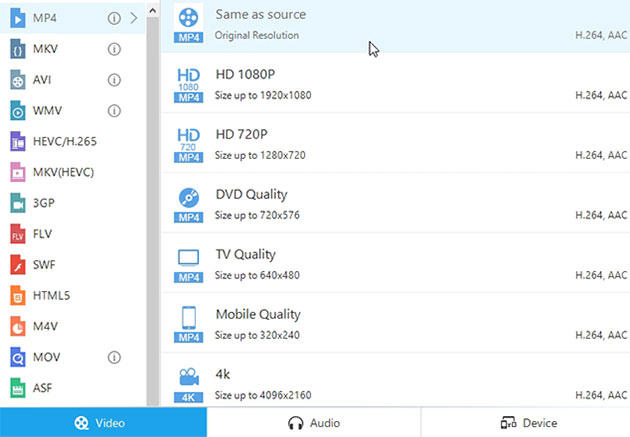 Further features include:
Ability to add audio files and external subtitles
Modify the subtitle testing
A basic video editor that allows video trimming, cropping, and so forth
Supports batch conversion
These jam packed features is what you can get upon using Video Converter Studio, so you better check it out.
File conversion is an easy task; however, by using the inappropriate tool can ruin your videos and will just waste your precious time. In this case, it is preferable to use only those programs that are proven to be effective and safe such as Free Online Video Converter and Video Converter Studio. Both of these applications are 100% tested to be efficient and has zero malwares and viruses.