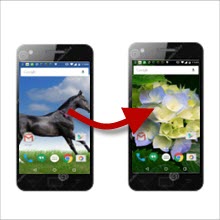 Changing the wallpaper of an Android phone or tablet is one of the things that many Android users are trying to do. Not only because they are tired of seeing the same default wallpaper of an Android tablet or phone every day, but also because they want their wallpaper to be different as compared to other Android users. In addition to that, users are changing wallpaper on Android phone or tablet in that they want their gadget to become more personalized – they use their personal photo or family picture as wallpaper. However, there are still a lot of users who find it hard to change it due to different reasons, such as the guidebook is too hard to read or the process is too complicated. To help people with it, below are two easiest ways to change wallpaper on Android.
Fastest Ways to Change Android Wallpaper
1. Handy and easy application
2. Common and traditional way
1
Make Use of a Phone Manager (Recommended)
The most convenient way is to make use of an Android wallpaper changer. Apowersoft Phone Manager is the smartest choice. This tool is designed to help people in managing their Android and iOS devices. It can actually help them manage music, videos, applications, contacts, messages and even photos. In managing the device's photos, one of its best features is to directly change an Android's wallpaper. To do so, follow the steps below.
Download, install and launch Apowersoft Phone Manager on PC.
Connect the Android phone or gadget to PC.
Browse on "Pictures" and check the photo that you want to set as wallpaper.
On the top part, drop down "Set Wallpaper" and choose "mobile wallpaper". The Android's wallpaper will then be changed.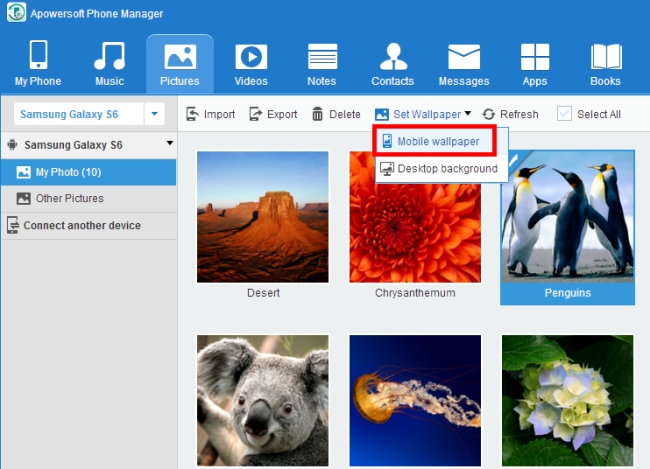 Moreover, this can also help users in changing the alarm tone ad notification tone of an Android or iOS gadget.
2
Make Use of the Usual Way (Default)
Aside from making use of a phone manager, users can also change Android wallpaper by means of using the usual or default way. Every Android gadget has its own default settings in changing wallpaper. However, not all people know how to change it because there is no guidebook or the manual is too complicated to understand. Below are the simplest steps to help people to change the default setting of their Android gadget.
Go to "Settings".
Tap on Display and wallpaper tab.
Tap on Wallpaper and then choose a photo to use for Lock and Home screen.
After choosing the photo, tap on "Set wallpaper" and you are done.
Tips: You can choose different photos for lock and home screen. Additionally, you can also make use of the photos from your gadget's gallery, live wallpaper or the ordinary wallpaper.
3
Best Sites to Download Wallpapers for Android
If you are considering to change Android tablet wallpaper or your Android phone's wallpaper to the coolest wallpapers, you can get some on the following pages.
AndroidWalls
This is a site that offers free wallpaper for Android, iOS and desktop users. The site provides high-quality wallpapers. In addition, you can find the image that you want by searching on the categories which are on the right part of the side. It offers thousands of wallpapers so you really have a lot of options to choose.
Androidwallpape.rs
Another good site is Androidwallpape.rs. This site is specially made for Android users. You can filter the wallpapers in this site by date or by the 'likes' that wallpapers have. If you want to check on the latest wallpaper they have, filter them by date. However, in case you want to check which one is appealing to most people (which might also be appealing to you), filter them by the number of 'likes' the images get.
Mob.org Live Wallpapers
If you are into live wallpapers, this site is the best one to visit. Just like AndroidWalls, the site offers different categories for easy searching. Every image also comes with descriptions.
Those are the easiest ways to change the wallpaper of an Android device. The default way is a good choice but there is a possibility that different Android phones have different default setting models. Thus, the process might differ. As a result, it is more recommended to make use of Apowersoft Phone Manager as it can manage all kinds of Android phones and it is easier to use.