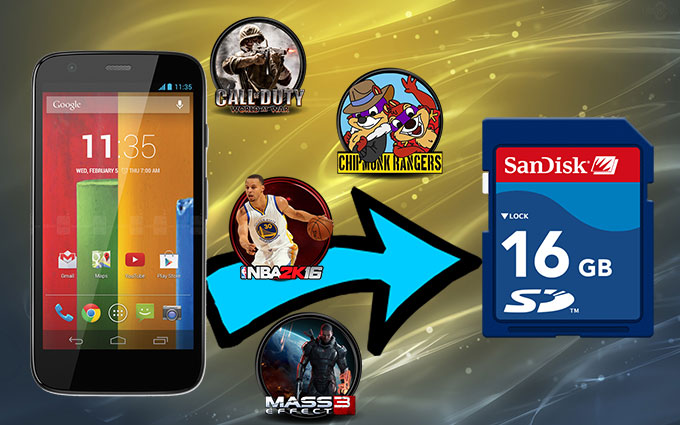 Compared to other mobile operating systems, Android is well known for being user-dependent and unrestricted. With Android gadgets, one can easily install third party applications, customize phone's appearance, overclock the device's processor, use theme launchers and many others. But on top of these modifications, one thing in particular that catches the attention of many users is Android's ability to move Android apps to SD card.
True to its form, Android is the first mobile operating system that allows users to move installed applications from phone's memory to external SD card. This ability of Android is immaculately important for smartphones or tablets equipped with low internal storage. Rather than cleaning up the space by removing apps, you may safely move them to SD card without making concessions to memory space.
In order to know how to move apps to SD card on Android, check out these easy-to-follow techniques below.
Ways to Move Apps to SD Card on Android
1. Use Apowersoft Phone Manager
The Apowersoft Phone Manager is a one-stop application for both iOS and Android gadgets. It can transfer files from phone to PC and PC to phone, it can manage all multimedia contents, it has the ability to backup files, restore data from previously made backups, take phone screenshots, project mobile screen to PC and move app from phone memory to SD card.
Aside from being powerful, the Apowersoft Phone Manager is very easy to use. It even offers three ways to connect your phone to PC; via USB, Wi-Fi and two dimensional code scanning. To move applications from your phone's memory to external SD card using this software, all you need to do is:
Install Apowersoft Phone Manager on your computer.
Connect your Android gadget to PC.
After automatic device recognition, click the "Apps" icon on top.
Select the application you wish to move.
Click the "SD card" icon on the right under the "Operate" column.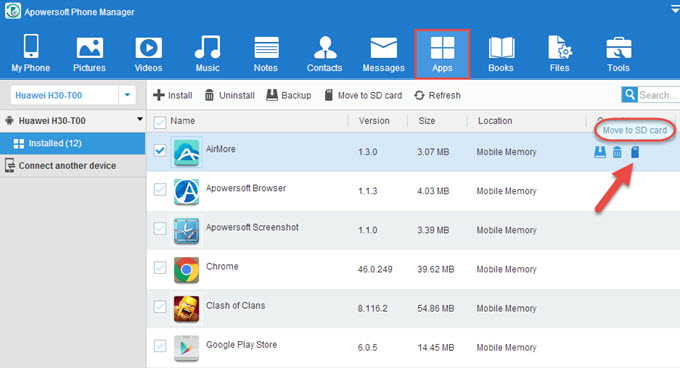 With Apowersoft Phone Manager, you could simply tick the boxes of several applications and move them. You could equally install apk files directly from your PC, uninstall programs and create software backups.
2. Use Application Manager
You can move Android apps to SD card via the device's application manager. With this method, you don't need to install any programs or additional software, all you need is a mobile phone with memory card installed. Using the application manager to transfer apps is simple, follow the guide:
Note that most pre-installed applications cannot be moved to SD card. Go to "Settings" and open "Application manager".
Select an app you wish to move and tap to open it.
You will see the "Move to SD card" button on the interface.
Simply tap it to relocate the program.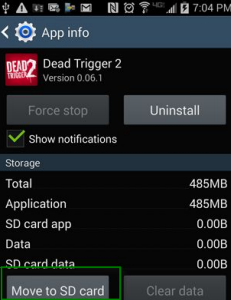 However, bear in mind that moving apps to SD card Android via the application manager isn't always effective. Should you encounter glitches, you could solve them out with the following solutions.
– Root your Android gadget or revert your phone to its stock firmware.
– Do a full format of SD card to NTSF.
– Set your SD card as the default storage location.
3. Use Mobile Applications
To move apps to SD card on Android, you can also use dedicated mobile programs. Tons of these programs are available on Google Play store; some are free while others are paid-only. Two of the most popularly used mobile software to move apps are as follows:

Move App to SD Card
This program features a very small footprint of just 1.8MB and it comes absolutely free with no limitations. The Move App to SD Card requires Android versions 2.3 and up. Using it is simple, just select the apps you wish to move and click the "move" button.

AppMgr III
With over 30 million installs, the AppMgr III is indeed popular with Android users to arrange and organize the apps on mobile. Although installing it comes free, the AppMgr III requires some in-app purchases. Aside from moving applications, this app can likewise hide apps, freeze apps, batch uninstall programs, hide applications from the drawer, clear cache and many more.
There are many ways on how to move apps to SD card on Android. Some might see the Application Manager technique as the most convenient method but do take note that it does not work all the time. If the "Move to SD card" button isn't there, then you should look for assistance in another app. With regards to installing mobile software, most of their functions are limited unless you root your gadget.
If you want an efficient way of moving apps to SD card Android along with other functions like transferring files and project mobile screen to PC in real time, it is advised to use the Apowersoft Phone Manager. Furthermore, this app supports not just Android but iOS devices.