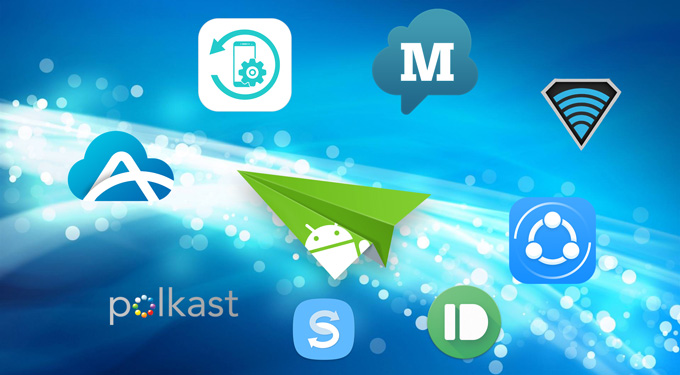 In the past, we used to transfer data from phone to PC through USB, Bluetooth and memory card. Thanks to the fast development of our technology, now we can discard these traditional ways and use the latest techniques to transferring files. Certain applications like AirDroid make the whole procedure of moving Android files much easier for us.
AirDroid is an Android application that can help to transfer files using Wi-Fi network. On the one hand, it's a comprehensive software which contains the function of managing SMS on the desktop, importing & exporting multi-media files, locating the phone with GPS tracker, copying applications and much more. On the other hand, there are still many issues of this application bring the users a quite dissatisfaction, such as it cannot be connected successfully or be unable to transfer specific media files, etc.
Therefore, for people who are looking for the AirDroid alternatives, we are here to offer you some great options. Bear in mind that each recommended application differs from each other, thus, it is suggested that you should read each tool's features or instructions before trying them out.

1. Apowersoft Phone Manager
ApowerManager works for both iOS and Android systems through Wi-Fi connections. For Android system, it can be connected through USB cable as well. This is a phone manager which can transfer all sorts of media files wirelessly, such as photos, videos, music, contacts, messages. And it also contains the function to backup and resotre mobile data along with the capacity of taking screenshot of the phone interface & projecting the phone screen onto PC.
Watch this video to know more of Apowersoft Phone Manager: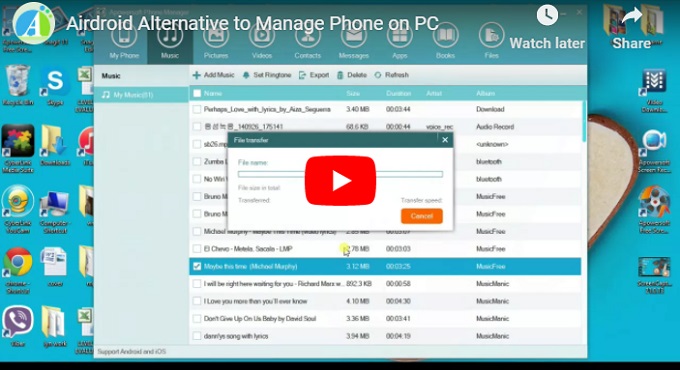 As you can tell from the image below, it has a user-friendly interface and easy to operate. Till now, ApowerManager has launched versions for Android, iOS, Mac and Windows, which means that you can achieve the wireless data transferring among these systems.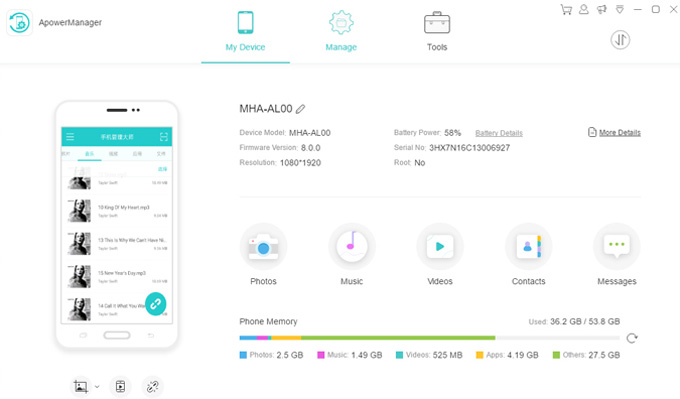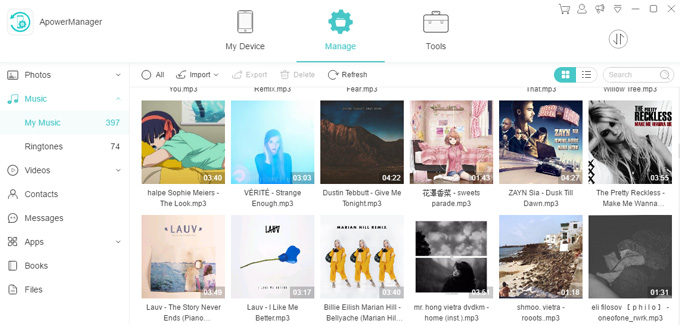 2. AirMore
If there's one application that comes very close to the features of AirDroid, it would definitely be AirMore. This is a web-based app that helps you transfer files between phone and the computer with or without USB cable & Wi-Fi network and you can preview the items before transferring.

3. MightyText
MightyText is similar to AirDroid in terms of wirelss tranferring between phone and PC as well as texting directly from desktop. This application allows to text from your computer straightly along with the features of call notification, phone battery alerts, power viewer and photo editor. The best part, MightyText comes 100% free and is compatible with both Windows and Mac. The only shortage is that this app merely supports Android device.

4. Samsung Smart Switch Mobile
Samsung Smart Switch Mobile is yet another program like AirDroid. Made by Samsung Electronics, this software enables you to sync contacts and transfer files wirelessly, and to browse phone files on PC, manage ringtones, read messages, view call logs, create playlist and so forth. This is a convenient tool for you to transfer data between phones for sure. And for Galaxy S7/S7 Edge, Note 7 users, you don't need to install the app since it's already pre-loaded.
For Galaxy S7/S7 Edge, Note 7 owners, you do not need to install the app as it is preloaded.

5. SuperBeam
SuperBeam is a great AirDroid alternative given the fact that it uses Wi-Fi to move files with ease and comfort. Moreover, it features the same QR code scanner which AirDroid has. You can use it to move videos, pictures, messages, documents, music, etc.
SuperBeam is free to download and it comes fully compatible with Android, Windows, Mac and GNU/Linux platforms. But you have to pay for using it to transfer files from Android to computer. Additionally, it requires some firewall exception and java toolkits installed on your system.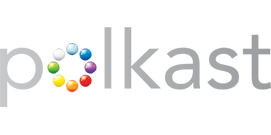 6. Polkast
Polkast is tagged to be your personal cloud storage. But what makes Polkast a much greater alternative to AirDroid is that it supports iOS, Android and Kindle Fire gadgets. With Polkast you'll get to enjoy a faster and better cloud storage system, unlimited storage, utmost file security, and the mobility to access your files on different gadgets.

7. SHAREit
If you are searching for another program like AirDroif, SHARE it would be an awesome choice. This particular application allows users to send & receive files, apps, photos, videos and music via scanning QR code on PC. Although you have to dowload the software on the computer before transferring, it can be simply use to share data between phones, which makes it even better than AirDroid.

8. Pushbullet
PushBullet is an Android App that you can use to see phone's notifications, answer messages on computer, share links between devices and transfer files between phone and PC. You can start the transferring simply by logging into the Google or Facebook account. However, if you want to mirror your phone to PC, you have to pay for $4.99 per month.
Conclusion
When it comes to AirDroid alternative for iOS or Android gadgets, the options are widespread. The aforementioned recommendations are the most effective management tools for mobile device. You can opt for totally free and fully functional applications or go with manufacturer-created software. Most importantly, it is advised to get a full knowledge of each application' features and installation requirements before using them.