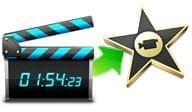 iMovie is a product manufactured by Apple that allows users to create digital movies with ease. Only available for use on Mac devices, you should import the footage from DVDs, video cameras, VHS, still images or recorded sound then convert into formats playable on computers or DVD players and can also be incorporated into PowerPoint files and presentations, uploaded to iTunes, YouTube, embedded as a link on any web page etc.
Some of the reasons why people convert video for iMovie include the fact that it's very easy to edit any video footage. You can either add some missing footage, delete something and much more. With iMovie, it's also easier for users to create their own video footage for editing since it is user friendly therefore there are no foreseen complications.
Although iMovie has been widely adopted by most users, it's incompatible with videos in the formats MKV, M2TS, WMV, AVI, FLV etc. Some of the video formats that are compatible with iMovie are AVCHD, MPEG-2, DV-Standard, MPEG-4, HDV, QuickTime Movie, etc.
Hassle-free ways to convert video to iMovie
This is an application that allows users to convert videos from their hard disks into other formats such as iMovie and many more. Some of the key features of this web-based tool include the following.
The application is free which allows users to convert as many videos as possible without any limitation.
With it, you can convert videos into whatever video format you prefer. Thus it can be used for iMovie and many other formats usable on mobile devices such as phones, tablets or iPods.
Converting large videos with other iMovie video converter software may take a very long time. Thanks to the Apowersoft Free Online Video Converter, you can enjoy extremely high speeds of conversion either for small or large videos without any compromise on the final output.
Since there is no downloading or registering to use the application, this tool proves to be very simple to use with a user friendly interface and friendly customer service ready to help any time of day or night.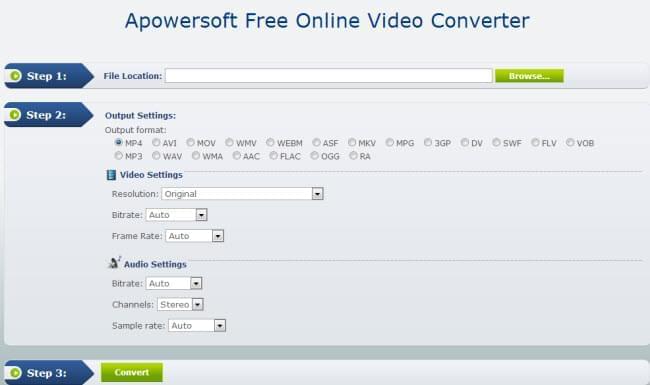 MacX Free iMovie Video Converter
With Mac X Free iMovie Video Converter, you can convert videos in different formats to iMovie. For instance, you can convert AVI to iMovie etc. Some of the features of this software include the following.
With this product, you can convert either HD or SD videos to formats that are easy to import into iMovie. There are so many compatible formats such as MPEG, MTS etc.
Also, you can convert videos made from HD Camcorder into formats easily imported to iMovie such as MOV or MP4.
You can not only convert videos to iMovie, using this software, but also you can easily extract audio files from the video or take snapshots and save them in preferable formats.
This freeware is very easy to use and with it, you can convert multiple files at once. The user interface is simple and you can easily adjust the parameters of the original video to make it better. The product also converts videos at very high speeds regardless of the length or quality of the original video.
Although the software is quite advantageous for converting videos into iMovie, it has some limitations such as the fact that one must download and thereafter install before they start using it. Secondly, it's only compatible with Mac Operating system and therefore can't be used on any other operating systems.
Developed by Apowersoft, this is the most powerful tool for converting videos which has the following features.
With this shareware, you can easily convert videos of very high quality and maintain the original quality.
The software also allows easy editing which may include adding subtitles, audio files etc. For the subtitles, you have the option to add them in different languages depending on your preference. Also, you can add new footage to an old video, crop and many more video editing options.
iMovie Alternatives for your reference:
Avidemux – Used on different operating systems such as Linux, Mac OS X, Windows and BSD, Avidemux is simply a video editor which is available freely used for encoding, filtering or cutting tasks.
ZS4 Video Editor – This is a composting and editing software which has different features such as exceptional chroma and color keying, change of direction for video and audio and many more which necessitate it's key purpose.
HyperEngine-AV – Free video editing software with which you can arrange, capture, process and edit text, audio and video in a document to create slide shows or movies.