Best tools to watermark Instagram photos
Add Watermark on Photos(Android)
Photo Watermark (Android)
eZy Watermark Lite (iOS)
iWatermark (iOS)
Apowersoft Watermark Remover (Dekstop)
Add watermark to photo online
Add Watermark on Photos(Android)
Add Watermark on Photos is an Instagram watermark app that can help you add your digital signature and watermark to your Instagram photo from the comfort of your Android! It has hundreds of integrated fonts and preset templates available for you to use. You can fully customize the text, font, size, rotation, background, position and more. You will also be able to watermark hundreds of Instagram images in batch.
How to use:
Download the app from the Google Play Store.
Open the app and on its main interface, tap "Apply on Image" to add images to it.
Select or create your own watermark, and edit it according to your preferences.
Tap the check mark to save the photo with the watermark and then share it to Instagram.
Photo Watermark (Android)
Photo Watermark is one of the best watermark apps which can also be used to watermark photos for Instagram on Android devices. This app has a user-friendly interface which is easy for all to use. You can choose to take pictures using it, or you can directly add photos from your phone, then imprint your personalized watermark on it by choosing from hundreds of text fonts, colors and effects. Using it, you can directly share your photo to Instagram.
How to use:
Go to the Google Play Store to get the app.
Open the app and tap "My Instagram Photos", then log in to your account and choose the photos that you need.
Now you can add watermarks, text, signatures, and any png stickers to your photos if you want.
Edit the watermark with the given available tools, like move, rotate, reverse, transparency, etc.
After, tap the share icon to share it on your Instagram.
eZy Watermark Lite (iOS)
eZy Watermark Lite is the ideal Instagram watermark app for iOS users who are looking for an easy to use watermark app and who want to quickly share their photos on Instagram. Using it, you can imprint a stunning watermark on your images by adding a signature, text, logos and more. Besides these functions, it has 150+ fonts, colors, and opacities to choose from. After you have created your photo watermark, you can share the photos to Instagram as well as to other social media accounts.
How to use:
Get the app from the App store, and launch it on your iOS device.
From the interface, choose "Instagram" under "Single Image".
Log in to your Instagram account and then choose a photo from it.
Tap the "Instagram" icon and add the watermark.
Tap the check icon and export it to your Instagram account.
iWatermark (iOS)
iWatermark is another great iOS app you can use to watermark Instagram pictures. It offers several ways to watermark your photos on Instagram. These include signature, texts, and graphics. You are also allowed to customize the watermark with the tools on offer. For example, you can adjust the watermark's size, position, rotation, fonts, color, transparency, etc. The most impressive feature is that you can share your watermarked pictures at full resolution to Instagram from within the app.
How to use:
Get the application from the App store.
Open the app, tap "Select Photo(s)" then choose photo that you will use.
Tap the "Watermak Photo" tab and choose to add the sort of watermark that you'll use.
Customize the watermark based on your needs. After that, tap "Upload to Instagram" to post the image directly to Instagram.
Apowersoft Watermark Remover (Windows)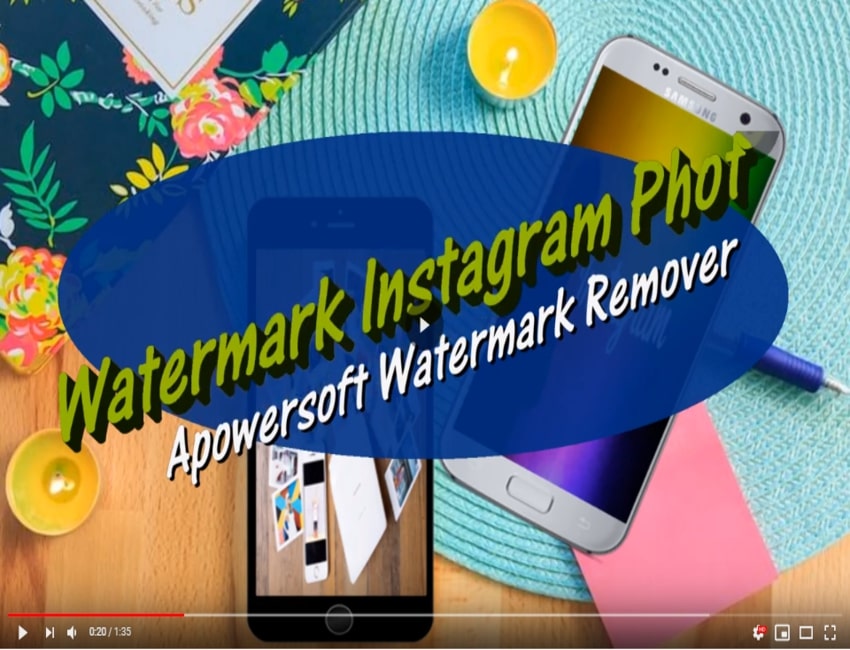 If you are a fan of using desktop tool when it comes to photo editing specifically to watermark Instagram photos, you can rely on Apowersoft Watermark Remover. It is a desktop tool that enable users to use its easy-to-use functions to create a watermark for Instagram pictures. In addition, it save your time given that it provides simple tools needed for your file. You can use text or image to watermark your Instagram photo. If you want to know how to use it, just follow the steps below.
Download the software on your computer.
Once done, open the software and tap drag and drop button on the center interface to import your Instagram pictures.
To edit, tap the "Add text" or "Add image" buttons to insert on your photo. You can customize these by changing its size, location, font style, adjust the transparency, and many more.
Tap the "Convert" button to save it on your computer.

The Final Words…
These are the best Instagram watermark apps we have collected for you to protect your Instagram content. Do you use any of them? Or do you have any other favorite apps? If you do, share them with us by dropping a comment below.