Video Object Base or more commonly known with its acronym VOB, is a container file format mostly used on DVD media. Being a container file format, it only means that VOB is comprised of different files in one file. VOB usually has video, audio, subtitle, menu, DVD content information and navigation headings all compressed in this single file. Typically, VOB file is stored inside the DVD's VIDEO_TS folder.

Since VOB complies with the standard MPEG program, this file does have limitations. Not all media players support VOB files and many desktop applications such as editor software and portable players cannot read VOB files. Hence, to be more gadget and program friendly, users find it necessary to convert VOB file to AVI. Compare to VOB, AVI is more flexible and supported by all desktop OS, media gadgets, popular players as well as editing software.
The solutions listed below are popular and efficient ways to convert VOB files not just to AVI but to other formats as well. See them after the jump.
Apowersoft Free Online Video Converter
If you don't want to install programs on your Mac computer, you can save a lot of space with Apowersoft Free Online Video Converter. This free and web-based application is workable on both windows and Mac computer without any needs of installation, membership or registration. Furthermore, it allows you to convert VOB file to AVI online and also supports other output formats such as MP4, WMV, WEBM, SWF, etc. In addition, you can also use this application to convert web videos into audio files ranging from MP3 to RA formats.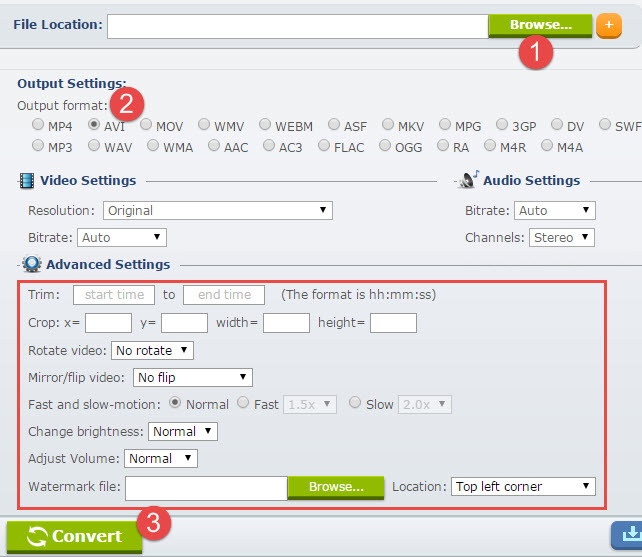 The best thing about this free tool is that it doesn't have file size limit and restricted number of converts per day. You can use it to convert files as large as you want and as often as your heart desires. Additionally, it runs fast and doesn't sacrifice video quality meaning, you can still preserve high resolution videos after conversion. This tool even comes with video output settings so you could select the right resolution, bitrate, frame rate and audio quality based on your needs. With its graphical and intuitive user interface, using Apowersoft Free Online Video Converter to convert VOB to AVI for mac is extremely easy. You just need to follow three steps below:
Step 1: Visit the website and load the video file you want to convert. A java pop-up will appear and click "allow" or "permit".
Step 2: Select the right output format, in this case it is AVI. Adjust audio settings if you want an enhanced audio quality., but this will also result in larger file size.
Step 3: Click the "Convert" button and wait for the program to finish converting your file.
Free VOB to AVI Converter
Another tool that can free convert VOB to AVI is the program application created by ConverterLite. It supports to convert VOB files into different file formats including AVI, MP4, 3GP, MP3, etc. Like the aforementioned software, you don't need to pay a single cent in using this converter.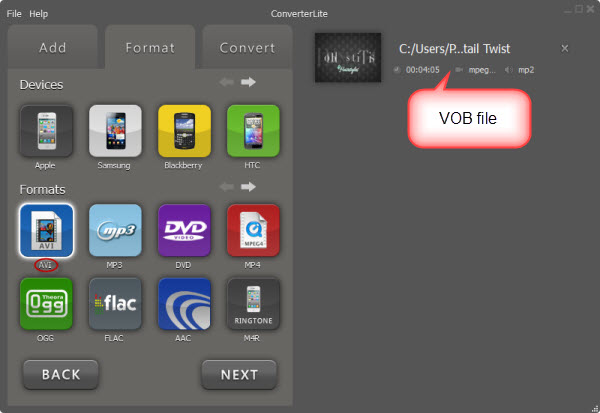 However, there are drawbacks you need to consider:
This program needs to be installed.
The conversion process is slowly especially for large files.
It does have output settings but only available for the resolution of videos.
The Shareware to Convert VOB File to AVI
If the above tools still don't fit your desires to convert DVD files into AVI or other formats, you can go for premium tools that have powerful conversion capabilities and full-pack editing options. Apowersoft Video Convert Studio is an all-in-one device that supports different file formats such as VOB, AVI, MP4, FLV, MKV, Android, Smartphones, Tablets, DVD, Apple, PSP and audio formats.
Unlike the above free VOB to AVI converters, Apowersoft Video Convert Studio comes with a smart editing tool for easy and convenient video editing. You can add subtitles, merge videos, crop parts, split contents, add external audio files, adjust brightness, set contrast, adjust color saturation and more. Furthermore, the Apowersoft Video Convert Studio supports real HD file conversion of up to 1080p resolution with zero quality loss.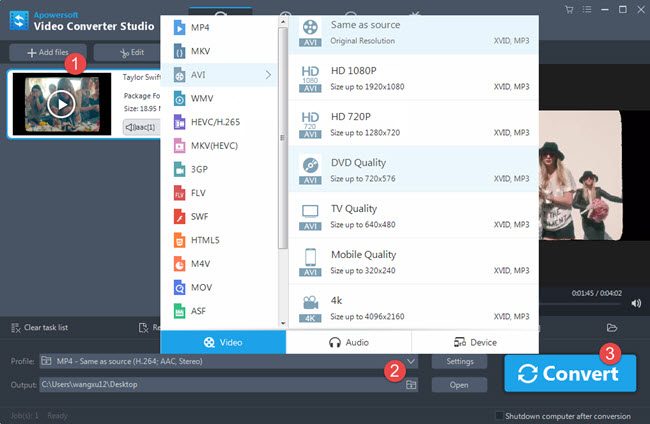 Converting VOB files to AVI or to other format is easy with the methods listed above. You can choose from free desktop application, cloud-base yet powerful online program or feature-filled premium converter depending on your needs. No matter what program you choose, just make sure that it lives up with the promise of quality conversion.