HTC Corporation or High Tech Computer Corporation is a manufacturer of phones and tablets. It is now considered as one of the best makers of Android phones. Apart from Samsung, which as well produces Android phones, more people believe in the quality products that HTC has. Their products have quality videos and support formats like AVI, 3GP, MP4, etc. which people love to but they do not support files like MKV format. With this, in order to watch MKV video, users need to use a video converter for HTC.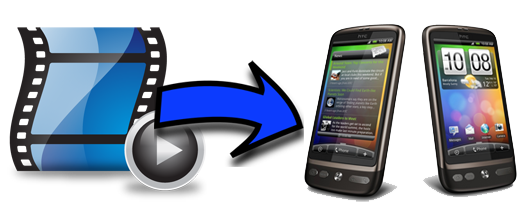 People convert videos to HTC for enjoyment and convenience purposes. Instead of turning on their PC every now and then just to watch a video, most people prefer to watch them in their mobile phones. They will be able to watch videos anytime and anywhere. Additionally, as for professional and business use, some people use their phones for their presentations. They will just connect the mobile phone in the projector. In  order to make all the videos compatible to HTC, it is recommended to make use of a converter. With this, below are suggested ways on how to convert video for HTC.
1. Free HTC video converter (Easy way)
2. Video to HTC Converter for Windows (Windows Pro way)
3. HTC Video Converter for Mac (Mac Pro way)
1. Free online way: Convert video to HTC online for free
You can convert video for HTC phone online with the help of Apowersoft Free online video converter. It is a web-based application which does not allow any installation. Unlike any other free video to HTC converter, this tool has no limitations. You can convert as many videos as you like yet giving you high quality videos. Additionally, this tool does not require users to register and pay for hidden charges. It as well supports both Windows and Mac operating system.  Using this online tool is just so easy. Simply follow the steps below.
Step 1: Go to Apowersoft Free Online Video Converter page.
Step 2: Browse the file you want to convert.
Step 3: Choose the output format of the file.
Step 4: Click on "Convert" button to start converting the video.

2. Windows way: Convert video to MP4 for HTC series with Video Converter Studio
Apowersoft Video Converter Studio can convert video to MP4 and some other formats which is compatible for HTC. This application needs installation to your Windows computer. You can actually use it even without internet connection. Just like the first one, this has no limitations in terms of converting huge number of videos. The good thing about this one is that you don't need to wait for one file to finish converting before converting another one. Videos can be converted all at the same time. Apart from having all the features of the online one, this video supports the conversion of high quality movies such as 720P and 1080P.
To convert a video using this tool, do the following steps:
Download, install and launch Apowersoft Video Converter Studio.
Click on "Add" tab and choose the file you want to convert.
Drop Down "Profile" box and choose the output of the video.
Click "Convert" button to start converting.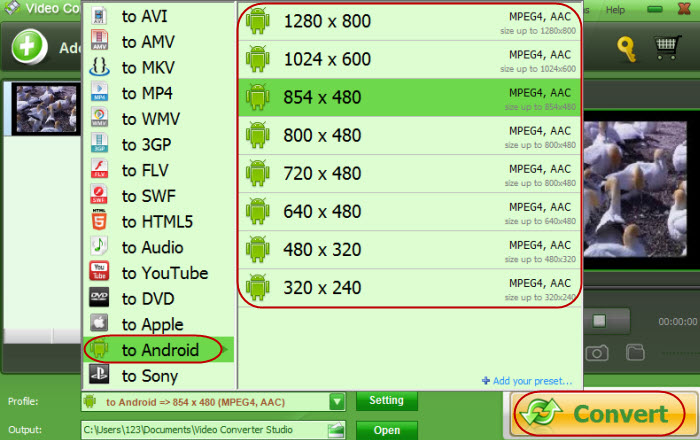 In addition to that, other functions of this tool are the following: (a) It allows users to add another audio file (aside from the audio of the original video), (b)it allows users to add and edit subtitles and it has a built-in subtitle editor which allows users to edit fonts, choose the position of the subtitle and it supports multiple languages too and, (c) it also allows users to merge multiple videos into one. Furthermore, if you want to just get a piece of video to convert video to HTC One M8, you can crop or trim the video as well.
3. Mac way: Convert various videos for HTC phone on Mac
If you are a Mac user, you can covert a video using your Mac PC by using Apowersoft Video Converter for Mac. The quality of the video you want to convert will remain the same right after converting. Additionally, just like the Windows way option, this tool can convert multiple videos at the same time.This application needs to be installed in your Mac computer first before converting videos.
To use this tool, see the steps that follow:
Download, install and launch Apowersoft Video Converter for Mac.
Browse the file you want to convert.
Choose the video output format.
Click on "Convert" button to start converting.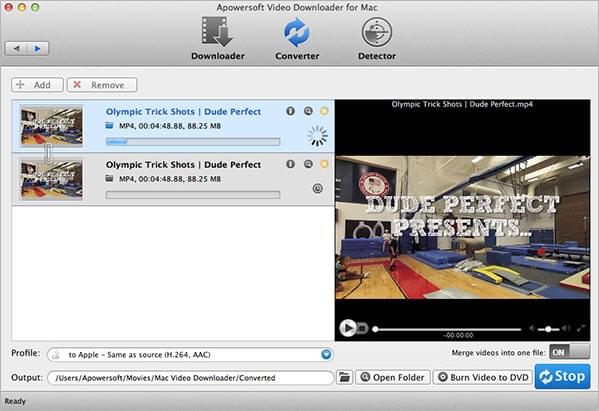 Apart from the built in converter it has, this tool also possesses a built-in video downloader allowing users to download videos from hundreds of different sites. It also has an editing tool which allows user to edit and merge videos into one.
HTC users can now save videos in their phones regardless of what PC they have. People can now watch any videos they want as long as they use one of the converters above using their HTC phones.