Best Ways on How to Get a Transparent Phone Background
3 Best Apps to Achieve Transparent Phone Wallpaper
Transparent Screen & Live Wallpaper (Android)
First on the list we have an Android app called Transparent Screen & Live Wallpaper. It comes with interesting features such as live wallpaper and a transparent screen. If you want to control your wallpaper by controlling its speed and range from scrolling, then you will choose the live wallpaper feature. And if you want to see a purely transparent phone background, you may pick the transparent screen feature. Furthermore, this app's interface provides a user-friendly suitable for first-time users. Here's how to get a transparent phone background using this app.
Go to your Play Store to search for the app and have it installed.
Open it and choose either "LIVE WALLPAPER" or "TRANSPARENT".
Tap the "TRANSPARENT" button > "Set wallpaper" button to enable it on your phone screen.
Then, hit either "Home screen" or "Home screen and lock screen" to set wallpaper.
Finally, go back to your home screen and you'll see a transparent phone wallpaper.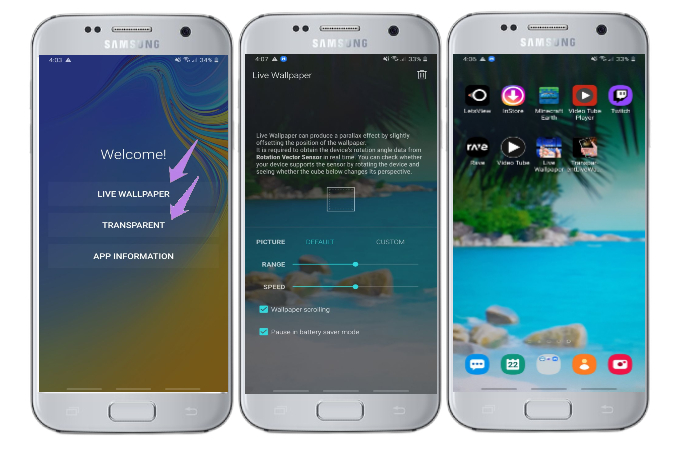 Transparent Live Wallpaper (Android)
Another app is called Transparent Live Wallpaper. It helps you on how to get a transparent phone background with no hassle. It allows you to show your background screen at the back of your camera and make your mobile screen look transparent. Though annoying ads often appear while using this app, yet this is a good option if you want to see things behind your phone. Thus, you'll be able to see things clearly into the entire screen even though you are walking and texting. More so, this app does not require any skills as it provides an intuitive interface. If you want to easily get a transparent phone wallpaper with the help of this app, then follow the steps given below.
Install the app on your device and then open it.
Hit the "Transparent Wallpaper" to set the transparent wallpaper.
Then hit the "Set Transparent Wallpaper" > "Set wallpaper" tabs to set the wallpaper whether from home screen or home screen and lock screen.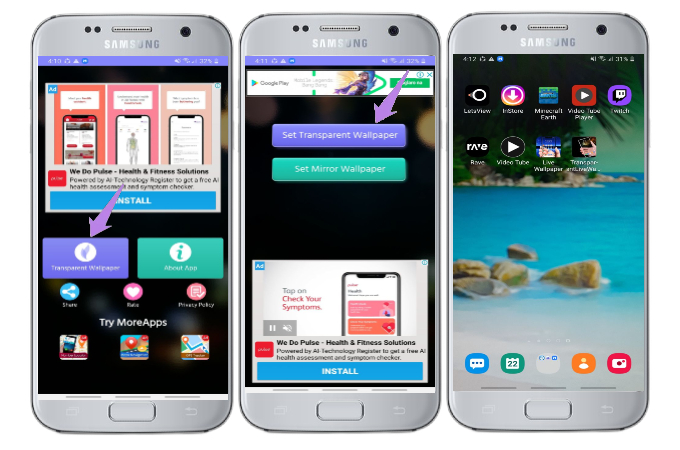 Type n Walk (iPhone)
If you are looking for a smarter and reliable app for an iOS devices that lets you have a transparent phone wallpaper, then Type n Walk is the perfect option for you. It will show you what's in front of you. Besides that, this app keeps you vigilant that avoids you in any circumstances even if you are using your phone while walking. Aside from its convenience functionality, Type n Walk is user-friendly which is suitable for a novice. To learn how to make your phone screen transparent, follow the simple steps below.
Go to your App Store, search for the app, and install it.
Open it, then you will see a transparent phone wallpaper.
Write down any text and then hit the "Share" icon to upload.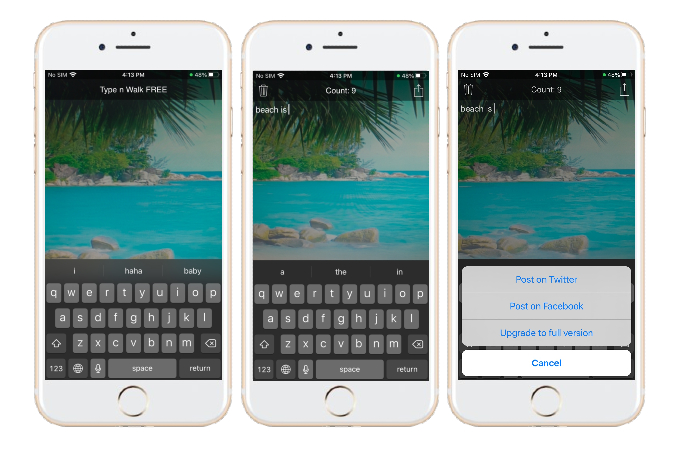 How to Get a Transparent Phone Background with Apowersoft Background Eraser
Apowersoft Background Eraser may not let you create a transparent phone wallpaper, but it enables you to achieve a png image background. In just a few seconds, the background of your photo will be removed and allows you to replace it with a backdrop that is already available within the app. You can use the resulting photo as a new wallpaper on your phone. Let's see the easy steps on how to get a transparent background.
Install the app, open it, and choose a recognition to import a photo.

Then this app will remove your background automatically.
Finally, tap the "Save HD" button to save it.
Conclusion
There are the best transparent phone wallpaper apps in 2021 that you can rely on. Make sure to try them all to experience a more realistic look on your screen instead of normal wallpaper. Furthermore, feel free to comment if we have missed your favorite transparent phone wallpaper app.