Transparent Image Maker Free & Paid
Efficient Apps to Have Transparent Photo
Apowersoft Background Eraser
Creating a precise transparent picture is an easy way to do it with the help of Apowersoft Background Ersaer. With its clever AI technology, the app will detect the foreground from its background giving you satisfying results. This AI handles each picture with either solid or complicated colors and designs so well that you don't need to ask for professionals. Works in just seconds, Apowersoft Background Eraser is one of the efficient apps that you may have on both Android and iOS.
Turn images into transparent with this amazing app.
Download and install the background remover app from the Play Store or the App Store.
Choose "One-Click Cutout" to upload the photo that you need.

Once uploaded, the app will automatically process your file and give you a transparent result.

Finally, hit the "Save HD" button.
Background Eraser
Another handy app that you may have on your Android phone is Background Eraser. This app will allow you to upload as many pictures as you want to have a transparent background. It uses the "Auto" removal tool to erase similar pixels automatically and the "Extract" mode to highlight and get rid of the object accurately.
Use this transparent image converter to have a clear cut out of your subject.
Install the app on your phone from the Play Store.
Run the app, tap "Load a photo" to upload the picture.
Then, select the removal tool that you need and manually highlight the background.
Lastly, hit "Done" and tap the diskette-like icon.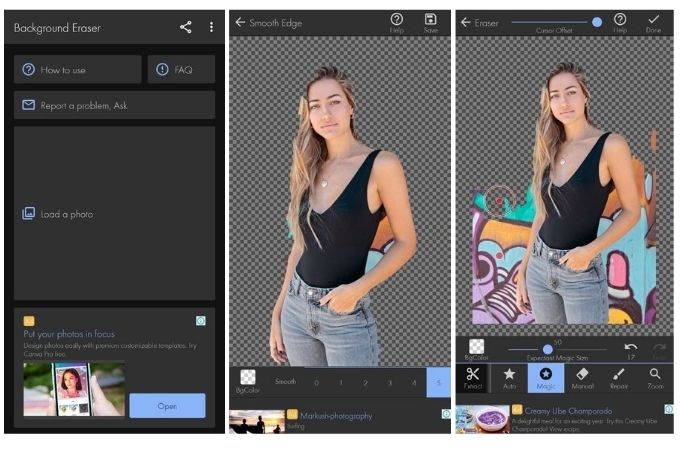 Remove Background
Remove Background is another handy app that you can install on your Android phone. This app works best in deleting the unwanted background from any photo formats that you have. Just like any other tools here, Remove Background uses AI methodology that separates the subject from its background automatically.
Cut out your subject using this transparent image maker for free.
Open the Play Store and look for the Remove Background app.
To start, choose the "Photo" option to upload the image.
The app will automatically remove the background, giving you a precise result.
After that, tap the download icon to save your edited image.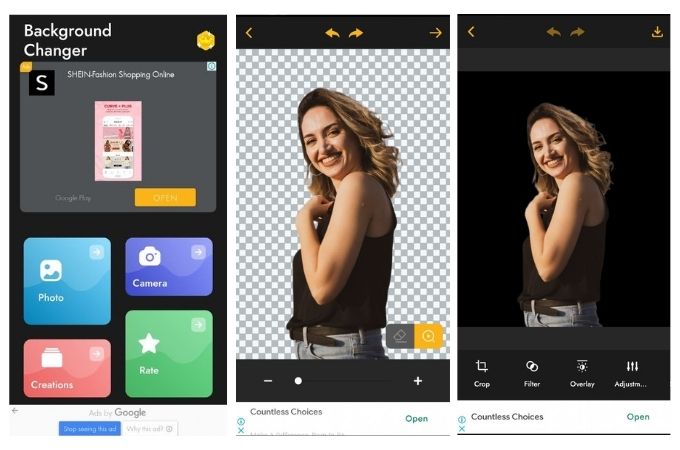 BG Remove
This AI-powered app called BG Remover will quickly remove background from your photos and save it directly to transparent format. The auto-erase which is a one-touch background removal will definitely give you a precise result of your subject. However, the app can only give you clean result for those images that only consists of plain backgrounds.
Have this transparent image converter app on your mobile phone.
Go to the App Store to download and install the app on your iOS phone.
Tap the "Import" icon to get the picture from your phone library.
Choose "Crop" to be directed on the editing interface.
Select between "Manual" and "Auto" to delete the background.
Once done, hit the checkmark icon to save your work.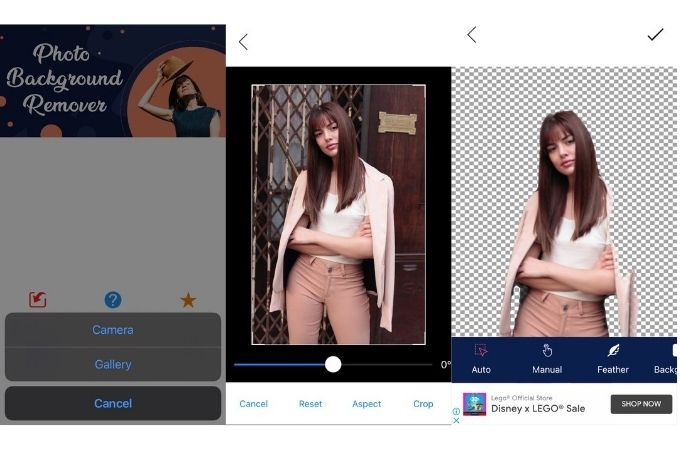 Magic Eraser
For iPhone users out there, Magic Eraser is another useful app for you. No need to have professional photo editing skills because you just need to use its "Magic wand". This photo editor will let you cut out and turn images into transparent that you can use in logos, documents, image editors, and many more.
See these simple steps that you may follow to make your photos transparent.
Get the Magic Eraser app on the App Store and install it on your phone.
From its interface, tap the "Gallery" icon to import a photo.
Choose the removal tool that you need and manually erase the background.
Once satisfied, select the PNG format and save your clear photo.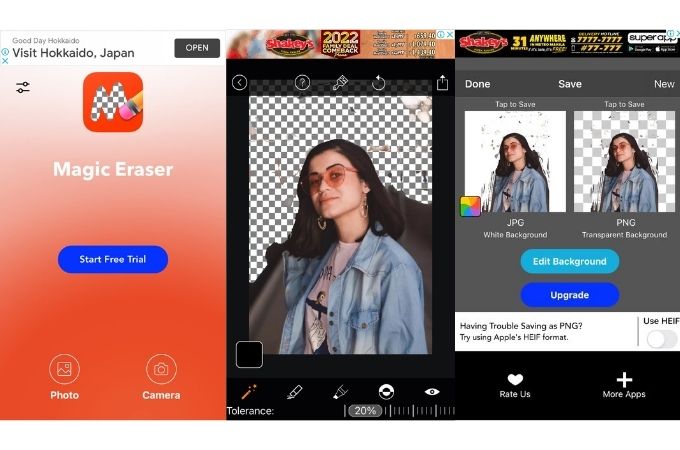 Easy to Access Web Service Tools
PicWish
PicWish is a transparent image-maker free that will make your life easier in transforming your images to PNG format. Its smart AI can automatically handle almost all complex backgrounds in just 3 seconds. What is more amazing about this online tool is that it also offers manual tools for better results. With PicWish, you can save time, effort, and money.
Follow this simple guide to have a clear cut out subject.
Visit the official page of the background remover tool.
From its interface, click the "Upload Image" button to get photo from your library.

The tool will automatically process the file and will show you the transparent result.
Just hit the "Download" button.
ImageResizer
Another online transparent image converter that you may rely on is ImageResizer. This transparent image-maker effectively transforms your photos to clearly cut out the unwanted background in a few clicks. The only downfall of this online tool is that it will not give you the freedom to choose what color of the background you need to eliminate.
Here are the easy steps for you to follow.
Open your browser and visit the ImageResizer web page.
Click the "Select Image" to get the picture that you need to edit.

Next, click on the picture to select the color that want to be transparent.
After that, hit the "Download Transparent Image" to download your work.
PhotoScissors
PhotoScissors is another image online tool that you can use to transform your solid background to transparent. With its AI technology feature, you can instantly have a clean cut out of your photo. Also, if you are not satisfied with the automatic result, you may use the manual removal tools for better results.
Turn images into transparent with PhotoScissors.
Search the PhotoScissor official web page on your browser.
Get the photo by clicking the "Upload Image" button.

The online tool will process your photo showing you a clear result.
Hit the "Download" button.
Image Online
Image Online offers users the best experience in eliminating photo background online. This online web service tool will let you click the background color and remove it automatically with the help of its AI technology. Set the color removal strength and use it to detect the neighboring colors.
Image Online – one of the best transparent image maker free
Open your favorite browser and look for the official page of Image Online.
From its interface, click the "Select Image" button to upload the image.

Click the unwanted background to have a transparent photo.
Choose the photo format that you need.
Remove.bg
Remove.bg is a well-known online transparent photo maker that you can have for free. You can create PNG format photos in just a minute. With its amazing AI technology, you can achieve a clear transparent subject without having photo editing skills.
Try to use this transparent image converter online tool to cut out the subject from your photo.
Go to the official page of Remove.bg on your favorite browser.
Click "Upload Image" to load the picture from your computer library.

The online tool will give you the transparent result automatically.
Once done, save your work by clicking the "Download" button.
Conclusion
All these 10 tools that we listed above are the best tools that will help you out in creating your photos in a transparent format. But from all these online and mobile app tools, Apowersoft Background Eraser and PicWish are the most recommended ones. So turn image into transparent without any hassle with these useful tools.