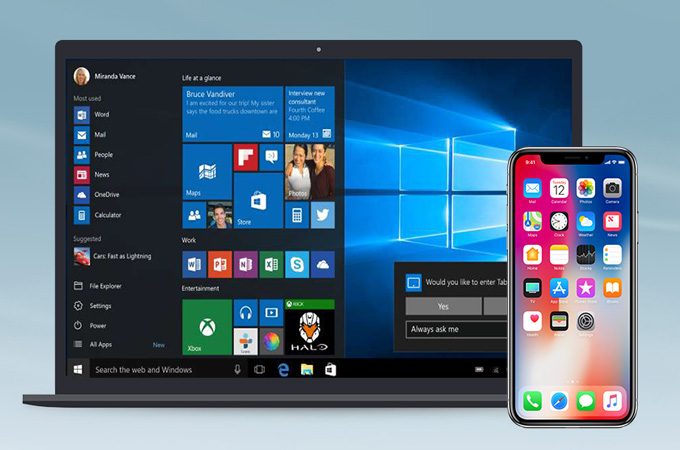 In this day and age, it's hard to escape from mobile phones—Mobile phones are literally our perfect partner. We use mobile phones for social interaction, to take photos and record our daily life with the built-in camera. However, it's not always easy to have locally saved copies of your messages, contacts, photos, videos, and other data on your PC. Though there are many options when it comes to transferring data from mobile phones to PC, if you own an iPhone and a Windows 10 computer, you might want to consider: whether you can easily transfer iPhone data to Windows 10 and vice versa. Here we will introduce two methods so you can learn how to import videos from iPhone to Windows 10.
How to Import Videos from iPhone to Windows 10?
AirMore
AirMore is one of the best third-party apps for iOS devices. It features an intuitive interface and enables you to manage pictures, music, videos, documents, and other files on Windows or Mac computer. Of course, AirMore can transfer a lot more than just videos between iPhone and Windows 10. Your pictures, music, documents, and clipboard can all be copied to your computer for safekeeping. However, it does not have any limitations for the files you want to transfer. For example, you are free to transfer videos in any format and in any size with this tool. If you want to transfer videos from iPhone to Windows 10, then you can check the following instructions:
Go to AirMore web on your computer and launch the QR code.
Run AirMore on your iPhone, and click the "Click to Connect" button.
Enable the camera on your iPhone to scan the QR code on the AirMore web.
Once connected, click the "Videos" button on the AirMore web.

Choose some videos you want to transfer and click "Export" to download the videos to your Windows 10.
ApowerManager
If you don't want to use the online tool, AirMore, then another good alternative is ApowerManager. It is available on both your iPhone and iPad. You can access your iPhone on your Windows 10 computer with no ads via this software. ApowerManager also has multi-data support. It allows you to manage photos, messages, notes, contacts, videos, etc., on your computer. If you want, you can export your data directly from your iPhone to your PC via this app (especially if you have a large amount of data to transfer). Below are the instructions for how to transfer videos from iPhone to PC Windows 10.
Install ApowerManager on both your iPhone and Window 10.
Launch the software and connect your iPhone to your PC via a USB cable.
Click "Trust" when the popup appears on your iPhone.
Once connected, go to "Videos", and select some videos from the preview area. Then click "Export" to save the videos to your Windows 10 computer.
Conclusion
Once you've set up a plan for transferring data from your iPhone to your computer, you can start the upgrade process. Although there are a ton of options for managing your iPhone data, AirMore and ApowerManager are what's popular these days. Be sure to follow the guides above to get the easiest way to transfer videos from iPhone to Windows 10.