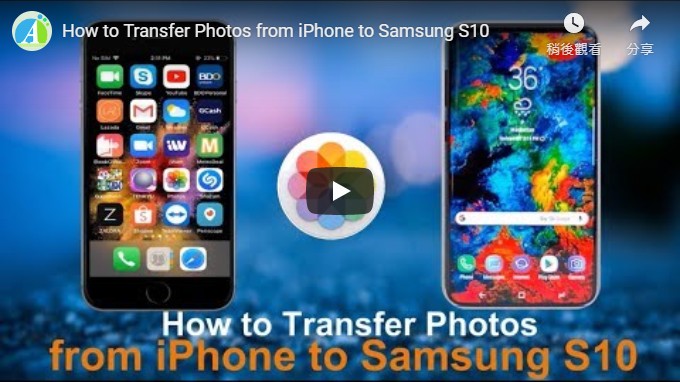 Samsung Galaxy S10 has many mobile users fascinated since it was accounced to the public. Compared to previous versions of Samsung devices, it is faster and more stable in speed and configuration. That is why many iPhone users may switch their phones in for the S10. However, there are probably a lot of photos left on your iPhone and they wish to move to your new Samsung Galaxy S10. To transfer photos from iPhone to Samsung S10, we provide you with some of the best transferring and managing tools available.
How to transfer photos from iPhone to Samsung S10
AirMore
AirMore is a free iPhone and Android data transfer application that allows you to wirelessly transfer files from phone to phone or to PC. It lets you store, transfer, and stream data using an internet connection. It works excellently on both iOS and Android devices, as well as on Mac and Windows platforms as long as it has Chrome, Safari, Firefox, or other web browsers. With this app, you can conveniently manage your files such as photos, videos, music, documents, and others from your phone or PC. Proceed to see how to transfer photos from iPhone to Samsung S10.
Open the application on both devices and tap the "More" icon on the lower right-hand of the interface.
Choose "Phone Transfer" and wait for your iPhone to recognize your Samsung device, then tap the name of your Samsung S10 to connect.
Once the two phones are connected, you can choose the photos you want to transfer and then tap "Send" to transfer them on your Samsung S10.
Extra tip – using ApowerCloud
AirMore provides a free cross-platform cloud storage, named ApowerCloud, which can be used as an alternative way to transfer photos from iPhone to Samsung S10. With this, you can save and backup your device's files to free up more space on your phone's memory. Moreover, it also allows you to manage your files from different platforms quickly and with no hassle, including files you uploaded from Windows, Mac, iOS or Android devices. Just create an account, log in on your iPhone, and upload photos to it. Afterwards, you can access these photos from your Samsung S10 directly by logging into the same account on the AirMore app.
ApowerManager
ApowerManager is also a good tool for data transfer and file management. It lets you manage files on your smartphones from your computer and allows you to transfer files from your phone to the computer and vice versa. In addition, it offers a lot of useful tools and a user-friendly interface that makes it more fascinating to use. Moreover, this program allows you to backup your files so you can easily restore them at anytime. To learn how to import photos from iPhone to Samsung S10, just follow the easy steps below.
Download the ApowerManager on both your PC and phone. Launch it afterward.
Connect your iPhone to PC using a lightning cable. Once connected, go to the "Manage" option at the top portion of the interface. Then, click the "Photos" tab and choose the images you want to transfer, and then click the "Export" icon to transfer iPhone photos to PC first.
After that, connect the Samsung S10 to PC using a USB cable. Once connected, go to the "Manage" option at the top portion of the interface. Then, go to the "Photos" tab, click the "Import" icon and choose the images you just exported on your PC to transfer them to your Android phone.
Once done, your iPhone photos will be transferred to Samsung S10 successfully.
Tips on HEIC images – Convert HEIC to JPG using Free HEIC Converter
Along with the release of iOS 11, the images you took on iPhone may be in HEIC format. It is also known as H.265 and has become a popular storage format for mobile images because it allows photos to be generated with a smaller file size while maintaining the higher image quality of a JPEG. However, iPhone users who switched to Samsung devices may have noticed that HEIC format images are not recognized on Android device, so you may need to convert your HEIC to JPG before you move photos from iPhone to Samsung Galaxy S10. To do this, follow the steps below.
Visit the official website of Apowersoft Free HEIC Converter.
Drag the pictures in HEIC format onto the file box.
Wait for a while and the HEIC images will be converted automatically.
Once the converting process has finished, download them by clicking the "Download" button beside the converted images. Then you can get HEIC images converted to JPG and save them to your Android device.
Conclusion
It is not difficult any more to transfer photos from one phone to another, and the above-mentioned tools are of great help. If you want to transfer photos from iPhone to Samsung S10 directly without any desktop app, you can rely on AirMore. If you have lots of photos to be transferred, ApowerManager is a better choice. For those who just want to keep the photos and want to have access to them at anytime and anywhere, you can also upload files to ApowerCloud, which will not only free up your phone's storage space, but also allow you to access all your photos from different platforms including iPhone, Android, Windows and Mac.