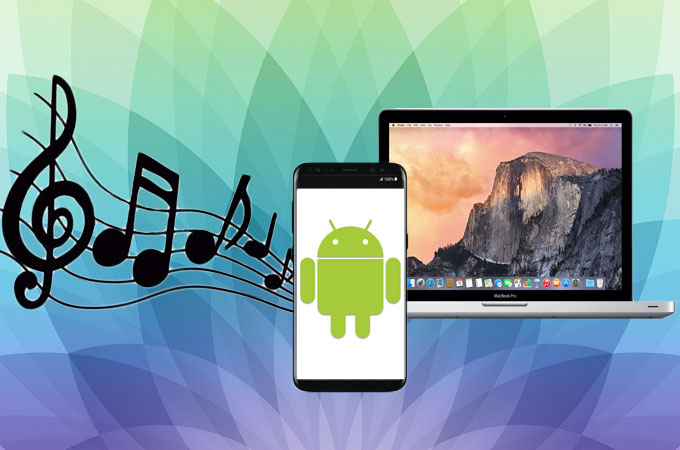 There is no doubt that Android is the hottest mobile operating system right now. What makes it different from other OS is that it provides greater flexibility for users to customize their mobiles. From changing themes to installing useful third party applications, everything is well tolerated on Android smartphones. One particular program that many users opt to install is android music manager. With the music management applications, users can effortlessly transfer songs from any device to their smartphones, customize their ringtones and do a lot more. Although they are many applications through the web, the features vary making it hard to choose the right one. To save much of your time and effort looking for the right program, check out these top music management tools below.
Top Android Music Management Tool
Apowersoft Phone Manager
The tool is a completely featured mobile device manager on your computer, which can easily transfer and properly manage mobile data from PC or in the other ways. It grants you the ability to import or export different between mobile phone and computer including music, images, videos, apps, contacts, messages, books, etc. Using this app to manage music on Android is very easy:
Download the program on your PC
Connect your phone to PC via USB, Wi-Fi or 2D code scan. For more detailed info, please click here.
On the main interface click the "Music" icon on top. Click "Import" button to add files or "Export" to transfer files from phone to PC.
Simply rename, manage, delete audio files and personalize the ringtone as you wish.
Other features of Apowersoft Phone Manager include follows but not limited to:
Compatible with all models of smartphone
Take mobile screenshots directly on computer
Ability to project mobile screen to PC in real time
Pros: Easy to use, transfer various mobile data, comes with extra functions
Cons: There is no Mac version right now
AirDroid
Known for the ability to wirelessly transfer files from mobile phone to PC, AirDroid is yet another music manager for android that you could try. With it, users can play, transfer, and manage music files from phone to PC via wireless connection.
To use AirDroid, simply follow the guide:
Install the application on your android phone.
Visit AirDroid's website and connect your phone via Wi-Fi.
On the main interface, drag and drop the audio files you wish to transfer.
On top of these things, AirDroid can equally:
Set music as ringtone
Transfer other mobile data such as photos and videos
Mirror mobile screen directly on computer
Create mobile screenshots
Pros: 100% free
Cons: Some features are only available for rooted android phones
DoubleTwist
This mobile program can play, manage and sync music files with ease. What makes it different from other music managers is that it focuses more on being a dedicated music player and podcast manager. With DoubleTwist, how to manage music on android needs not to be complicated, just:
Install the application on your phone and computer.
Open the program and connect your phone to PC.
To transfer music files, click your device and mark the "Music" checkbox.
Click the "Sync" button.
You could also create a playlist by clicking the "Playlist setup" button on the left pane.
Users can likewise enjoy the following features of DoubleTwist:
Compatible with MTP-required android handsets
Simple user interface
Comes with AirPlay music streaming
Ability to backup playlists
Pros: Dedicated music software, built-in AirPlay, elegant music player
Cons: Some features require in-app purchases, the PC version is bundled with other applications
Samsung Kies
If you are a Samsung user, you may want to try Kies which is the superior android music manager of Samsung. With this app, transferring music files from your Samsung phone to PC is easy. You could also manage your music library, transfer photos, move videos, etc. This music manager for android is easy to use, all you need to do is:
Install Kies on your PC.
Connect your device to PC using USB cable.
Click the "Music" icon on the left pane.
Mark the files you want to transfer.
Click the "Phone" icon with an inward arrow on top.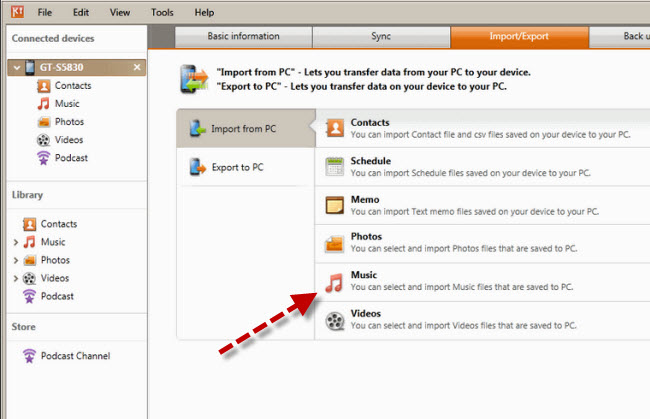 More than just a music manager, Samsung Kies can likewise do these tasks:
Update the firmware of your Samsung phone
Create mobile backups including phone settings
Sync Outlook, Mac address book and iCal
Perform emergency firmware recovery
Pros: Smooth operation, can be used to update mobile firmware, easy syncing process
Cons: Compatible only with Samsung phones, the PC software needs a high system requirement
MOBILedit
Tagged as the universal PC suite for smartphones, MOBILedit surely can manage music on Android. Users can transfer music among your PC, old phone, the new phone, iTunes, and even previously created playlists. To start transferring music, just:
Install the software on your designated folder on computer.
Connect your phone to PC.
On the main interface, click the "Import" icon on top.
Select the music files you need to transfer.
Wait until the process completes.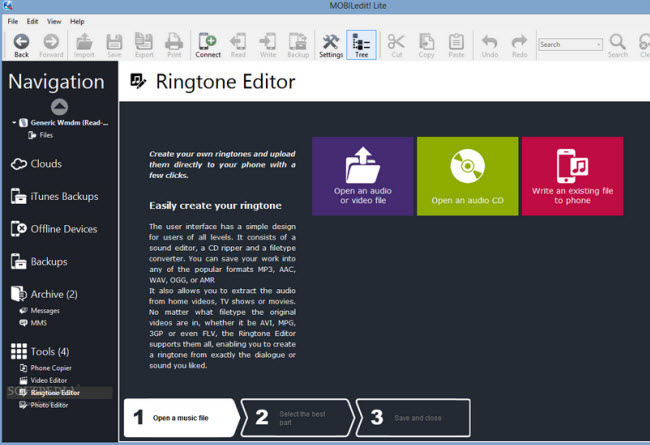 It is likewise filled with useful features:
Ability to create your own ringtone
Transfer mobile data wirelessly
Create data recovery
Cloud storage support
Pros: Complete phone management software, easy to use
Cons: The lite PC version is feature-limited, costly license
Comparing the above android music management tools, the Apowersoft Phone Manager offers a more diverse and competitive set of features. Furthermore, it is very flexible that you can use it not just to manage music files but other mobile data including contacts, messages, videos, photos and more.