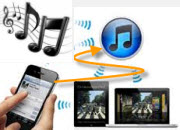 The iPhone is indeed without a doubt a great multimedia device. Aside from using it as a means to communicate with others, you could also use it to store and play music files. However, there will come a time that your iPhone would be filled with obsolete and outdated songs. Instead of erasing them on your device, a more reasonable option would be to transfer music from iPhone to iTunes library. This might sound so easy but not with iPhone's complicated way of backing up music.
If you find it difficult to sync your music files from your device to iTunes, using a reliable third party application would certainly help most. Tons of them are available online but only a few can actually facilitate a smooth music transferring. Below are proven effective applications that can get it done without much of a hassle, check them out after the jump.
Cool ways to transfer music from iPhone to iTunes
1. Comprehensive yet efficient way
2. Free but not easy way
Way 1: Apowersoft Phone Manager
One of the best software you could ever use is the Apowersoft Phone Manager. This tool allows you to transfer not just music but other files as well such as messages, contacts, videos, photos, apps, bookmarks, call logs, wallpapers, documents and many more. With it, you could transfer files from your phone to PC and PC to phone with such ease. Additionally, this tool works flawlessly with both Android and iOS with support for newer gadgets like Note 4, iPhone 6, and iPhone 6 Plus.
How to transfer songs from iPhone to iTunes using the Apowersoft Phone Manager consists of two parts. The first part is to transfer the songs from your iPhone to PC, and then the second part is to transfer the songs from your PC to iTunes. Check out these detailed steps below:
Part I:
Download and install the software on your computer.
Connect your iPhone to PC via USB cable. Remember to click "Trust" when a dialog box appears.

Once your device is fully recognized, click the "Music" tab on top.
From here you will see all songs stored on your device. Click the ones you wish to transfer to iTunes and hit the "Export" icon on top.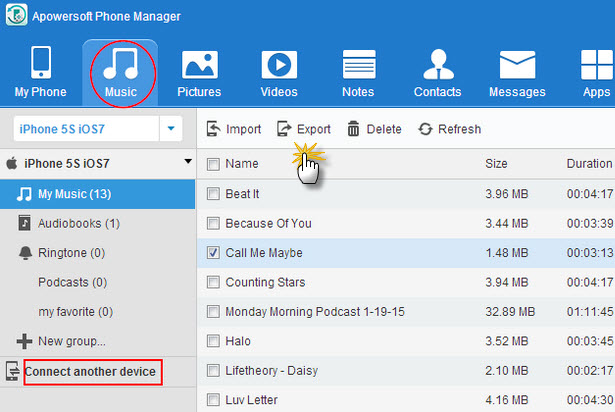 Part II:
Now open iTunes on your computer.
Click "File", and then "Add file to library".

Browse your recently exported music file and import it directly on iTunes.
Aside from the ability to straightforwardly put music from iPhone to iTunes, the Apowersoft Phone Manager is likewise filled with other features you would surely enjoy. This program has the ability to backup iOS contents that can later be restored when needed. Also, you could use it to take iPhone screenshots directly from your computer. Furthermore, it is equipped with mobile screen projecting feature that allow users to display their mobile screen on PC in real time.
On top of these things, the tool is jam-packed with amazing yet useful functionalities. The revamped version now includes free online services like Video Converter, Screen Recorder, Audio Recorder and Video Downloader. Whilst other features such as the ability to manage or organize iPhone contents, send messages directly on PC, edit phone SMS, edit contacts, import/export files, etc. are equally present.
Another tool that you can use to transfer iPhone music to iTunes is the iExplorer. This program runs similar to the above program; it can transfer music files to iTunes, export text messages, mount iPhone or iPad, export voicemails, export contacts, organize photos, import files and many more. Basically, the iExplorer allows you to access every data stored on your iPhone.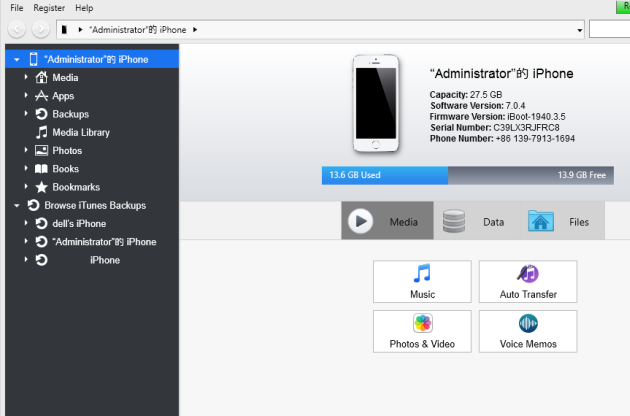 If you wish to use this program to transfer music from iPhone to iTunes, all you need to do is:
Download iExplorer on your computer.
Open iExplorer and connect your iPhone to PC via USB cable.
Click "No" when prompted about iTunes sync services.
On the left pane, click "Media library" and select the songs you wish to transfer.
Scroll down the bottom and click "Transfer" button.
Choose the option that says "Transfer selected to iTunes".
There are many ways on how to transfer songs from iPhone to iTunes. Depending on your needs as well as wants, you can use the Apowersoft Phone Manager or iExplorer. Both of them can certainly transfer all your stored music files from your device to iTunes but each clearly differs in terms of additional functionality and ease of usage. To help you decide which amongst them suits your needs best, below is a simple comparison chart.
| | Price | Limitations | Ease of Operation | Supported OS | Extra Features |
| --- | --- | --- | --- | --- | --- |
| Apowersoft Phone Manager | Free/Pro | None | Easy | iOS/Android | Fully-featured |
| iExplorer | Free/Paid | Free version can only transfer 10 tracks | Complicated | iOS | iPhone mount |