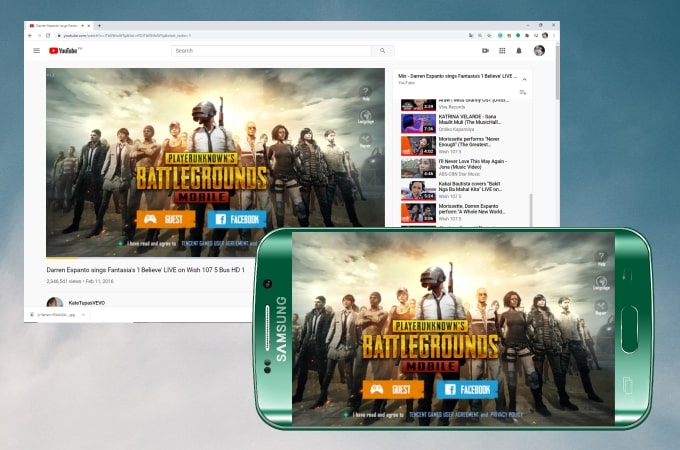 PUBG Mobile is an online multiplayer battle royale game specifically designed for mobile phones. Due to the intense battles, most players are now starting to stream their games on various social media platforms to share their games, earn money, and for fun. If you're also an avid fan of this game and wondering how to stream PUBG Mobile on YouTube, you can use this article as a guide for your first streaming as well as to know some of the best game streaming apps that you can use.
Best Ways to Stream PUBG Mobile on YouTube
Stream with ApowerMirror + OBS
If you're an aspiring PUBG streamer, one way you can stream PUBG on your computer is by using ApowerMirror. Using this application, you can cast your game on your computer to stream it on Youtube. This application also comes with screen recording which is essential for recording your game. Here's how to stream PUBG Mobile on YouTube from PC
Steps 1: Mirror phone with ApowerMirror
Download and install the application on your computer and phone.
Launch ApowerMirror on your PC and phone. On your phone, tap the Mirror button >> Name of your PC >> Mirror Phone to PC >> Start now. Then your phone screen will be cast to your PC.
Steps 2: Set Up OBS Studio
Install OBS Studio on your computer.
Launch the app, tap Tools then Auto-Configuration Wizard.

Next, right-click Scenes >> tap Add >> type LIVESTREAM GAMING >> OK.

Then, go back to your phone and mirror PUBG to your computer using ApowerMirror.
Once mirrored, on OBS Studio, click Sources >> right-click and tap Add >> Window Capture >> and tap OK.

To add your video while streaming, click Sources, right-click and select Add, then Video Capture Device, and click Apply.
Step 3: Stream PUBG Mobile on YouTube
Launch YouTube and click the camera icon on the upper right corner and tap Go Live. Then, click STREAM and add the title of your video, and tap CREATE STREAM.
COPY the Paste the Stream key from Stream Setup Help, then click DONE.
Now, go to OBS Studio >> Settings >> Stream >> Service >> Youtube Live >> paste the link >> Apply >> OK.
Lastly, click Go Live on OBS Studio and on YouTube to start streaming.
Stream from Mobile using YouTube app
If you already have at least a thousand subscribers on your Youtube channel, you can live stream directly on YouTube without using other applications. Here's how to stream PUBG Mobile on YouTube from mobile.
For Android:
First, your phone must have Play Games by Google Play Store. Then, launch the application and search for PUBG.

Click the game, then tap the red dot on the upper right corner and choose Live to start streaming.
Note: You must first set up your YouTube Channel to stream directly using Google Play Games.
For iOS:
Open YouTube, and tap the Live icon on the upper right corner, and select Go Live. Tap Create a Title and type the title of your video.

Then, click the red Next button to take a photo for your thumbnail. And lastly, click Go Live to start streaming PUBG Mobile on YouTube from your iOS device.
Conclusion
These are the top ways on how to live stream PUBG Mobile on YouTube. If you're eligible to stream directly on Youtube, it is better because you'll save a lot of time. However, if you're still new to streaming, you may use ApowerMirror and OBS Studio to stream.