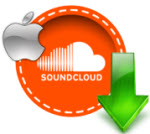 Different from other audio streaming websites, SoundCloud hosts originally created contents aimed to provide amateurs as well as professional musicians to share their recordings online. This Swedish-based company was founded in August 2007 in Berlin, Germany. If you are a big fan of original music, radio dramas, audiobooks and other products, subscribing to this site will definitely broaden your musical perspective. Besides, you can use SoundCloud downloader for Mac to save your favorite audio contents directly on your computer.
However, Mac OS has a great limitation when it comes to download audios. Especially on SoundCloud, some WMA files are not able to be downloaded and played in browser. Besides, majority of the tracks uploaded on the site are not allowed to be saved. If you are having difficulties in downloading your favorite music online, worry no more because below are some of the best programs you could use to easily download SoundCloud contents.
Best 3 Mac SoundCloud Downloader
Apowersoft Audio Recorder for Mac
If you want an all-in-one audio recording program fully compatible with Mac OS X including the most latest EL Capitan, then the Apowersoft Audio Recorder for Mac is what you need best. This software allows you to record literally any sound playing from your computer. You can use it to grab songs from YouTube, Pandora, Spotify, iTunes, Skype audio conversations, QuickTime, MySpace, VEVO, SoundCloud, and many more.
What's great about this SoundCloud ripper for Mac is that it can record any sound playing on your computer whilst maintaining 1:1 quality. It doesn't have time and file size limitation, you can use it to record any audio as long as you want. Also, you can easily set scheduled tasks for a more efficient recording using this software. It is additionally equipped with an intelligent ID3 tagger so you can effortlessly identify as well as edit music track information for a more organized music library. Other features of this Mac audio recorder include split recording, simple audio editing and many more.
To download music from SoundCloud on Mac, first you need to download this software and then do the following instructions:
Launch the software and click the "Settings" button to adjust settings accordingly. Customize the appropriate audio source, file format and keyboard shortcuts.
Play the music you want to record from SoundCloud.
Click the red button to begin recording and click the same button again to stop once done.
Your file would be automatically saved, just switch to the "Library" interface. There provides the options which support you to play, edit, rename or identify info for the music.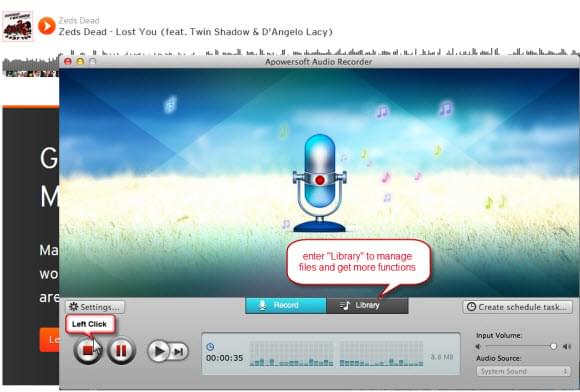 Anything2MP3.com
If you don't want to install additional programs on your Mac, there's another program you can use to grab songs from SoundCloud. Anything2MP3.com offers a highly specialized web tool that can convert as well as download streaming audios online. This website supports SoundCloud, YouTube, Vimeo, Bandcamp, Dailymotion, Dropbox, LiveLeak and many more.
With this site, you don't need to pay just to start using its services. Moreover, it doesn't require memberships or sign-ups. Within several clicks, the SoundCloud downloader for Mac will download audio files smoothly.
From SoundCloud, copy the URL of the webpage containing audio.
Open Anything2MP3 on your browser and paste the link into the blank download bar.
Click the "Convert" button below. Wait until converting process completes.
Then click the download link to save the file on your Mac.

Anything2MP3 is a great tool for downloading SoundCloud audio. However, its conversion and operating speed is not so reliable. The output audio format is only limited to MP3. Also compare to other software, the quality of grabbed audio isn't at par.
Piezo
Piezo is yet another SoundCloud ripper for Mac. This program needs to be installed on your Mac computer and can do tons of things aside from the ability to download songs online. It has a clear interface, offers a one-click audio recording button, supports recording from apps such as Skype and provides magnifier tool to find recorded files.
Piezo supports web audio recording from different browsers such as Safari, Chrome and Firefox. It can equally grab songs from DVDs as well as playing movies. Moreover, you could also utilize it to grab songs from playing videos, web streaming services such as Spotify, Rdio, MOG and many more. Recording audios using external sources such as microphone is equally supported.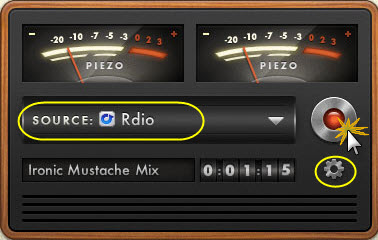 However, not everything with it is absolutely amazing. Downloading the software is free but then right after ten minutes of recording, a noise is overlaid on top of the audio file. It is likewise compatible only to Mac OS X meaning one cannot use it on other operating system such as Linux and Windows.
Clear enough, there are many Mac SoundCloud downloader available out there. You can use the web tool or desktop programs to easily grab audios playing from SoundCloud. If you just want to download audios from the said site, using the online tool is okay. But to download high quality songs and manager them flawlessly on any OS including Mac OS X El Capitan, the program like Apowersoft Audio Recorder for Mac is more suitable.