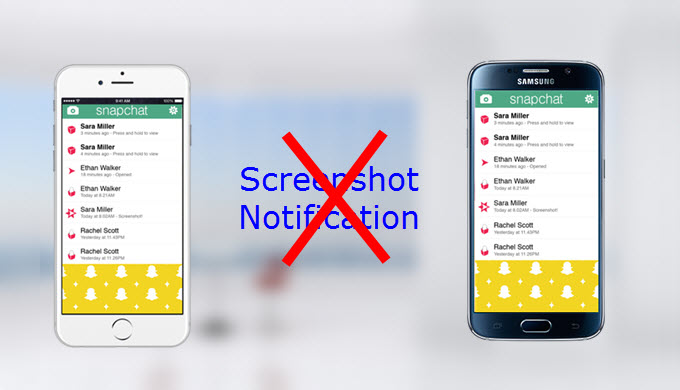 Snapchat is a video messaging application that is known for its timed Snaps which are automatically deleted in a time specified by the sender. These Snaps may consist of photographs or videos that people sends to a controlled list of recipients. Sometimes, you may want to take screenshot of some silly or funny photos from other people on Snapchat. But the sender will get noticed that you have taken a screenshot of their photo if you press the "Power" + "Volume down/Home" buttons. This article will tell you how to screenshot Snapchat secretly.
Taking Screenshot Using Third-Party Tools
I. Apps for Android
1. Apowersoft Screenshot

This app is a screenshot tool for Android users. It allows you to take screenshot of anything on the screen. You can either press the "Power" and the "Volume down/Home" buttons at the same time for 2 seconds or tapping on its overlay icon which is for Android 5.0 and higher. Once the screenshot is created, you can edit it immediately in this tool's image editor. You can crop, annotate it with texts, lines and so on. After editing, there are options for you to save the screenshot on your phone, directly share via other apps on your phone or upload it to free cloud space provided by the developer.
Here are the steps for you to learn how to screenshot on Snapchat secretly with this app.
Open the app, tap on the "Start" button and turn on the overlay icon on its starter interface which is available on Android 5.0 and higher.
Go to Snapchat and display what you want to capture on the screen.
Tap on the blue overlay icon on the screen. After that, the screenshot is taken and will be shown in the image editor of this screenshot app.
Before saving the screenshot, you can edit it at you wish.
Tap "Done" > "Save" on the top left and store the screenshot on your phone.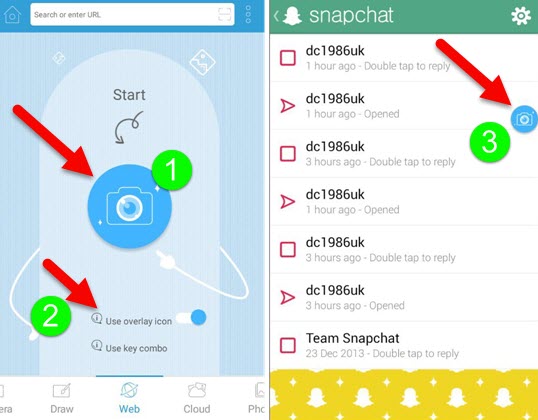 2. SaveMySnaps

SaveMySnaps is another tool for you to save Snapchat screenshots. It can screenshot Snapchat secretly so that the sender will not know that you just saved the image that they sent. Aside from that, it even allows you to share saved photos and stories as well as applying filter and customizing some drawing effects. The only issue with this app is that this app is not available on Google Play, you can only get it from its official page and please be cautious when using it.
II. Tool for iPhone/iPad

Apowersoft iPhone/iPad Recorder is a tool that can mirror your iOS device's screen to the PC. When your iOS device's screen is mirrored, you can easily take screenshot of Snapchat pictures and the sender won't get any notification. The screenshot will be kept on your PC as a PNG image file. If you want to save videos from Snapchat, you can also use this tool by clicking the recording button beside the screenshot icon. And the recorded video will also be saved on your PC.
Follow the steps below and learn how to take a screenshot on Snapchat with this tool.
Download and install this tool on your computer.
Set your iPhone/iPad and computer under the same wifi network and launch this iOS recorder. After that, your iPhone will automatically detect your computer.
Then, slide from the bottom of your iOS device's screen and tap on the "AirPlay" tab.
Now, you will see a PC icon with your computer user name beside. Tap on it and turn on the "Mirroring" option.

You iOS device's screen will be immediately projected on your computer. You can now open a Snapchat picture before it expires.
Lastly, tap on the camera icon on the tool's interface on your PC. A folder will show up with the Snapchat screenshot in it.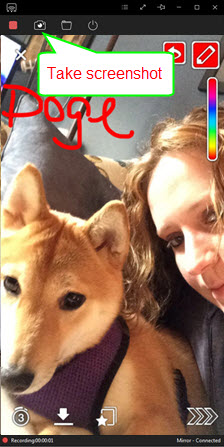 Tips: If you want to record Snapchat videos, just tap on the recording icon on the tool's interface when your iPhone/iPad's screen is projected. And press the stop button to finish recording. The recorded video will be saved to the same folder with the screenshots. By the way, before recording, you can also set resolution (720p and 1080p) and format (MP4, AVI, WMV, GIF, etc.) for the screencasts.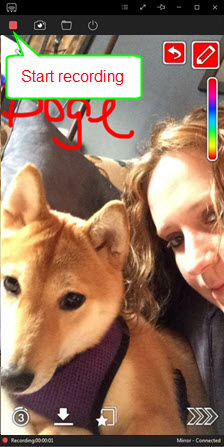 Conclusion
Those are the ways for you to screenshot Snapchat secretly on Android and iOS. For Android phones, there are more options. But it's still advisable that you use the first app for it's simple to use and allows you to get Snapchat screenshot easily. For iPhone, you can use the last app. Though it's not as easy as Android methods, it ensure you that the sender won't get noticed when you take a screenshot with it.