LG is one of the most popular smartphones in the world. This phone brand has multiple models, whilst the most famous among them are the Optimus series and G series. Nowadays, mobile phones have become the main platform for communicating. Being one of the communicating means, phone screenshots play a very important role in our mobile life. Screenshots enable you to share funny stuff on your phone with friends and family. And screenshots can express things and convey meanings better than plain words. But do you know how to take screenshots on LG smartphones? If not, keep reading this article and learn how to screenshot LG smartphones.
I. Better Way: Apowersoft Screenshot

This is a free app available on Google Play. It can take screenshot of anything on the screen without rooting your LG phone. You can even capture a full webpage screenshot with its built-in browser. Aside from taking screenshot, this app also comes with an image editor which allows you to edit any photos, images and screenshots on your phone. What's more, it provides free cloud space for you to store images so that you can access them as long as you're online. You can also choose to tap the "Share" button to share the edited images via other apps on your phone. The steps of using this app to take screenshot on LG are given below.
Download, install and launch this app on your phone.
Tap the "Start" button on the starter interface of this app. A tip box will show up, tap "OK" to start taking screenshot.
Display what you want to screenshot on the screen. Then, press and hold the "Power" button and the "Volume down" button at the same time until you see a flash around the edges of the screen.
After that, the screenshot will be automatically loaded to the image editor. You can now add lines, arrows and texts to the graph.
Lastly, tap "Done" > "Save" on the top left to keep the screenshot on your phone. You can find it in the "Apowersoft Screenshot" folder under Gallery app.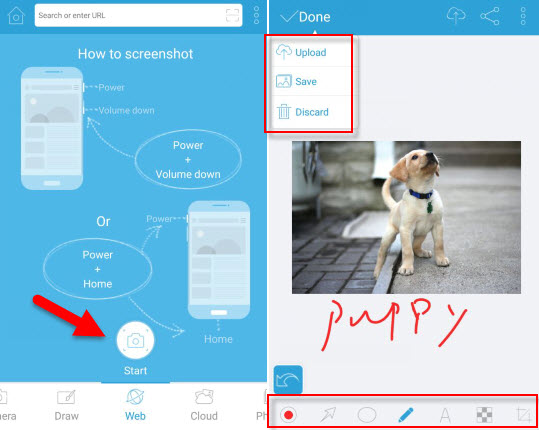 II. Default Way: Physical Key Combination
Since the LG phones run Android OS, you can basically capture screen on the LG phones by pressing the "Power + Volume down" buttons simultaneously. You will hear a camera shutter sound if the screenshot is taken successfully. The screenshot will be saved to the Gallery. This way is also workable for taking screenshot on LG G3, but please be aware that the power and volume buttons are on the back of this phone.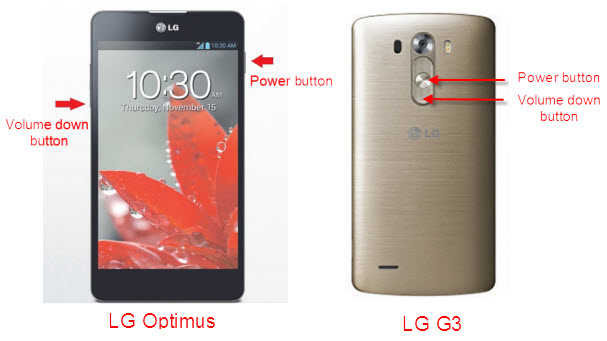 III. Additional LG Way: QuickMemo+
Aside from using physical key combination, you can also make use of QucikMemo+ to capture screen on LG phones. It is a built-in feature which makes it really easy to screenshot LG Optimus series, G series and other models. This feature allows you to take a screenshot and edit it immediately with texts, lines, etc. There are three ways to access it.
Press the "Up & Down Volume" buttons at the same time.
Tap QuickMemo in the notification bar. It's on the leftmost position by default.
Tap the "Home" key and swipe up to the right from the "Home" button. The QuickMemo icon will then appear. Just press on it to make a screenshot.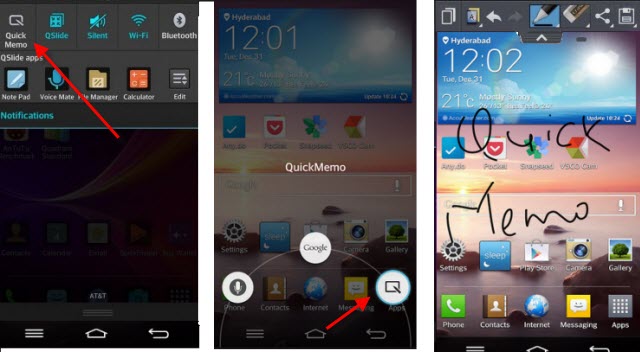 Once a screenshot is taken, you can draw and write on the image. When you are done with the screenshot, tap the "Save" button on the upper right place to save it to your phone. Go to "Gallery > QuickMemo" to check the screenshots. This is absolutely a better solution to the question of how to snapshot on LG.
IV. Alternative Way: Other Screenshot Apps
OK Screenshot

This app enables you to take screenshot in two ways. One is by pressing its widget floating on the phone's screen; the other one is by pressing the "Power + Volume". After that, you can edit the screenshot before saving it. To use this app, you need to root your LG phone and the system version should be 4.0 or above.
Screenshot

This is another app you can use to screenshot LG. You can tap the screenshot icon on the screen if your phone is rooted and the system version is above 2.3. If your phone is not rooted, then you are able to take a screenshot by pressing the default key combination. After that, the screenshot will appear in this app with options to annotate, share and save the image.
Screenshot It

This app charges you $3.99, but provides very useful functions. It provides three ways to screenshot: tapping it on the status bar, pressing its widget button or just shaking your LG phone. It also supports delay in capture. Like all other screenshot apps, Screenshot It allows you to edit, share or save the screenshot as you like.
Conclusion
Those are the ways on how to screenshot on a LG. The default way is handy but lacks editing features. The third method of utilizing QuickMemo+ not only enables you to take screenshot, but also provides annotation options. But if you need more functions like capturing full webpage, uploading images to free cloud, then Apowersoft Screenshot is absolutely the best choice.