Acer is one of the largest personal computer vendors in the world. Laptop and tablet are its two most popular products. When using these two devices, you must have encountered the need of taking screenshots on them. Screenshots allow you to show others funny conversations, important messages, interesting news and exciting moments in games. What's more, screenshots help you ask for troubleshooting when you get problems in using applications. Therefore, a comprehensive guide to taking screenshot on Acer laptop and tablet will be provided in the following.
How to Screenshot on Acer
Take Screenshot on Acer Laptop
Use Apowersoft Free Screen Capture
This is a free online application that enables you to capture anything on your laptop screen. You can use it to snapshot a particular region, an active window, as well as the full screen. Apart from taking screenshot, this tool also provides various annotation options, including texts, arrows, lines, etc. Other than saving the screenshot on your local disk, you can also choose to share it to social media sites (Facebook, Twitter, etc.) or upload it to the free cloud space provided by the developer. Once it's uploaded, you will receive links to the screenshot, which allow you to insert the screenshot in forums and blogs.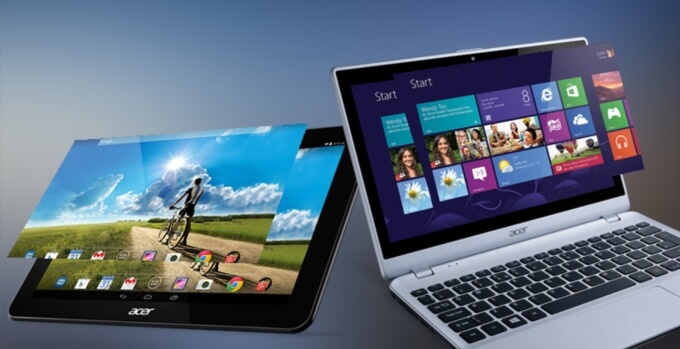 Follow the steps below and learn how to screenshot on Acer laptop with this tool.
Go to the site of this Acer screenshot application. Click the "Launch Application" button and follow the tips it gives you to load this tool.
Once it appears, display what you want to capture on the screen and hit the camera icon on the interface of this tool. You can also press the "PrtSc" key to trigger the screenshot.
After that, your mouse cursor will turn into a blue crosshair. Click, hold and drag your mouse to capture a region and release the mouse to confirm the screenshot.
Then, two toolbars will show up, which allow you to annotate the screesnshot before saving it.
Lastly, hit the "Save" button to keep the screenshot on your local disk.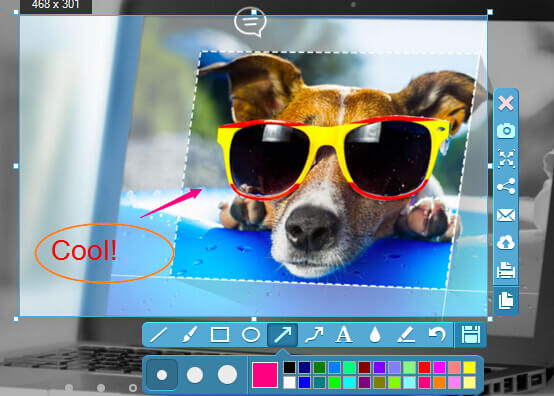 This online tool also has a desktop pro version which is much more powerful. There are more than 10 screenshots modes for you to choose, including All in one, Menu, Scrolling window, Free hand and so on. It also comes with two image editors, a task scheduler for taking screenshots automatically and a screen recorder for making videos. You can click the download button below to enjoy all those benefits now.
Use Default Screenshot Key
There is also a default way to screenshot Acer laptop. If your laptop is running Windows 7, you can press the "PrtSc" key first, then open Paint and paste the screenshot on its blank board. After that, click the "Save" button to store the screenshot in your local file as an image. If your laptop runs Windows 8 or Windows 10, then, you need to press the "Win + PrtSc" key simultaneously. You can check the screenshot in the "Screenshots" folder under the "Pictures" library. However, this method only takes screenshot of the full screen and you have no instant editing options.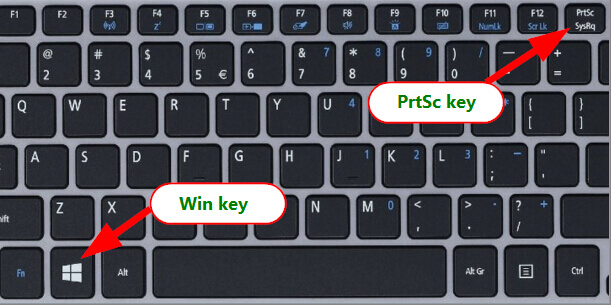 Capture Screen on Acer Tablet
Acer also produces a series of tablets. There are two operating systems for these tablets: Android and Windows 8.1. Tablets that run Android include Iconia Tab 10/8, Iconia One 7/8/10, Iconia A1. And other ones like Iconia Tab 8 W, Iconia W4 and W7P run Windows 8.1.
Default Way to Snapshot on Acer Tablet
To screenshot Acer tablet, you just need to press the "Power + Volume down" buttons at the same time for 2 seconds or press the "Win + Volume down" keys simultaneously if you're using Windows-based tablet. There will be a shutter sound and a flash on the screen, indicating that the screenshot is taken. You can go to the "Gallery" app or "Pictures" folder to check the screenshot.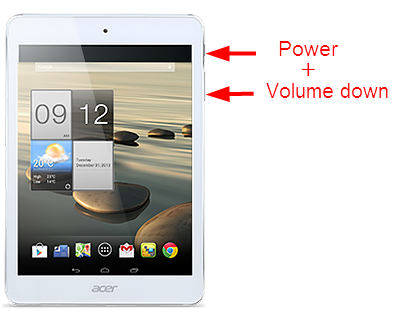 Use Handy Screenshot App on Android-based Acer Tablet
Actually, a powerful screenshot app will make it much more efficient to screenshot on Acer tablets that run Android OS. Apowersoft Screenshot is one of the best screenshot apps for Android devices.
This app lets you take screenshot in two ways: pressing the "Power + Volume down" buttons and tapping its overlay icon (Android 5.0 and higher). Aside from taking screenshot of visible contents on the screen, you can also use its built-in browser to capture full webpages with contents beyond the screen. After capturing a screenshot, you can edit it instantly with lines, texts, mosaics and share it directly in the image editor.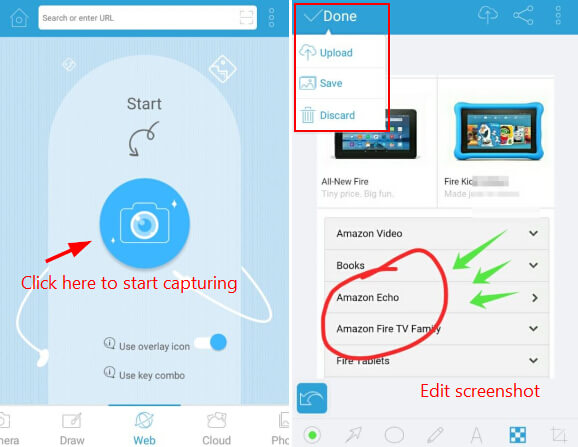 Conclusion
Those are the ways on how to screenshot on Acer tablet and laptop. The default ways are enough for taking screenshot of full screen. But if you need more functions like capturing a region, a menu or want to edit the screenshot immediately, Apowersoft screenshot tool is the best choice for both Acer tablet and laptop.