Sometimes when you surf websites you do want to take a second look to the content listed there, and if visiting the site again is out of the question, then you can easily capture entire webpage with the help of a screenshot. This comes in handy quite a lot and it also allows you to share that content with friends for example. There are multiple ways to capture webpage content via screenshots, and in this article we are going to talk about the most important ones. If you want to know how to use those tools more intuitively, you can watch the demo below.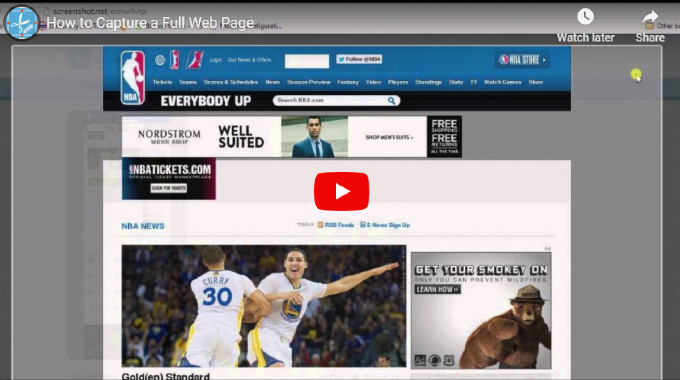 1. Webpage Screenshot Capture
This is by far the best solution you are looking for if you need to perform a full webpage capture. The application just requires you to add the URL of the target webpage, press the Take Screenshot button and that's it, the whole operation is completed without a problem.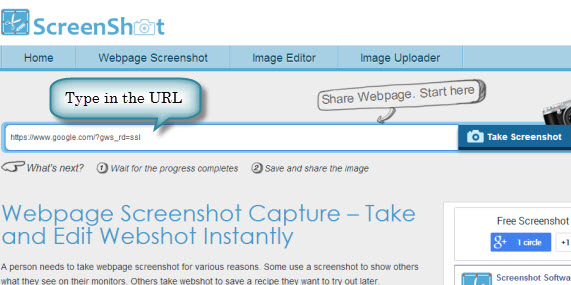 Alongside that, it includes features such as customizable image size and quality, multiple editing options as well as cloud storage functions.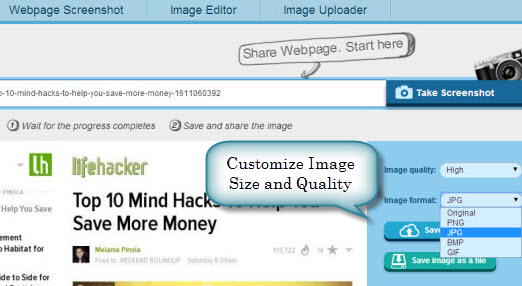 Upon the creation of your webpage screenshot, you're able to save it to local drive or upload it to the web space hosted by the website. And to safely protect your privacy, there's a diague whereby you can name your image and set a password for it.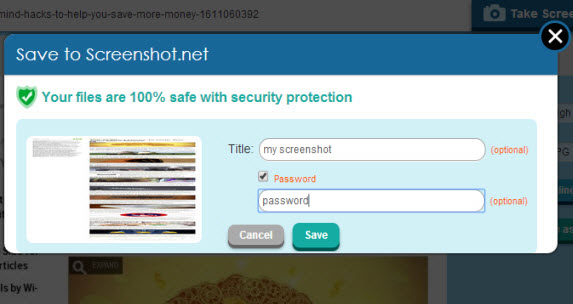 This application is readily to use from below:
Gengerally, Webpage Screenshot Capture is a great tool that you can use to capture a website via screenshots because it doesn't require installation, the results are always top notch and it also enables you to edit every screenshot without any issue. If you want a good application to capture entire web page content, then Webpage Screenshot Capture provides the complete package that you need.
2. Awesome Screenshot
With this app enables you to capture all or part of any web page. What's more, it also supports horizontal scrolling when capturing. You can also add annotations, comments, blur sensitive or private information. It allows you to save the screenshot on your local disk or share it with one-click uploads.
3. Web-Capture.net

This application is also web based, and it allows you to capture entire web page with ease. You just need to visit the site, enter the URL for the page you want to capture, select the output file format and then press Capture Web Page. The results are very good, and the fact that you can save in up to 7 different formats is very useful. However, the tool is still in Beta, so you might experience crashes from time to time, not to mention that aside from the aforementioned function there's nothing offered as an extra, rendering the application completely bare bones.
4. Fireshot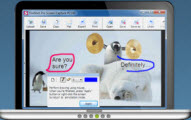 Fireshot is a very useful application allows you to capture web pages entirely. It claims to support FireFox, Chrome, IE, Opera and other browsers. Alongside the essential screenshot function , there's an editor which enables people to perform actions such as blur, erase, crop, highlight and so on. All things you have changed in such manner can take effect immediately on the snapshot. This is a very useful application, but it's free for only a certain period of time, instead you will have to pay around $60 to purchase a lifetime license, which is a little steep. Users may switch to other applications as mentioned in this article when the free trial expires.
In conclusion, there are numerous ways to capture webpage content. You can either use extensions that provide you such a function, or you might opt for a much easier to use tool, such as Webpage Screenshot Capture that allows you to perform the same actions within just a few clicks. Either way, you will get great results really fast!