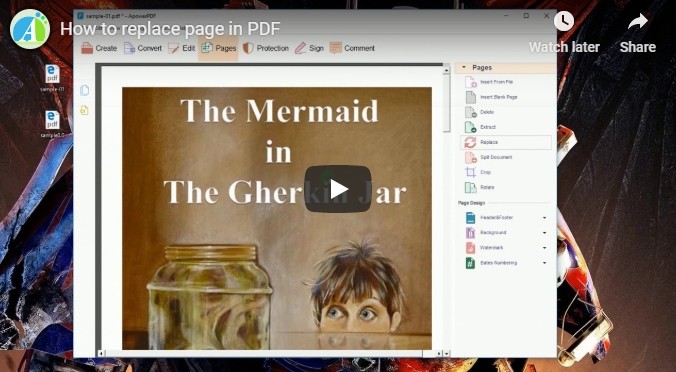 ApowerPDF – Best Tool to Replace PDF Page
ApowerPDF is a full-featured and comprehensive PDF editing tool which allows you to modify and manage PDF pages. This tool enables you to create, combine, split and edit PDF files in a convenient way. It allows you to convert PDF file to Bitmap, PNG, JPEG, GIF, etc. In addition, this tool contains other amazing features such as adding password for protection, making comments on the contents in a PDF etc. In order to replace page in PDF and have better understanding about this tool, follow the steps bellow.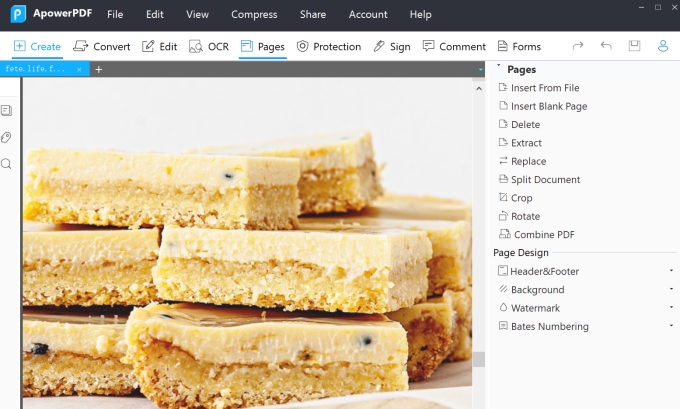 The first thing you need to do is to click on the "Download" button below to download and install the program on your computer. Once the program installed, launch it.
Next, click on "File" > "Open (Ctrl+O)" then choose PDF file from your computer to add it to the program.
Once the file is added, click on "Pages" then "Replace" and select the PDF file that contains the page you want to replace.
Then enter the original pages number and the pages number for replacing.

After that click on "OK" button. A window will pop up asking if you want to replace the pages permanently, click on "Yes".
Finally, click on "File" on the upper left corner of the program and select "Save (Ctrl+S)" to save the replaced pages in your PDF file.
Why Choose ApowerPDF
The price contains many handy solutions like Adobe Acrobat but the price is much cheaper than Adobe.
The program has an intuitive and user-friendly interface, which makes your working with PDF easy.
The documents processed by this PDF editor are still kept in good quality without losing anything.
It has Windows, Mac and iOS version now, with one account you can edit your document anywhere. (Even though not all platforms contain many features, but we are still working to enrich the features of the application)
The 24/7 technical support helps you solve PDF problems quickly.
Other Practical Solutions to Replace PDF Page Effortlessly
Use Adobe Acrobat X Pro
As we mentioned above, you may also know that Adobe Acrobat can also help you replace PDF page from another PDF. In case you still want to know how it will help you. We will introduce it for you.
This tool lets you create, edit, convert and manage PDF files in a secured way. Besides, it allows you to add themes, layouts, logos and color palettes. Follow the simple guides given below to replace page in your PDF file with Adobe.
Launch the program on your computer.
Next, open the PDF file that contains the pages you want to replace.
Click on "Organize Pages" from the "Tools" tab.

Then click on "Replace".

After that, select file that contains the replacement pages and click on "Open".
Then, enter the page numbers of the original PDF file and the page numbers to be replaced then click on "OK".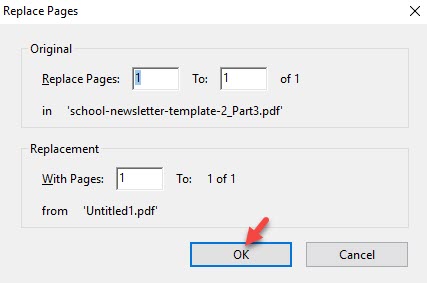 Use PDFw
PDFw is an online PDF editor which can be used to replace one page in PDF. It enables you to edit content, delete, re-order, merge pages into one and insert blank page. Furthermore, it also have features which allow you to add comments and protection. To utilize this tool, follow these simple steps bellow.
Firstly, go to the official PDFw site on your computer.
After that, click on "Try Online PDF Editor Now".
Next, choose PDF file from your computer and upload it.
Once the file is added, click on "Pages" and "Replace Pages" then choose the PDF file that includes the pages you want to replace.
Next, type the page numbers of the original file and the replacement page numbers then click on "Replace" to permanently replace the pages and save it.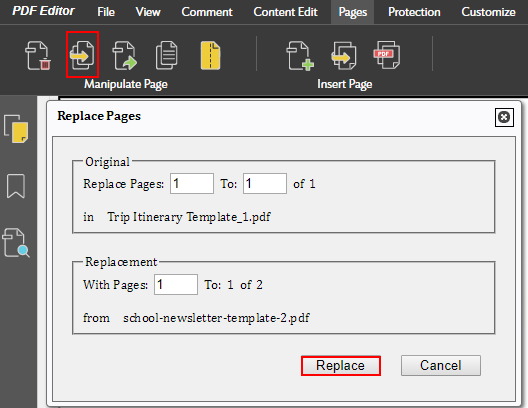 Tips: As we tested, even though the website is good to replace PDF page for free, but it takes time for loading the pages and functions, and dragging the pop-up window is not very smooth. So if you are hurry to process your PDF document, you'd better consider the first two solutions.
Comparison
Given the fact, these three applications stated above will definitely help you solve the problem. But among the tools, we think Adobe Acrobat and ApowerPDF are better. Moreover, if you don't like too professional and complicated software, then ApowerPDF is your best choice to replace pages in PDF and perform other actions on PDF documents.