How to Download Reels video on Instagram
Instagram Reels is widely used in some countries including India, Brazil, France, and Germany. That is why most people have only limited knowledge about it. This new feature will let you record a video with a maximum length of 15 seconds with complete audio, effects, and other video features. Due to its extremely short video duration and fun content, many users will choose to download their favorite videos. However, the program adds a Reels watermark. Before introducing the tools to remove Reels watermark, let's see how to download your Reels video from Instagram first. The following simple guide will help you.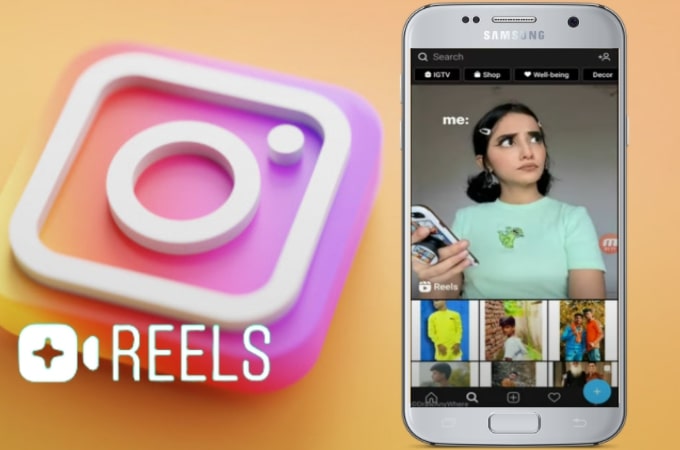 Go to the Play Store and look for the Video Downloader app for Instagram to install it on your device. Once installed, open it and set it up.
Go to your Instagram account and select the Reels video that you want to download.
While the video is playing, hit the three-dots icon and tap "Copy link".
Then, open the recently downloaded app, and the video that you just copy the link will automatically be pasted there.
After all, go to your phone's gallery, and you will see the video which is directly downloaded and saved on your phone gallery.
How to Remove Watermark from Reels Video
Apowersoft Watermark Remover
Apowersoft Watermark Remover is the first tool that can professionally remove a watermark easily. This software offers three watermark selection tools which are marquee, polygonal lasso, and brush tool that will help you to highlight the watermark. It is compatible with almost all video formats such as mp4, Mkv, Flv, MOV, WMV, WebM, 3gp, Avi, asf, m4v, MPEG, mpg, and ts. More than that, Apowersoft Watermark Remover will balance the video size and quality of the processed video automatically, giving you the original quality of the edited video. What is most exciting about this software is that it also works for photos.
How to Remove Reels Watermark with Apowersoft Watermark Remover
Download and install the software by clicking the "Download" button below.
Run the software, select the "Remove watermark from video" tab.

Drag and drop or hit the plus sign icon to add the video on the software.

Tap the "Selection" tool and highlight the watermark from the Reels video.

Once done, click the "Convert" button to process your video and be saved on your computer.
Note:
This desktop tool is also available on Android devices. But if you want to get the best effect, we recommend you use the Windows program.
Video Logo Remover
Another program that can remove watermark from Reels video is Video Logo Remover. This useful program will remove the bright and bold watermark. It's not only great for removing logos, but also for removing a signature, text, emoticons, subtitles, and more. This program's process is automatic after clicking a few buttons. However, it can be a little bit difficult to understand on your first try. Once you try a few times, you'll be fine.
Download the Video Logo Remover from its website and have it installed on your PC.
Open the program and click the "Load Video File…" to upload the Reels video that you need.

Then, select the watermark from your video and hit the "Ok" button.

Next, click "Remove Logo" to process your video and after that, it will be automatically saved on your desktop.
Video Watermark Remover
If you need an online tool to remove Reels watermark, you can try Video Watermark Remove. With its fully automated removal feature, you just need to click the remove watermark button and the process will complete automatically. However, users cannot preview if the tool will successfully remove the right watermark from the video.
Go to the official website of the Video Watermark Remover.
From there, click the "Choose File" button to get the Reel video that you need.
Then, hit the "Remove Watermark" button for your file to be processed.

Finally, click "Download" to save your video without a watermark.
Online Watermark Remover
As its name implies, Online Watermark Remover is an online tool that can remove watermark from Reels video. This accessible online tool will not make you sign up or log in to an account. You just simply need to visit its official website. With this tool, you can manually select the watermark from your video with its selection tools which are marquee, polygonal lasso, and brush. You can erase multiple watermarks at a time and also it can handle batch processing.
Head out to your browser to search for the Online Watermark Remover official website.
From its interface, click the "Remove Watermark from Video" option to import the video.

Once uploaded, select the watermark on your video and hit the "Erase" button.

Wait for the process to complete, then click the "Download files" button to save your edited Reels video.
Remove & Add Watermark
The last tool included in this list to help you remove watermark from Reels video is Remove & Add Watermark. This app is available for free on Android devices. This app will remove any kind of watermark from your videos such as a logo, signature, text, emoticons, stickers, and more. Also, once you download your edited video it will be exported in the watermark manager folder on your SD card.
Get the Remove & Add Watermark from the Play Store.
Then, choose "Select Video" to upload the video from your phone gallery.
Next, select "Remove Watermark" and you will be directed to another interface.
Crop the video and don't include the Reels watermark.
From there, hit the "Save" button located at the upper left corner of the screen to process and download it directly.
Conclusion
With the help of these tools, you can easily remove Reels watermark. Among them, I can say that Apowersoft Watermark Remover works best to get rid of any watermarks from videos as well as photos, because of the selection tools that it offers. However, it's your choice. We hope this article was helpful to you.