Different Ways to Remove Emoji from Picture
Online Solutions
PicWish Online Photo Retouch
PicWish is a newly found effective tool to remove unwanted objects precisely for free in just a few clicks. With this online tool, you can get rid of not only emojis on your photo, but also any objects such as toys, electrical wirings, buildings, and more. Along with its the tool's object removal tool and its advanced AI technology you can easily remove emoji from photo in one go.
Follow these simple steps to remove any emojis from photo with PicWish.
Open your browser, click the "Upload Image" button to upload a photo.

Use one of the object removal tools to highlight the unwanted objects.
Hit the "Erase" button to process your file.
Once done, click the "Download" button.
Apowersoft Online Background Eraser
The second solution that you may rely on in removing any unwanted objects like emojis is called Apowersoft Online Background Eraser This photo background editor will remove the unwanted background giving you a transparent subject. In that way, you can remove emoji from picture. You just need to add a new background template to replace the old one.
Here is a simple guide to get rid of unwanted objects with the Apowersoft Online Background Eraser.
Go to your favorite browser, choose the recognition that you need to upload the photo.

The tool will automatically remove the unwanted background together with the unwanted object.
Next, add a new background for your subject.
Finally, hit "Download" to save your edited file.
WebinPaint
Last but not least, you can remove emoji from picture online with WebinPaint. This online tool uses a special algorithm to fill in the removed area with the pixels near it. No matter whether it is the watermark, unwanted person, text, or logo, you can remove the imperfection from your photo easily. And it's easy to access and use. As long as you have a computer and an internet connection, you can start to use it. The downside I think is that it doesn't support the processing of pictures in batch.
Check how to how to remove emoji from photo on WebinPaint.
Visit the official webpage of WebinPaint.
From its interface, hit the "Upload Image" button and import the photo that you need.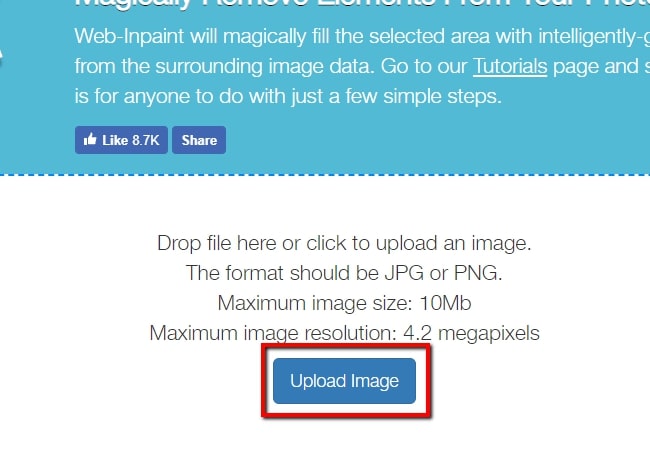 Choose the red circle button and highlight the emoji that you want to remove.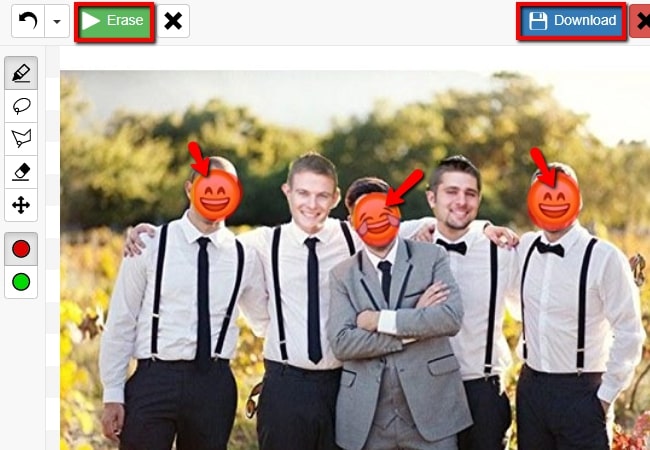 Finally, click the "Erase" button and save it on your computer by clicking the "Download" button.
Fotor
Last but not least, we have another tool called Fotor that enables you to remove emoji from picture online. You can use the clone effect that can help you remove emoji from images by cloning another natural part to cover the unwanted part. Here are the simple steps to learn how to use this online tool.
Head to your favorite web browser and search Fotor.
From its homepage, click the "Edit a Photo" button to upload the image you need to edit.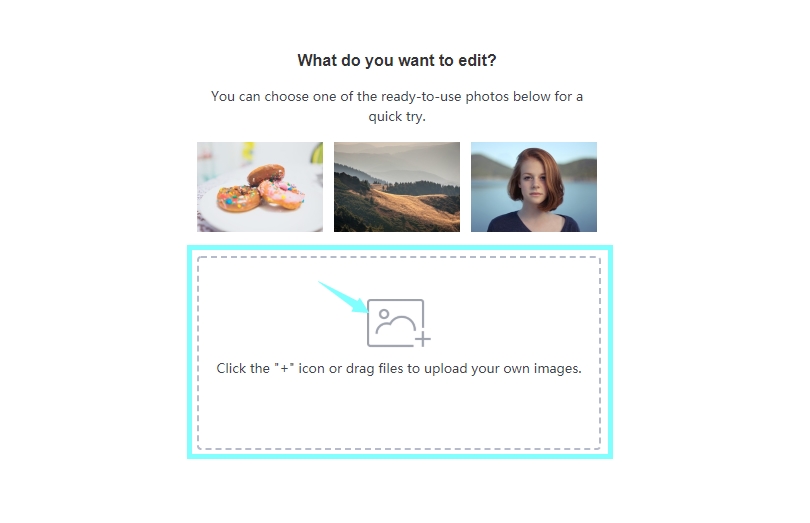 Once uploaded, go to the "Beauty" option and then choose the "Clone" effect.
Then use the brush tool to clone one natural part of the image to cover the emoji. And apply the effect.
Click the "Save" icon to save it the processed file on your computer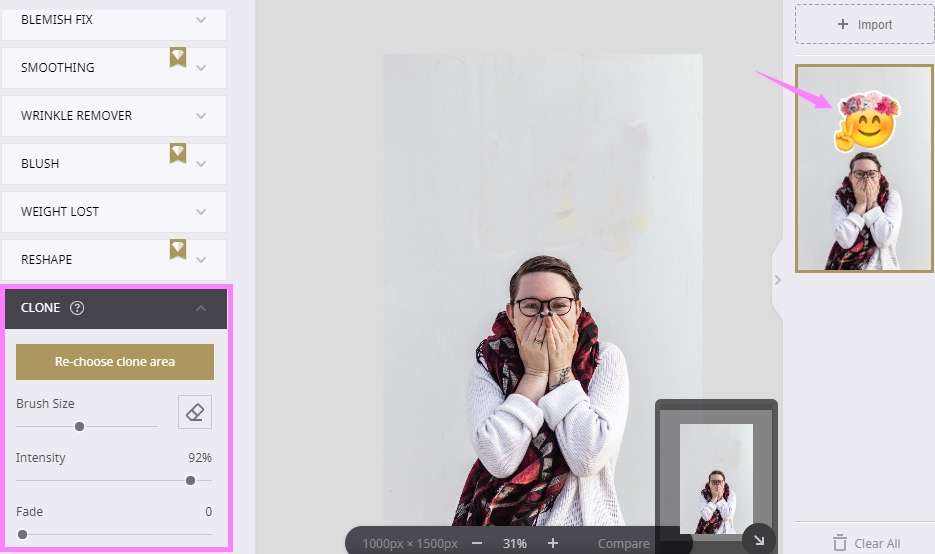 Desktop Solutions
Apowersoft Watermark Remover
Apowersoft Watermark Remover is the best tool that you can use to remove emoji from photo on Windows 7, 8, 10, and Vista. This software has the ability to erase not only an emoji from your photo, but also watermarks, logos, date stamps, text, people, or any unwanted objects in your photos. It is suitable for both beginners, as well as professionals for its features are self-explanatory and the interface is quite user-friendly. Aside from that, it can batch process the photos and preview the final edited version in real-time. If you have a number of photos to process, it is the best tool to use.
Below are the steps you can refer to remove emojis with this tool.
Download and install the software on your computer.
Open the software, choose "Image Watermarks", then under "File", click "Add Images" to import the photo that you want into the software.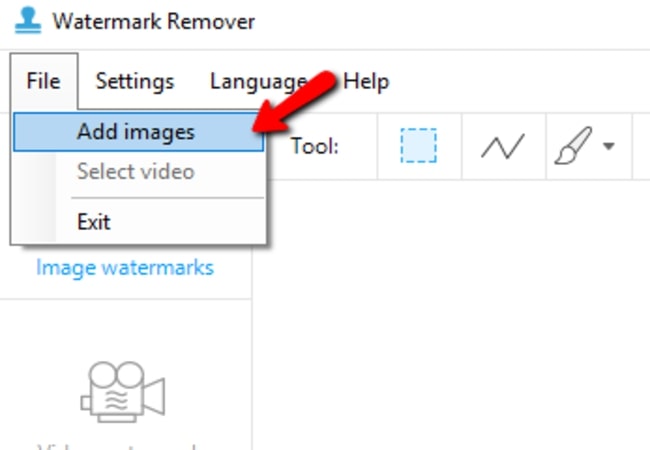 Next, choose from among the three selection tools and highlight the emoji in the picture that you want to remove.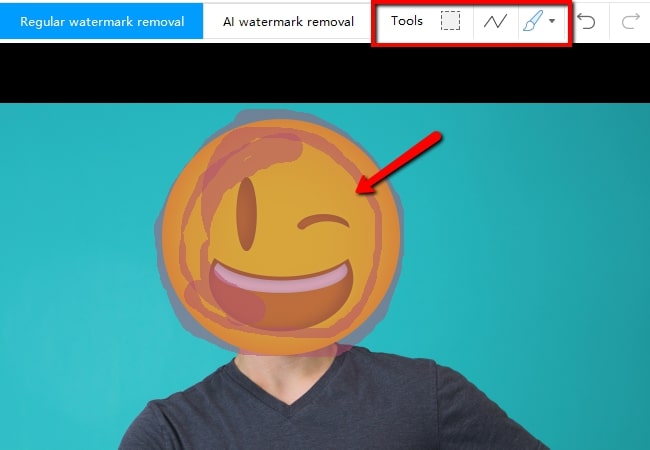 Once done, hit the "Convert" button and wait for a while to get the processed file.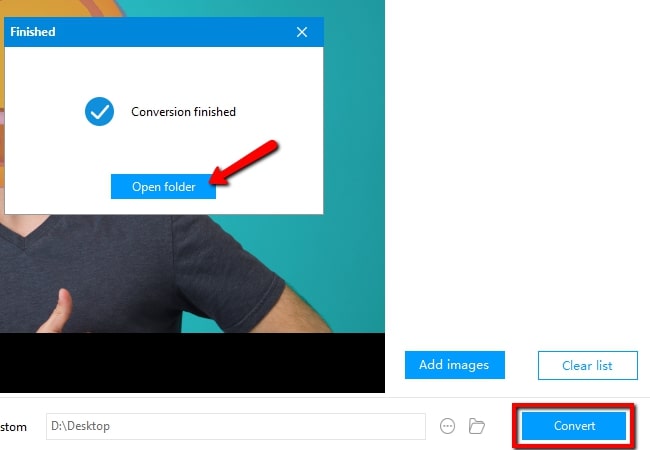 Jihosoft Photo Eraser
Jihosoft Photo Eraser is an amazing desktop tool that enables you to quickly and easily remove emoji from picture. This program provides various tools, including rectangle, lasso, polygon, brush, smart clone, and many more tools. Besides, it has a neat user interface with a few important tools in the toolbar. Follow the steps below to learn how to remove emoji from picture using this tool.
First thing first, download and follow the instructions to install it on your computer.
Open the software and click the "Select Photo" button to import the image that has emoji which you need to remove.
Then highlight the emoji areas you wish to disappear.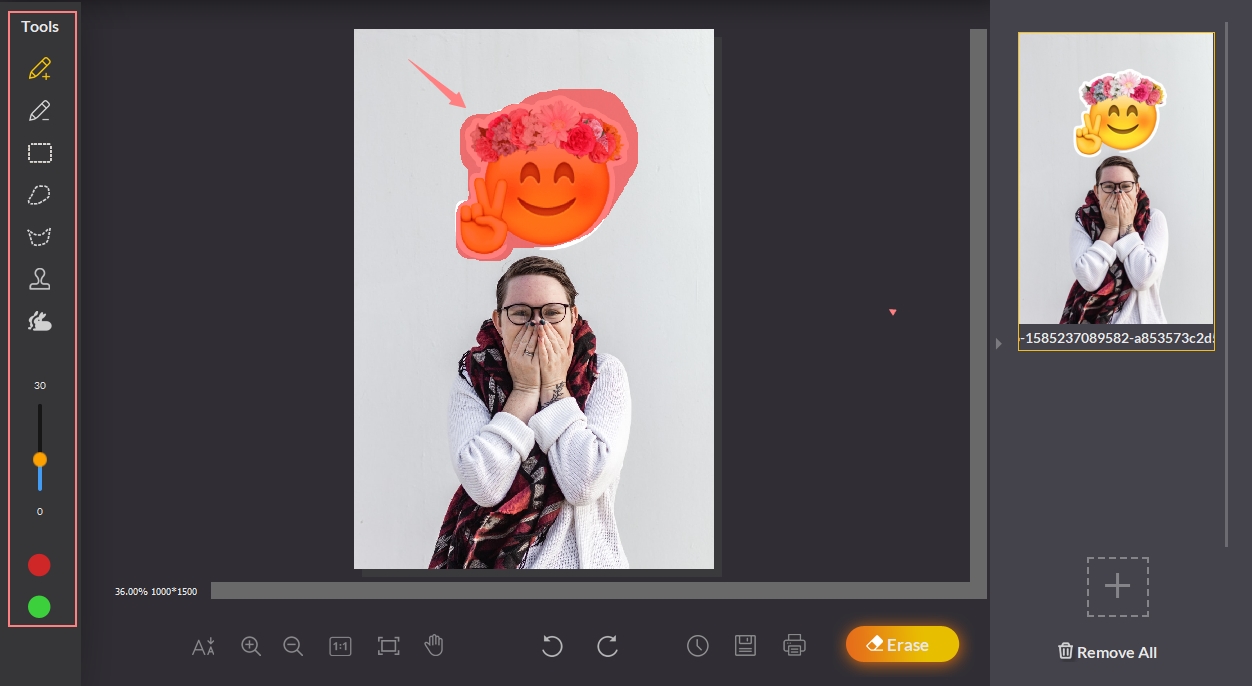 Click the "Erase" button to process your image.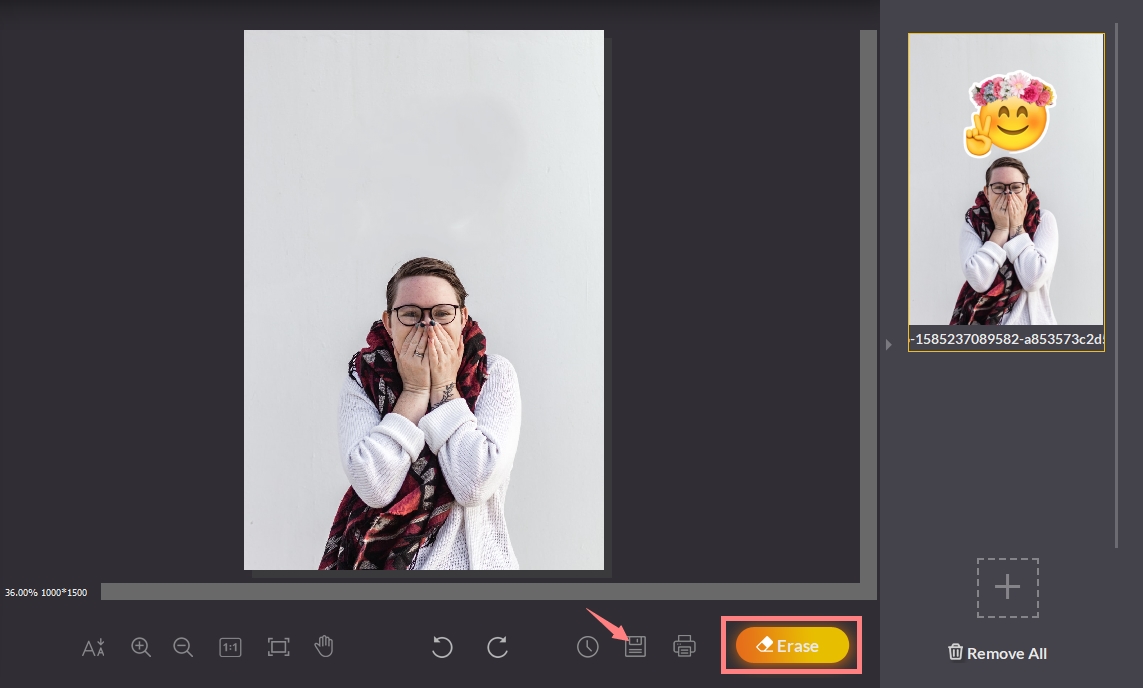 Mobile Solutions
Snapseed
Snapseed is a mobile app that can remove emoji from picture on both Android and iOS devices. It has a healing feature that can help you to remove unwanted content from image quickly and easily. Besides that, there are also powerful editing tools to modify your photo including filters, color correct tools, white balance, lens blur, text editor, and many others. Undoubtedly, if you want to process your photos on mobile, Snapseed comes highly recommended.
Here come the steps that you can follow to remove an emoji using Snapseed.
Download the app on your App Store or Google Play.
Once installed, open the app and tap the plus sign icon, for you to add the photo that you will use.
Select "Tools" and tap the healing icon.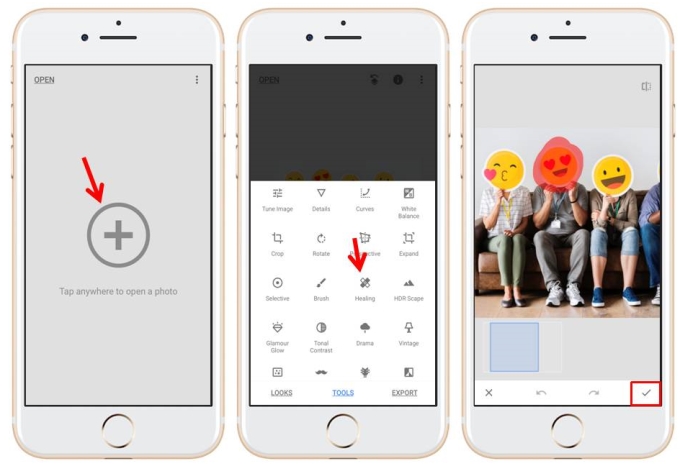 Highlight the emoji that you want to delete and it will automatically be processed.
Finally, tap the check mark and export your photo on your mobile phone.
AirBrush
Another reliable app that you can use to remove emoji from photo is AirBrush. You can use the eraser tool that will remove the area automatically once you applied it. The eraser tool is practical and does let you remove different unwanted objects or people from your pictures. In just a few click, this tool transforms your pictures and make them perfect. Furthermore, you can try to blur, reshape, resize, retouch, stretch, add filters, and many others. To learn how to remove emoji from photo using this user-friendly mobile app.
Go to your Google Play Store to install the app.
Select "Tools" > "Erase" and highlight the emoji areas from your image that you want to remove. Wait for the app to remove the highlighted part automatically.
Tap the "Check" icon to save you processed file.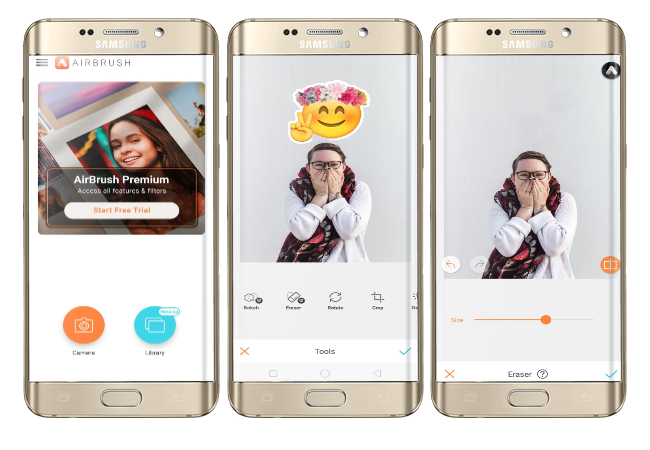 Bottom Line
Generally speaking, you may use all of the tools that are stated above. These tools will surely help you out when you want to remove emoji from photo. With them, you can easily produce a perfect photo minus the undesired content. But which one to use all depends on how you want your photos to be processed and what platform you are working from.