Ways to Remove Background from Text
| Features | Apowersoft Background Eraser | Background Eraser | Magic Eraser | Pro Knockout |
| --- | --- | --- | --- | --- |
| Process automatically | | | | |
| Offers selection tools | | | | |
| Precise cut out | | | | |
| Keep text original quality | | | | |
| Supports almost all devices | | | | |
Apowersoft Background Eraser (Desktop Solution)
Apowersoft Background Eraser is a stunning and reliable program. It not only can remove the background from a portrait, but also can remove background from text or any other icons and objects automatically.
How to Remove Background from Text with Apowersoft Background Eraser
Run the software and choose the third tab to upload the image.

The background will automatically be removed with zero clicks.
In several seconds, you can get the final result and download it.
Pros:
Remove background in an instant with its AI technology.
It provides manual tools Keep and Remove for better result.
Keep text original quality.
It offers 3 free images for trial.
Easy to use with its intuitive interface.
Cons:
Sometimes, it takes time to process large file.
Other Mobile Solutions
Apowersoft Background Eraser (Android & iOS)
Apowersoft Background Eraser is the best app to remove background from text that can be installed for both iOS and Android devices. It is a full-featured text editor which can make your signature unique .
Run the app, tap the "Recognize Stamp" tab, and upload image.

Wait for a seconds, and the app will show the processed result.
Once done, tap the "Save HD" button.
Background Eraser
Background Eraser is an Android app that can help you to remove background from text. It offers different ways of removing a background using various tools such as Manual, Lasso, and the Auto Erase tool. With Background Eraser, you'll get your transparent text after just a few seconds. And to top it all off, the app will allow you to save your transparent image with its original quality.
Download the app from Google Play Store and install it on your Android phone.
Open the app, simply tap the "Eraser" icon and get the photo with the text that you need.
Use one of the Eraser tools and manually delete the background.
Lastly, hit "Save" to download your text without a background in your gallery.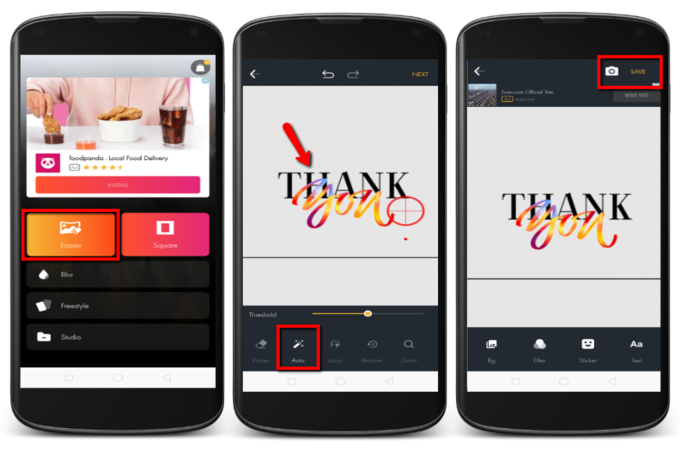 Magic Eraser
If you are having a problem on how to remove background from text using your iOS, Magic Eraser is the best app for you. This app uses the Eraser and Magic Wand tools to delete any background from a text image. By using one of these tools, it will easily detect the area with similar colors automatically.
Go to the App Store to download the app and install it on your iOS device afterward.
Open the app, click the plus sign icon for you to import the text image that you need from your phone library.
Next, click the Eraser tool and start removing the background of your text.
Once finished, choose "PNG Transparent Background" as your photo format.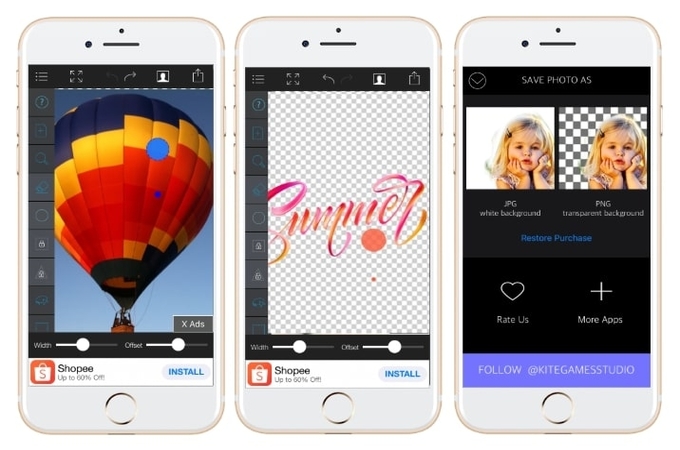 Pro Knockout
This text background remover app can be used for iOS devices. Pro-knockout provides an easy way to cut out text from your image and saves it in a transparent format. This app uses multiple cutout tools that can delete background from a text image. These are the Automatic and Manual cutout selection tools: Lasso, Instant Alpha, and Eraser. However, this app requires users to purchase the program to access its other features.
Get the app from the App Store.
Upload your text photo by selecting the "Cutout" button.
Then, you will be directed to another interface where you can remove the background of your text.
Once the background has been removed, click the next icon and click "PNG" to download your text in a transparent format.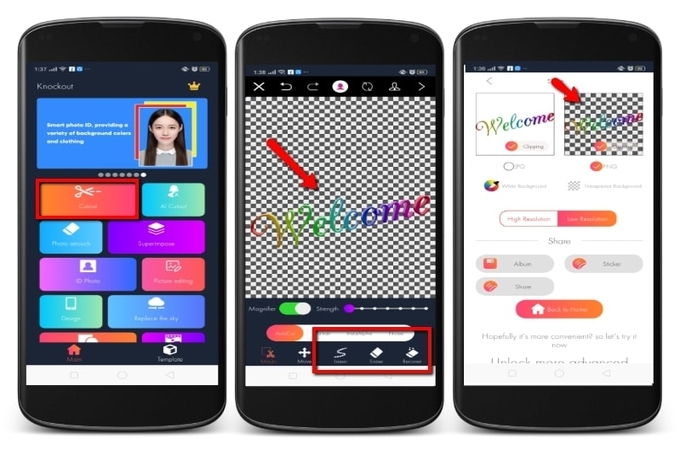 Conclusion
If you always need a tool to remove background from text, we highly recommend a simple, yet professional tool like Apowersoft Background Eraser. Its automatic process is great for beginners and requires zero effort on your part.