However, if you still hesitate which tool comes in handy for recording a remote computer session, this article will show you a list of the optimal solutions.
Make Remote Desktop Recording on Windows and Mac
Apowersoft Free Online Screen Recorder
The best solution to capture remote desktop session is by using a reliable program called Apowersoft Free Online Screen Recorder. This is an online based application that runs on both Windows and Mac OS. With a user-friendly interface, you can easily figure out how to customize options as you want and starting recording a HD video.
Different recording modes such as region, full screen as well as webcam are all greatly supported. Audio sources from internal system and external microphone can be captured without any loss, too. Concerning how to record remote desktop session, here are the detailed steps.
Go to the official page of this free screen recording application and click the "Start Recording" button. If this is your initial visit, you will need to install a launcher first and then activate the tool from webpage again.
Next, open one program that allows you to see the remote desktop screen, just like TeamViewer. Ensure that the audio is loud enough for the recording. It's recommended to enlarge the presentation so that everything including the minor details can be recorded.
Now choose the recording mode as you wish. simply drag the cross-hair along the desktop session to capture a specific area when need to focus the important portion on webinar's window. Click "OK". The recording will then begin instantly.
While making desktop remote recording, you can click the webcam icon to include your camera window into recording.
ApowerRec
To schedule a remote desktop session recording is essential because it allows you to record session during your absent for checking later. This can surely benefit those who are always on the go and don't want to miss any important conferences or meetings. In this case, you can fully get the help of ApowerRec, which covers more useful features and performs well in setting recording task. Before recording process, just find "Task Scheduler" and you can schedule a recording task.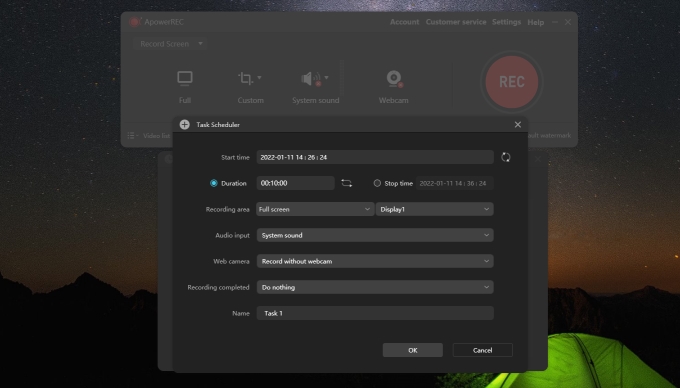 If you want to know some other alternatives in recording remote screen, you can check them as below. Though they have their own limits when compared with the recorders mentioned above, they can still meet your needs in this aspect.
Other alternative ways in recording remote session
1. RecordTS

This is the first alternative to record remote session effectively. By using this tool, all of your remote desktop session activity will be recorded as soon as the users connect to a server like a Terminal or Citrix. The activities captured in recording includes mouse movements, file downloads, and the likes. The recorded clip can be saved locally and made compact for easy playback and storage.
2. ObserveIT

Another alternative in recording remote screen is ObserveIT. Although this program is basically for monitoring purposes and not for recording webinars, it could also serve you in recording and saving remote desktop screen. So every activity of the user that access to a certain server equipped with ObserveIT will be recorded. Indeed, it provides a great way to record remote computer session.