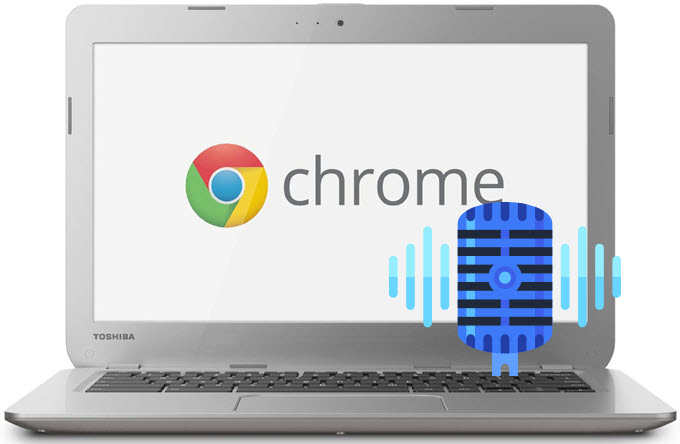 Nowadays, laptops are getting thinner and lighter. People tend to acquire sleeker and more powerful laptop. And with today's fast rising form of technology, various manufacturers in collaboration with Internet giants are releasing their own version of laptops. Google is no exception with their specific brand of laptop called the "Chromebook". However, Chromebook doesn't run on Mac OS X or Windows operating system, instead it uses Google's own operating system which is the Chrome OS. Although Chrome OS utilizes RAM more efficiently than other OS, most of its applications are based on the cloud. This only means that Chromebook does fall short in holding offline applications. Moreover, most programs available on Mac and Windows are not compatible with Chrome OS which makes it hard to record audio on Chromebook.
If you are looking for efficient way to record music, voice chats or VoIP calls on Chromebook, you're in the right place. Check out these suggested apps after the jump.
Three Tools for Chromebook Audio Recording
There are Chrome apps and web-based recording services which assist you to record audio simply, you can learn some info about them and select the best one.
1
SoundCloud
This well-known music app has its own Google OS compatible application that you can freely download on Google Play Store. It offers a diverse audio features such as creating, recording and sharing sounds. Using SoundCloud is free but you need to create an account in prior to using it. And if you think that the basic recording features are a bit short, you can go ahead and upgrade your account to premium for a more advanced audio capture and edit functions.
To use this audio recorder for Chrome, simply follow the guide below:
Download and install the app on your Chromebook.
Create a SoundCloud account and log-in using your credentials.
Click the "Upload" button on the top right corner then press the "Start new recording" button.
When you're ready, click the recording button to start the recording process.
Once done, click the "Stop" button and press the "Upload your recording" option to upload your recorded sound.
When everything is all set, click the "Save" button below to save the audio.

Pros: It is easy to handle and requires no payment.
Cons: Recorded audios will be saved to your account, you should enable the "Download" option for downloading them to Chromebook.
2
Vocaroo
Vocaroo is a website which is capable of recording voice on Chromebook. It performs things on the cloud which allows you to save a good amount of precious space on your hard drive. It is free, and it doesn't need any account or memberships before you can use its service. Although, better be warned that this app can only record voice from Microphone.
How to record audio on Chromebook using Vocaroo is fairly easy, below are the detailed procedures:
On your Chrome web browser, go to vocaroo.com.
Click the "Click to Record" button on the webpage.
A notification will pop up to ask permission for accessing Microphone. You should choose "Allow" option here.
The recording process will now begin and you can hit the "Stop" once done.
It will then give you several options such as emailing or embedding the file. You can also download the recorded file directly on your laptop.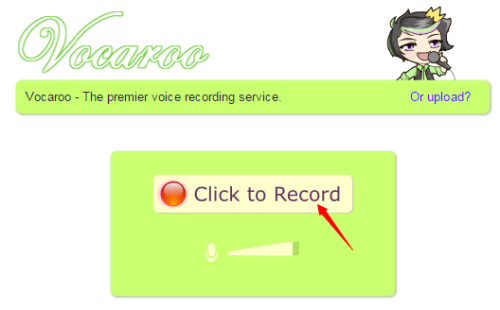 Pros: Straightforward application, supports to save the file in different formats like MP3, OGG, FLAC and etc.
Cons: It needs Internet to work and cannot record sound from soundcard.
3
Twisted Wave
Another audio recorder for Chromebook is the Twisted Wave. This app is a fully-featured audio application that can record, edit, apply effects, and save files into different formats. Twisted Wave equally allows to export files from your Chromebook and save them on Google drive. Since it has a bunch of functions, the operations are a little bit difficult compared to the above mentioned tools. Next, we just focus on how to utilize it to record audio:
Go to Google Play Store, download and install Twisted Wave on Chromebook.
Run the app, you will see the red record button on the toolbar.
When you're ready, press it to start capturing audio.
Press the record button again to complete the procedure.
If needed, you can edit the recorded file. Or, click "File" menu and select "Download" to save the file to local folder.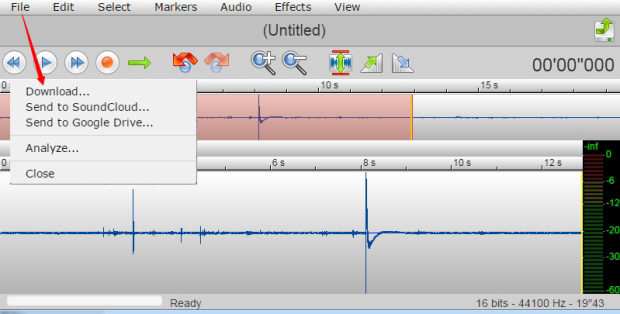 Pros: All-around audio recorder with additional features.
Cons: Interface is not that clear, some functions are hidden in menus.
Comparison and Conclusion
Clearly, there are many methods to record audio on Chromebook. If you're unsure on what application to use, see this mini comparison table below. Based on your needs, choose the one that fancy your desires best.
| Product | Conclusion |
| --- | --- |
| SoundCloud | Recommended for basic users. Supports long duration recording. |
| Vocaroo | No-installation needed application. Basic recording with option to save files. |
| Twisted Wave | Comprehensive audio recording tool. Powerful and brimming with various functionalities. |