Best Quote Wallpaper Maker
Apowersoft Watermark Remover
A straightforward way to create wallpaper with quotes is to use Apowersoft Watermark Remover. It does not only allows you to remove watermark, but also is also capable of letting you make quote wallpaper. This program helps you easily edit your wallpaper by adding a quote or text without impacting the original quality of your file. It has multiple fonts that you can use when you edit the quote for your wallpaper.
Just download and install the program.
Once installed, open it and choose the "Add watermark to image" option for your method and import the photo you want to edit which you need to add a quote from it.
From there, click the "Add text" button to edit your quote. You can customize the fonts by changing the size, style, color, rotate, location, and adjust the transparency.
Then click the "Convert" button to save the image on your computer instantly.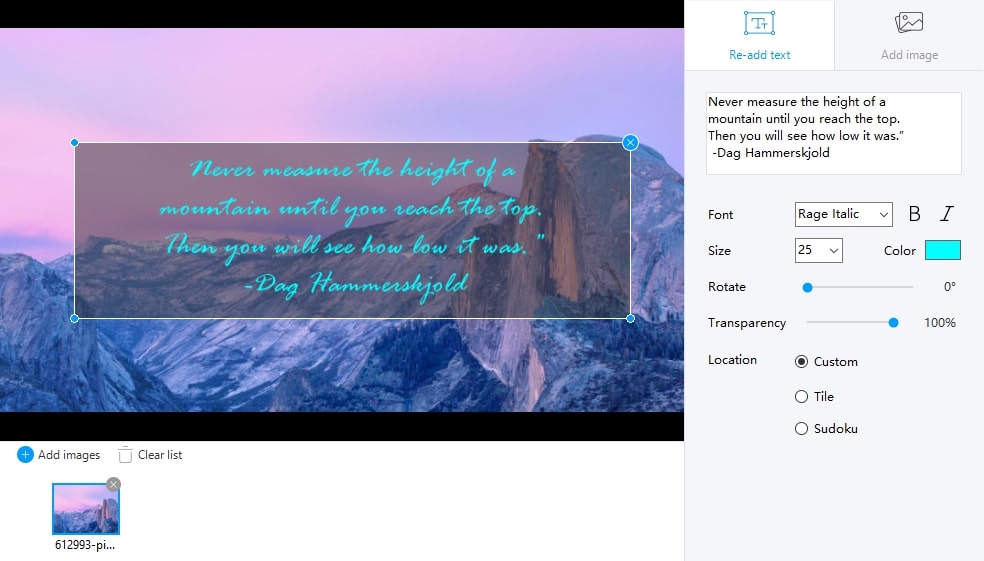 Pros:
It comes with tons of awesome fonts.
Easy to use which does not require computer skills.
It lets you process multiple files in batch.
Cons:
Quotes Cover
Aside from the desktop programs, you can rely on an online quote wallpaper maker called Quotes Cover. This tool offers multiple wallpaper designs that you can customize and put some quotes on it with ease. Also, you can edit your quotes by changing its font size, spacing, height, and many more. However, the drawback is you have to familiarize first with the functions it has to edit your file perfectly.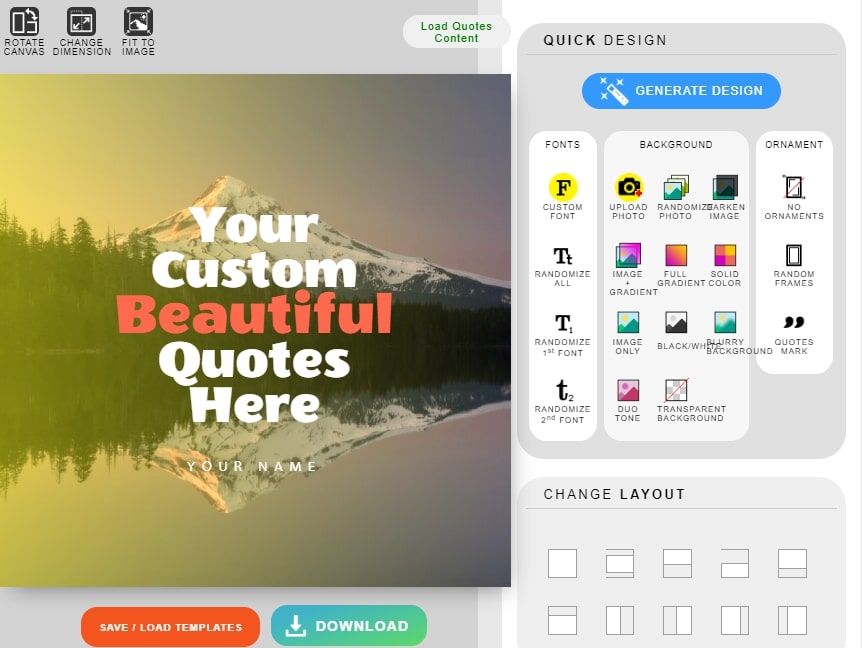 Pros:
No installation required.
Not free for other features.
Cons:
A bit complicated interface.
Picture Quotes and Creator
If you prefer to have a quote wallpaper generator on an android device, Picture Quotes will be your best option. It lets you create your own wallpaper quote easily by choosing from quotes provided from the app. This app provides quotes library such as inspiration, motivation, life and love quotes from different authors. Also, you can easily change the background color and image to make your wallpaper more interesting.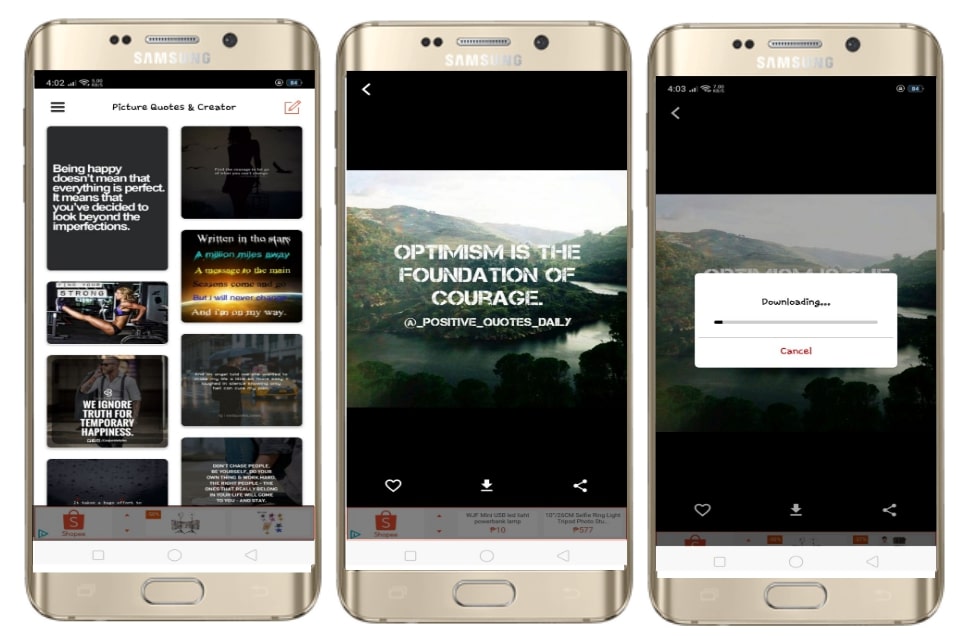 Pros:
It offers a user-friendly interface.
It provides an extensive collection of quotes along with different categories.
Cons:
Quotes Creator
Quotes Creator is also the best quote wallpaper maker app that helps you create your own wallpaper quote. It has features that let you change the font colors and sizes of your quote to fix it into your wallpaper. In addition, you can add some effects, including brightness, saturation, contrast, and a lot more.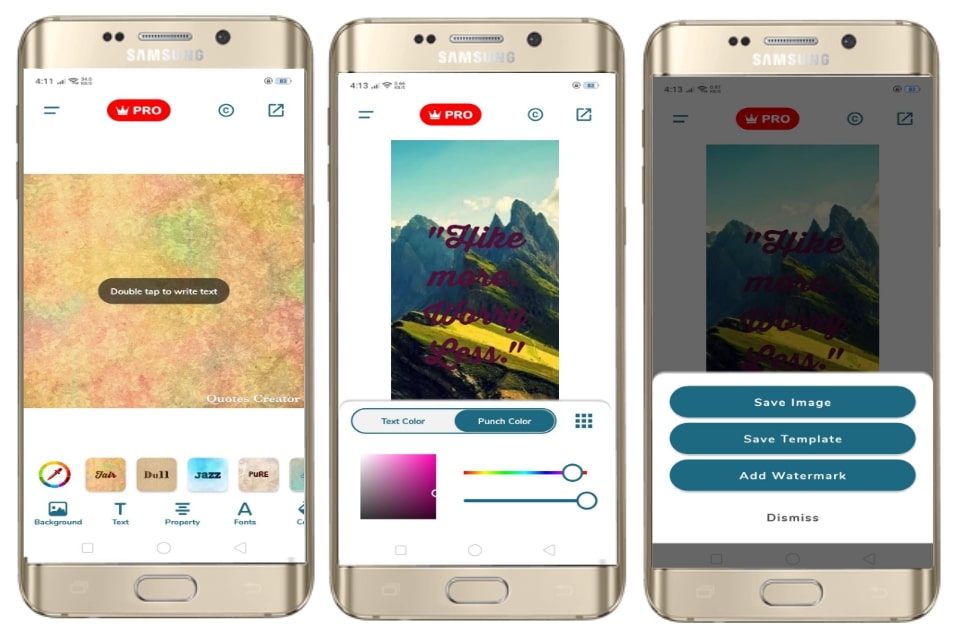 Pros:
Provides quote library.
It offers tons of awesome features.
Cons:
Ads appear a lot of times.
Not free and has a watermark when you save the edited image.
Image Quotes – Quote on Photo
The last quote wallpaper generator is Image Quotes. It has hundreds of inspiration, motivational, love and life quotes from other authors. Also, this app is perfect for beginners because it has a simple and user-friendly interface. Just install the app from your app store and start editing.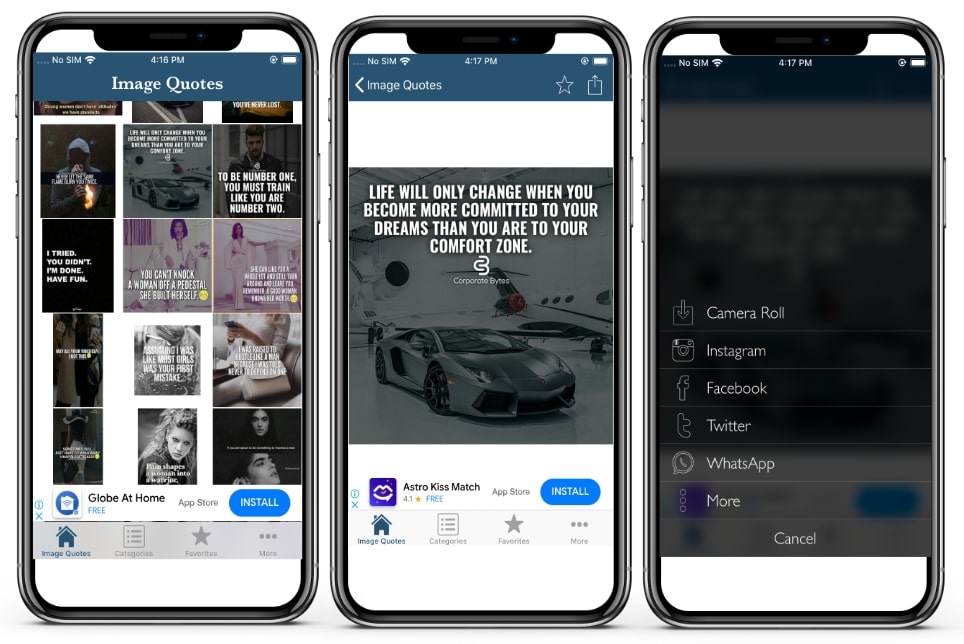 Pros.
A straightforward app to edit the wallpaper with quotes.
Cons.
The app will lag sometimes.
Conclusion
With the help of those effective quote wallpaper makers, anyone can create a great wallpaper with quote. They will surely save your time and effort. If you have better options, just share them with us.