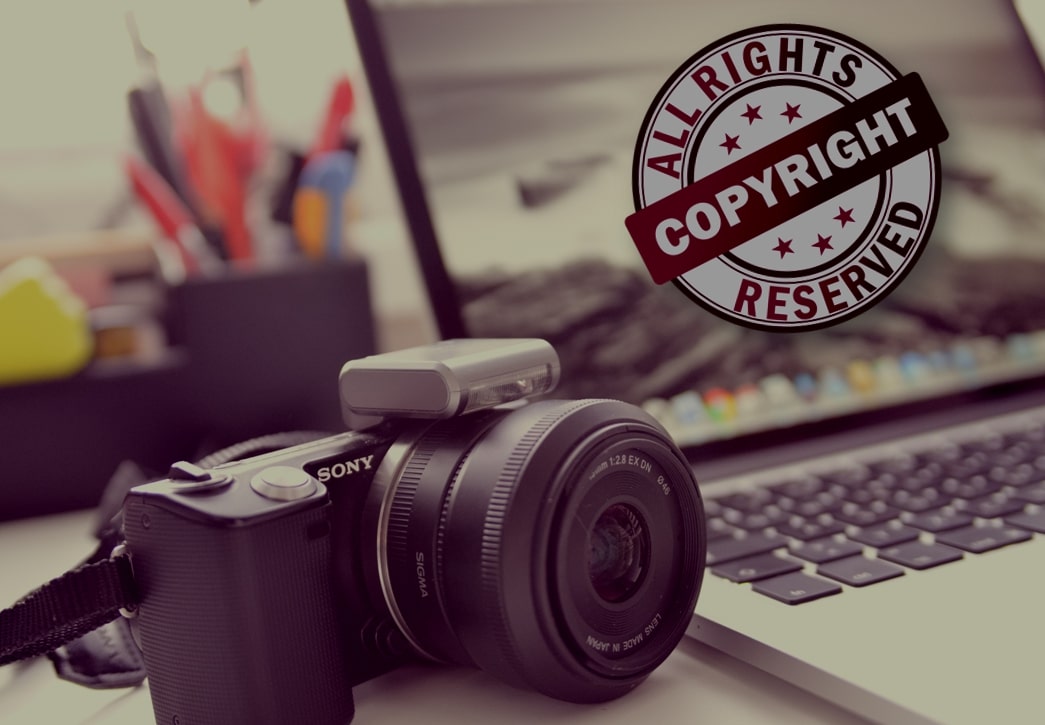 Adding copyright on your photos is a great way to protect the illegal use of your files or promote your brand. There are many kinds of the copyright that you can use in your photograph nowadays with the help of the technology, for example, watermarks, logos, text, or even your signature. Many tools are available to copyright images. We collected the best ones from them, hoping they can really be helpful in saving your time from looking for useful and suitable software. Check them out below.
4 Tools to Copyright Images on Different Platforms
Salt Watermark
Salt originally is created to help Android users to protect their photos with watermarks and logos. This app is well integrated with social networks. After you copyright images with the buile-in text editor, or your own watermarks/logos, you can easily crop your photos and post to the social networks without any size limit, including Facebook, Instagram, YouTube, Pinterest, etc. Let's check how to copyright photos on the Android.
Get the Salt Watermark to your Android smartphone or tablet in Google Play Store first. After that, open it.
Click the photo that you will use, then click "Logos" and choose to "Add logo" or "Create Logo".
After you add your copyright on your image, hit the share icon.
Then choose where you want to export your file.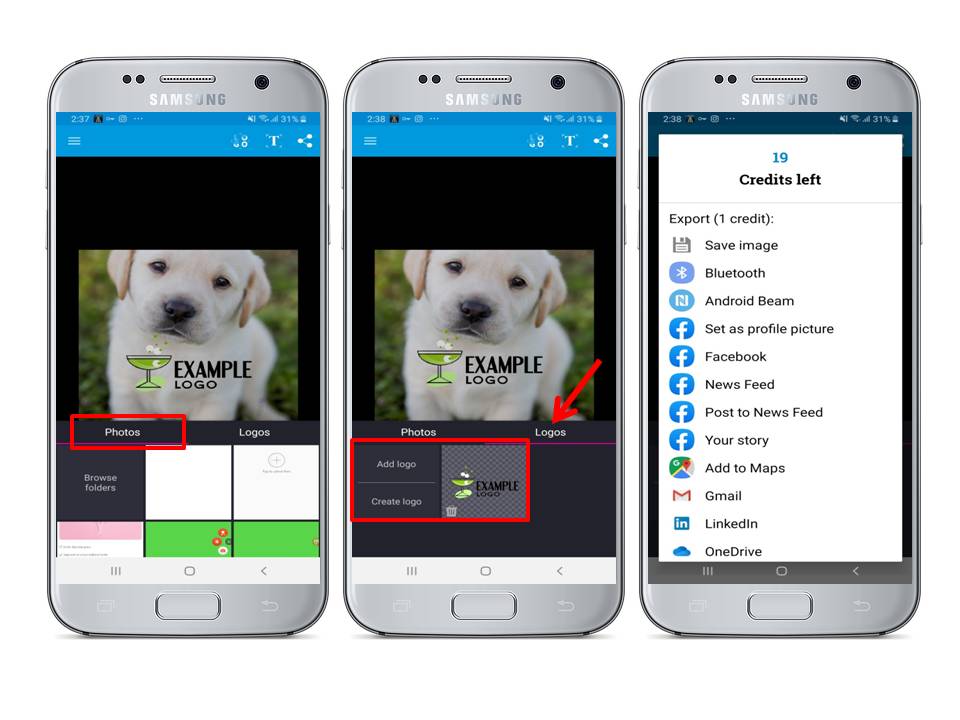 EasyMark
Another app that you can use to copyright pictures on iOS devices is EasyMark. Like its name implies, this app can be easily used to protect your image with text, icons, cliparts, your own drawing, tag and QR code, etc. And they are all customizable. You can even set the duration for the watermark. Below is a simple guide on how to an image on iPhone and iPad.
Get the EasyMark app to your iOS device from the App Store.
Run the app, select "Photo" and upload the image that you want to edit. Select the size you want and hit the "Choose" button.
Once done, modify the copyright with the built-in tools and click the upload icon to save your edited photo to your photo gallery or share to the social networks directly.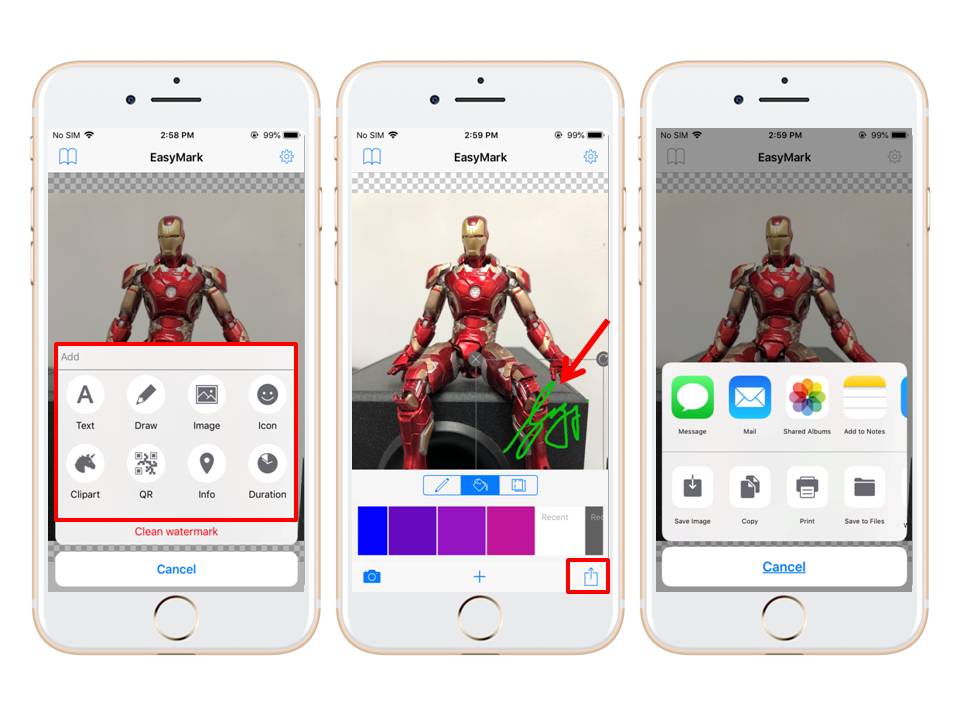 Apowersoft Watermark Remover
Apowersoft Watermark Remover is not just for removing watermarks or any unwanted content, but also can easily help you copyright pictures straightforwardly. With this desktop software, you can make your own copyright by just adding text or image on your photo. Also, you can modify your copyright of its size, color, style, rotation, location and transparency. Refer to the instruction below on how to copyright a picture on PC.
Download and install the software by clicking the button below and afterwards, open it.
From its interface, select "Add watermark to image" option.

Then, click the plus sign icon or drag the photos into the software to process.

Go to the right side of the screen and choose if you want to "add text" or "add image" to create the copyright for your image. You can customize it with the settings.

Finally, click "Convert" and a window will pop out very quickly, then you click the "Open Folder" button to locate the processed files.
Watermark.ws
The last one that can help you copyright pictures online is called Watermark.ws. This free online tool allows users to import five photos, however with limited file size which is 500 KB below at once, and freely place watermarks or logo anywhere you want on the photo. It also has basic editings for the color, background, opacity, shadow, and more of your copyright. Check out the steps on how to copyright photos online.
Visit Watermark.ws official video on your browser.
From its interface, click the "Enter" button, choose "Select from device" to import photos that you will add a copyright to.

Move the cursor on the photo and click the "Edit" button, then "Watermark", and choose between "Text" or "Logo".

You can type the watermark that you want and edit it with the provided settings.
Once done, you can click "Finished" > "Download" to save the photo on your computer.
Conclusion
With these tools that were mentioned above, you can easily make and copyright images. Some people may argue that copyrights are easily to remove, or they will break the perfection of the photograph. If you apply the suitable artistic signature, or logo, you can get great result that you can never expect sometimes.