3 Solutions on How to Put White Background on Picture
Easy to access mobile apps that you can have on both Android & iOS
Apowersoft Background Eraser
The most efficient apps that you can have on your mobile phone is Apowersoft Background Eraser. This photo background remover and changer use clever AI technology that can automatically detect the subject from its background and add a new one from its pre-set solid background colors. Besides that, this app will let you beautify your photo by adjusting its brightness and saturation after you learn about how to put a white background on a picture.
See these easy 4 steps that you can follow to change your background to white.
Run the app, tap the "One-Click Cutout" to upload the image that you need.

The will present a transparent subject, then tap the "Background" icon.

Under "Color" you can have the white background that you need and hit the check mark icon.

Download your work by hitting the "Save" button.
Ultimate Background Eraser
If you are an Android user, Ultimate Background Eraser will allow you to directly put white background on photo. This app provides a fast and easy way to add any solid background color to your photo which includes the white background. With its Auto erase tool, in just one touch using your finger you can have a precise cutout of your subject and change its background in just one tap.
Here is a simple guide to change photo background to white
Go to the Play Store to download and install the app.
Tap the "gallery" icon to import the photo from your phone gallery.
Choose among its removal tools to manually eraser the unwanted background.
Next, choose "Add Background" and adjust the color palette to white.
Once okay, hit the diskette like icon.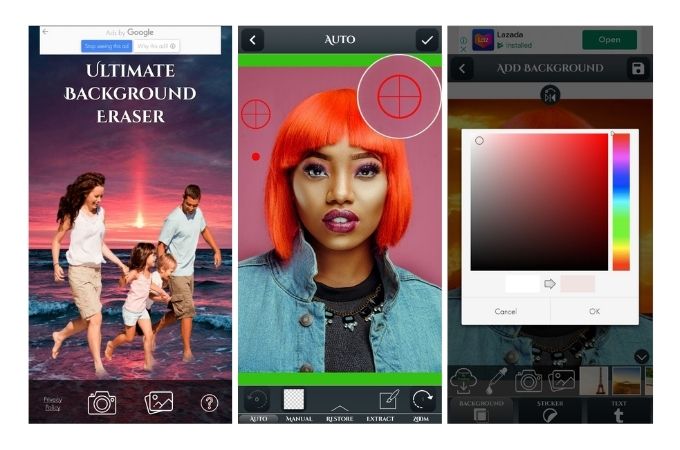 PhotoRoom
Learn how to put white background on picture with this amazing app for iOS called PhotoRoom Studio. You don't need to go to a real photo studio to have a white background. You can automatically modify the background of your picture with its amazing AI, you can cut out the background and overlay it with white background by choosing it from the multiple results that it has.
See the steps below
Go to the App Store to download and install PhotoRoom.
From its interface, tap "Start from Photo" to upload the image.
The app will present multiple results with different backgrounds.
Select the subject with white background on it and save it.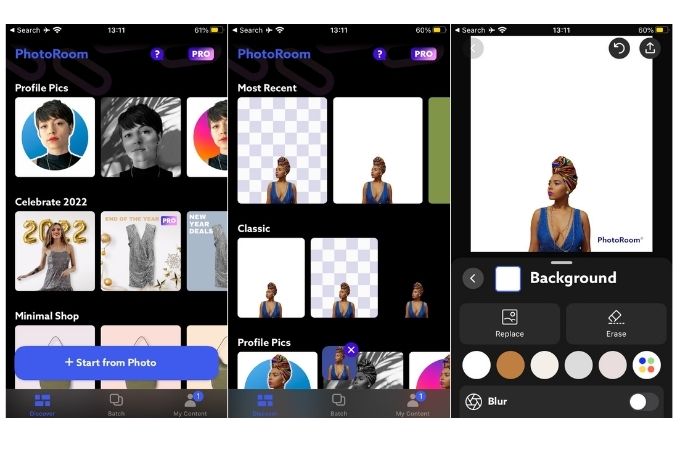 Free web based service tool
PicWish – 100% FREE
Thanks to PicWish, you will know how to put a white background on a picture for FREE. You can directly perform this task with its ready-to-use plain background colors. You just need to upload your picture and the AI technology will detect the background and get rid of it.
Follow these steps to successfully have a white background on your picture
Open your browser, look for the official page of the background removal tool.
From its interface, click "Upload Image" to get the image.

The online tool will automatically remove the backghround giving you a precise result, select "Edit" afterwards.

Next, under "Change Background" choose "Colors" and have the white background.

After that, click "Download" to save your work.
Aspose
Effortlessly put white background on photo with an online tool called Aspose. This is also a free online tool that can set your background to white. Just like any other background removal and changer tool, Aspose also uses an AI to do an automatic process. However, you need to have a good internet connection to have a great result.
Get a white background with Aspose
Visit the official page of Aspose on your browser.
To start, drop or upload your file by clicking the upload icon.

Wait for the tool to process your photo, it will show your subject with white background.

Once satisfied with the result, click the "Get Result" button to save your work.
Remove.ai
Determine how to put white background on picture with this awesome background editor that you can also use for free called Removal.ai. Create a transparent background instantly and change it to a white one with the use of its smart AI. This tool is capable of handling complex subjects like hair.
Rely on the steps below
Go to the official home page of Remove.ai.
Click "Choose a photo" to get the photo from your PC library.

Then, a new interface will come out giving you the transparent result.
Click "Editor Tool" > "Preview Image", then go to the "Color" section.

Choose the white color and that is how to put a white background on a picture.
Desktop Solutions
GIMP
GIMP is a multi-platform program that can add a white background to your photo. This professional tool can remove the old background manually with the use of its removal tools. Then, with its color palette, you can set the white background that you need for your photo.
Download and install the program on your PC.
Run the program, drag the picture that you will use on the interface.
Use one of the removal tools of the program and manually delete it.

Once done deleting the background, set the color palette and apply it on your photo.

Save your edited work by going to the "File" section and click "Save".
Conclusion
The process of how to put white background on photo is indeed a useful technique in photo editing. It gives the freedom of the subject to be easily combined with another background. As a review of these different tools, Apowersoft Background Eraser and PicWish are my best choice. Try them and see which one you like best and share it with us in the comment section below.