Ask
I took several interesting videos via my iPhone last weekend and I guess there might be a way for me to play all the videos on one screen. It is really an amazing thing to share this kind of video with my friends on Facebook. I saw the video which can play 2 or 3 videos at the same time on the TV. It is so cool! Can anyone show me the cool way to play multiple videos simultaneously? Your kind help will be highly appreciated.
Answer
Hi, you are very lucky. I came across a very nice program which can be used to play from 2 to 5 videos in various styles simultaneously. Please check the simple guide below.
How to play multiple videos simultaneously
The software that you need to use is called Video Converter Studio. It is a multifunctional video managing program which has five tools including video converter, downloader, recorder, MV creator and screen splitter. Only with this tool, you can convert videos to any popular format, edit videos by trimming, cropping, rotating, record video or audio with HD quality and do lots of other video processing tasks. It is really a very powerful program and has an intuitive interface. You can use it to play multiple videos synchronized effortlessly.
Trim videos
Before you start to play the multiple videos on one screen, you'd better trim the clips to the same length. In this case, you can start and stop playing the videos at the same time. Video Converter Studio can help you trim videos simply. Just follow the instruction shown below.
Download and install Video Converter Studio on your computer.
Open the program, drag files onto the left panel or click "Add files" to import your videos.

After importing, click "Edit" button on the upper right corner, then you will be directed to the editing window.
Click "Add Trim Marker" and move the start, end marker to left or right with your mouse for trimming the part. The green markers shown on the timeline are the parts you want to keep if you choose "Keep the selected section" under "Preferences". Afterwards, click "OK".

When you are done, click "Convert" button on the main interface to output the trimmed clips.
Now you have finished trimming the videos. Please proceed to finish the steps of creating video collage.
Create video collage
Click the second "Split Screen" tab. Click the "+" button shown under the playback timeline to load one of your video clips. If you want to play two videos at the same time, please select two screens icon under "Style" tab. Also, you can create 3, 4 or 5 videos on one screen by selecting the other styles. Click "+" to add more video clips one by one.

Click "Filters" tab to add filter to your videos. It provides you many types of filters including none, sepia, black & white, vertigo, vignette, RGB noise, etc. It is very interesting to add these fantastic filters to your videos.

Click "Audio" tab and then you can set the volume and choose to fade in or out the sound in your videos. If you want to add special background music to videos, click "Music" tab > "Add music" to add it.

Now click the "Play" button to play multiple videos at the same time. Click "Export" tab and choose the size as 1080P, 720P or 480P, afterwards, hit the "Export" button to save all the videos into one video on your computer.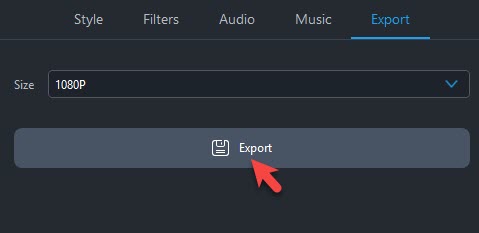 Conclusion
As you can see, it is very easy to share your interesting video collage with your friends by using Video Converter Studio. Though there are other kinds of video players which are available to play multiple videos simultaneously, they just play each video on individual window. That is to say, they only allow you to play the videos by repeating opening video player. And you can't save the video collage into one video. However, Video Converter Studio doesn't have individual controls so that you can play, pause or forward frame of individual file. Currently, it offers you one video playback control. Overall, it would be a nice option for you if you need to play, compare the videos on one screen or share the video collage on social network websites.