MKV or better known for its complete name Matroska Multimedia Container is an open standard free multimedia file format, which is famous for its ability to hold several files all at once. It was released December of 2002 and up to date you can see it has been widely used on movies, TV shows, online videos, clips and all others.
There're many common media players that can play/open MKV files but sadly all of which are only dedicated for Windows users. If you own an Apple computer and want to play MKV on Mac OS X even El Capitan, the latest released version for Mac, you should convert your files first or download a special media player.
1. Two free MKV players for Mac
2. Video Converter for Mac to convert MKV files on Mac
Two Free MKV Players for Mac
Media Player Classic
The Media Player Classic is a free, open source media player that supports different file formats including MKV, 3ivx, DIVX and all others. It comes compatible with both Windows and Mac while the installation can be done in seconds after downloading the package. Different from other freeware, the Media Player Classic renders antialiased subtitles in a very nice way. Full screen modes and other playing options are equally presented.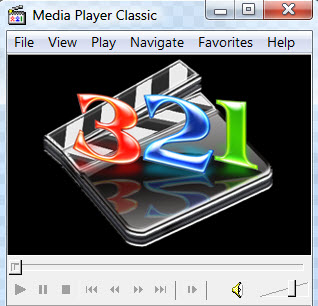 One loophole of the Media Player Classic is that instructions, details, supported Mac versions, and other valuable info are very hard to find. Even the website states little information and documentation. Though, this is clearly forgivable considering that the Media Player Classic is a free MKV player for Mac.
VideoLAN VLC Media Player
Another popular software that can smoothly play MKV files on Mac is the VLC player. It comes absolutely free and very much available to download online. Most video files and audio formats are supported, such as MPEG, AVI, ASF, MP4, OGG, MKV, WAV, FLAC, FLV, and many others. On the other hand, you can use VLC player to open not just MKVs but DVDs, Audio CDs and VCDs as well. VLC Media Player can likewise do conversion and media streaming.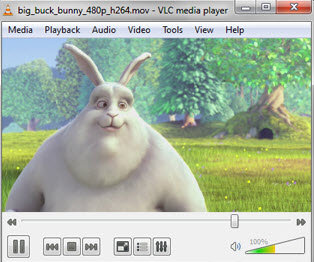 Although, users should be aware that VLC doesn't support the latest OS X Mavericks. As of the moment it is only compatible with Mac OS X 10.6 to Mac OS X 10.8.
If you are not convinced with the above free media players or wanting to play MKV on Mac devices, such as iPhone, iPad, etc, you should consider getting a quality MKV converter for Mac including version 10.11. The benefit of converting MKV files into your desired media format is that you can play your MKV on any media player. Additionally, you have the freedom to import to video editor and change the content as you want.
Two Tools to Convert MKV Files on Mac (OS X El Capitan)
Free Online Way – Apowersoft Free Online Video Converter
If you don't want to install additional programs on your Mac, pay monthly fees or premium installer packages, you can use an online converter such as the Apowersoft Free Online Video Converter. This tool needs not to be installed and using it is 100% free with no restrictions, memberships, or sign-ins required. It supports different file formats such as MKV, MP4, AVI, ASF, 3GP, MOV, WMV, FLV, WMA, FLAC, RA, AAC and many more.
What's great about this online video application is that right before conversion. You can change output sizes, resolutions, bitrate, frame rate, channels and sample rates. Using this tool to convert MKV files on Mac is very easy, see below:
Open the website and upload the video file you wish to convert.
A java notification pop up will appear and you need to permit/allow it to continue converting.
Select your desired video output format and adjust settings as you wish.
Hit the "Convert" button.
Download your newly converted MKV file to save it on your hard drive.

This online tool cannot directly play MKV on Mac but you can turn it to another playable and editable format for using on Mac and Apple devices. So it lets you use the media files in a wider range.
Shareware – Apowersoft Video Converter for Mac
For advance users and those who are looking for a premium tool packed with amazing features, check out the Apowersoft Video Converter for Mac. It offers zero loss of quality in conversion and supports tons of formats including but not limited to MP4, M4V, MOV, FLV, AVI, RMVB, 3GP, WEBM, MKV, MP3, OGG, M4A, WAV and AC3, etc. The Video Converter for Mac is equally compatible with Apple applications such as iMovie, iTunes, FCP, Final Cut Pro and more. Direct conversion of AVCHD files is moreover possible with its MTS converter.
This MKV converter for Mac is extremely simple to use, you don't need technical skills to carry out a successful one. Details after the jump:
Install and run this software on your Mac.
Click the "Converter" icon located on top of the interface.
Hit the "Add" button and load the MKV video file you want to convert.
Select the right output format and make necessary adjustments on the video setting.
Tap the "Convert" button and wait until the process completes.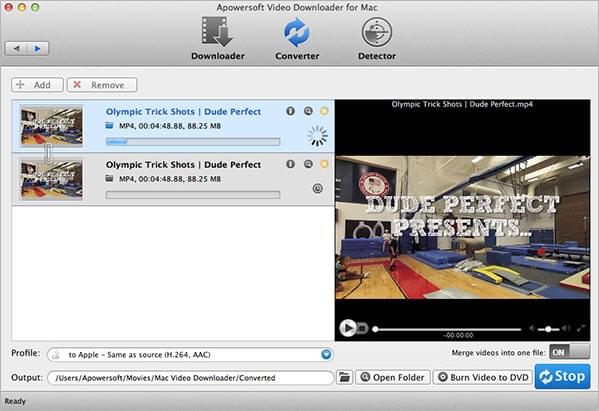 Aside from being a dedicated file converter compatible with the latest version 10.11 of Mac, this program can likewise download online videos. It can grab clips from YouTube, Vevo, Dailymotion, Vimeo, Blip TV, Metacafe, Liveleak, Hulu and more. You can also edit clips using its smart video editing tool.
How to play an MKV file on Mac is possible using the above free players, online converter and premium software. Depending on your needs, you can opt for open-source ones or go professional with all-in-one Mac software.