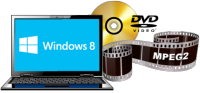 Whether you purchased a new Windows 8 computer or escalated your computer to the latest Windows 8 OS, you must have been disappointed to find out that it cannot play a DVD any more. It may be weird that Microsoft has cancelled the function of playback DVDs natively in the new version of Windows. Microsoft explained that most people stream movies on the computers over the Internet so DVDs are old-school tech that is no longer needed. Whatever the reason is, DVD playback is found nowhere on new Windows version. Well, regardless of the undisputable fact, people who have the demand of DVD playback can still acquire multiple methods to play DVD on Windows 8.
How to play DVD on windows 8?
1. Use a feasible converter
2. Use a third-party media player
3. Use Windows Media player
Method I: Extract video stream from DVD for playing
Windows Media Player is a self-carried media player of Windows OS. People who are used to playing back their DVDs directly on the Windows computer must be familiar with it. This video player was in support of playing DVD files at one time. But now the removal of DVD playback would more or less results in inconvenience. Concerning its negative influence on most people's habits, here we've collected one of the simplest ways to play DVD on your Windows 8 computer. That is to convert the DVD file to WMP compatible formats, like WMV, AVI, and MPEG, etc. To accomplish that, we have to select a powerful video converter. The one highly recommended to use is Video Converter Studio, a very useful program which can help you play DVD on Windows 8. Here are the details:
Download and install the program.
Hit "Add" to import the DVD files.

Click on the "Profile" field to select the preferred output format from the pull-up list.
Choose an output folder for placing the converted DVD and hit "Convert" on the lower right corner to start.
Inarguably, this video converter maintains the original quality of the converted DVD. Users are able to merge DVD fragments into one piece via it, which could ensure you a continuous video play without interruption. If you feel reluctant to go that far or spend too much money to get a DVD playback device, try it to enjoy your DVD collection.
There is no doubt that VLC is a free and open source multimedia player among others on the Internet. That VLC supports a wide range of video file formats makes it fully deserve the title of windows 8 DVD player. Truth be told, the steps to add DVDs to VLC for playback on Windows 8 are pretty easy.
Go to VideoLAN to download and install the licensed VLC media player.
Run the VLC media player on your Windows8 PC.
Click "Media" on the upper left corner and choose "Open Disc…" from the dropdown list to upload your DVD files.

After importing the DVD file, hit "Play" on the lower right corner to enjoy your DVD.
You can set up VLC as your default media player if there are other media players running on your PC simultaneously. The next time you insert the DVD disc, the DVD will be launched in VLC automatically. You won't need to duplicate "Open with" action whenever you play back your DVD files.
Method III: Windows Media Center
Along with removing the function of DVD playback, Microsoft also separated the Windows Media Center interface and capabilities from all default versions of Windows 8, which implies if you only have the standard version of Windows 8, you cannot get a DVD player for Windows 8 within Windows Media Center before you spend $100 to upgrade it to the Pro version. The below is how-to-upgrade guide:
Go to Control Panel and you'll be brought to a new window.
Click on "System and Security" and choose "Add Features to Windows 8".

Select "I want to buy a product key online" and finish the purchase process to obtain the Windows 8 Pro product key.
Your PC is escalated to Windows 8 Pro after going through the above process. Then go back to the screen of "Add Features to Windows 8" and choose to purchase the Windows 8 Media Center Pack for $9.99. Congratulations, you'll have access to the Windows Media Center application to play DVD on Windows 8 once the Windows Media Center Pack is installed completely.
Summing up
All three approaches perform great for playing DVD on Windows 8 but the main thing you need to look out for on a few of them is the extra fee, say, the upgrade fee for Windows 8 Pro. So check out the aforementioned one that is the best for you.