Easy to Access Background Adder for Photos
Apowersoft Background Eraser
Apowersoft Background Eraser is a powerful app that will allow you to have fun editing your photos. With its simple interface, you can remove background automatically with its AI technology giving you a precise cut-out. Moreover, Apowersoft Background Eraser is a good background changer wherein you can have ready-to-use templates and solid background colors or upload your own background design. Also, you can save high-resolution photos without a watermark in PNG and JPEG file formats quickly and easily.
Have this background adder to have an amazing photo.
Open the app, tap the "One-click Cutout" button to upload the image that you need to edit.

The app will automatically process your file giving you a transparent result.
Next, select "Background" and choose the template that you want for your photo.

Once done, tap the "Save" button.
Photo Background Changer
Photo Background Changer is a relatively-known and effective photo background editor app that can give you satisfying results. With its astonishing photo background eraser tools, you can perfectly cut out the background from its subject clearly. This image background adder offers pre-set creative backgrounds and plain colors that you may add to your transparent subject.
Here are the simple steps that you may follow with the help of Photo Background Changer.
Download and install the app from the Play Store.
Run the app, select "Background" > "Gallery" to load the image that you will use.
A new interface will come out with a transparent background, tap "Backgound" afterward.
Under the theme that you like choose the template that you like best.
Once done editing, hit "Apply" > "Save".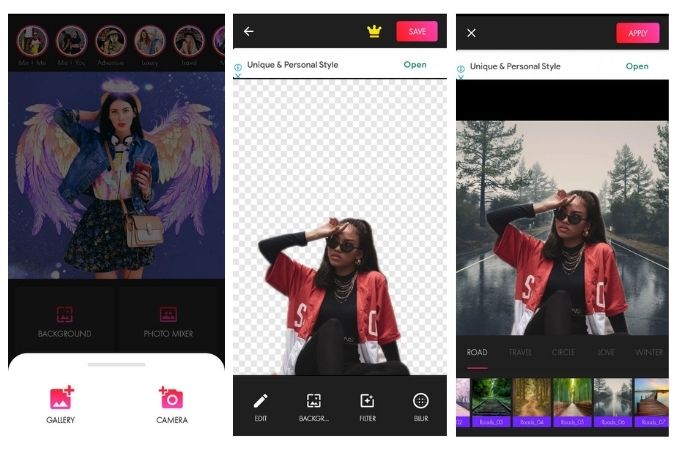 Automatic Background Changer
This background adder for photos will enable you to easily edit the background of your photos. The Automatic Background Changer app does what its name suggests. It can erase background from photos and remove unwanted objects. Then, you can change the picture background with one of its prefined templates or replace it with your own picture.
See the steps below
Go to the Play Store to download and install the app on your mobile phone.
From there, directly get the picture that you want to change the background.
The app will eliminate background automatically.
Next, just select the new background.
Hit the "Download" icon to save your work.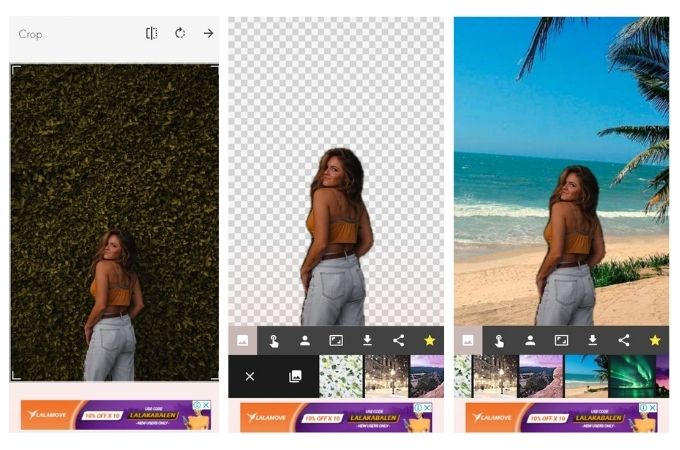 Magic Eraser
Magic Eraser is a background adder that you may try on your iPhone. No need to ask for a professional to help you out on this task. Remove the background from any picture and add your own by just uploading it directly from your library.
How to add new background with Magic Eraser
Get the Magic Eraser app from the App Store and install it on your phone.
Start by uploading the picture by tapping the "Photo" icon.
Use one of the removal tools and manually highlight the unwanted background.
Then, go to the "Edit" section to add a new background for your picture.
Once done, save your work by tapping "Save".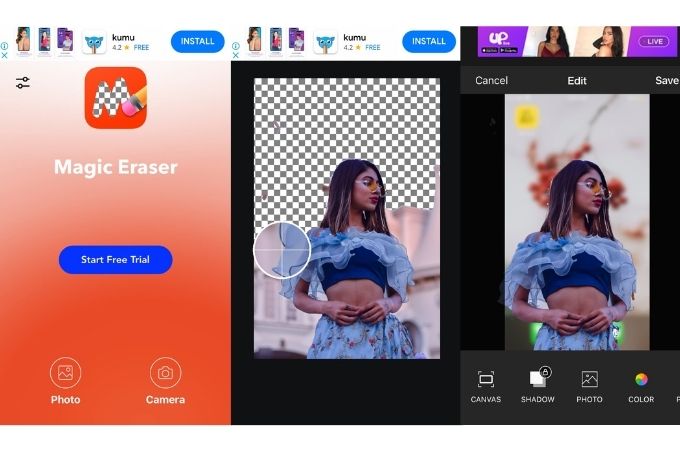 Background Editor
One of the famous image background adder that you may try on your iOS phone is Background Editor. This free image editing and photo montages is using different tools that can make your photo background beautiful. With its removal tools and ready-to-use background, you can have a picture-perfect photo.
Follow the guide below to add new background.
Look for the Background Editor on the App Store.
From the interface, select "Change Background" to have the photo.
Manually highlight your subject using its "Color Subject" tool.
Once done, tap the checkmark icon to select a background.
Finally, save your work by downloading it directly on your phone library.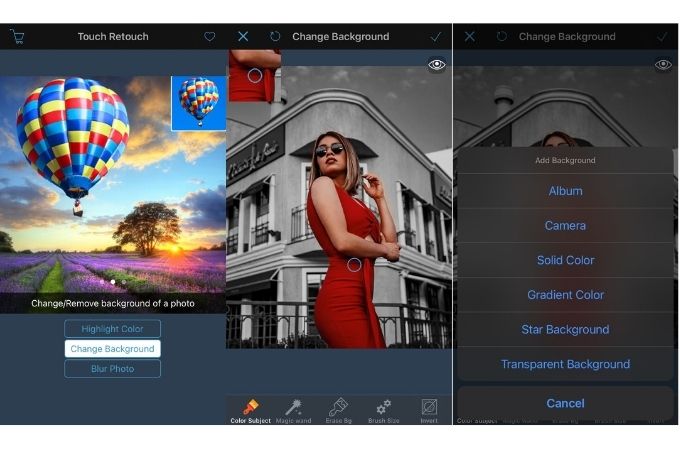 Conclusion
These background adder for photos are definitely reliable in creating your photos to the next level. You can try all these apps and choose the one that will meet your preference. Among these five apps, Apowersoft Background Eraser has the most positive reviews. But still up to you which app you will use in adding new background for your photos.