Online Sites and Useful Apps to Change Signature Background to White
Top 3 Mobile Solutions
Apowersoft Background Eraser (Android & iOS)
Apowersoft Background Eraser is an app for Android and iOS users that you should try using to change the signature background to white. The tool is capable of automatically removing – background or objects from any picture without any difficulties. After that, you can actually personalize the background of the picture and design it according to your liking.
Open the app, tap the "Remove Logo Background" button to import a photo.

Then it will eliminate the background of your signature.

Tap the "Background" to pick white color for your background.

Once satisfied, hit the "Save HD" button to save it.
Note:
Apowersoft Background Eraser is also available on Windows and you can have 100 images as a giveaway. Visit this page to try it.
BackArt (iOS)
For iOS users, you may refer to BackArt, an application that allows you to change the signature background to white with ease. This app offers several plain color backgrounds including white and background editing tools such as replace, preset, and size. For those who want to learn how to use it, follow the steps given below.
Go to your App Store to search for the app and have it installed.
Tap the "Select Image" icon to import your picture signature.
Then this app will show a cut-out photo, tap "Background Editing" to choose the white color that you need.
Hit the download icon to save the edited photo.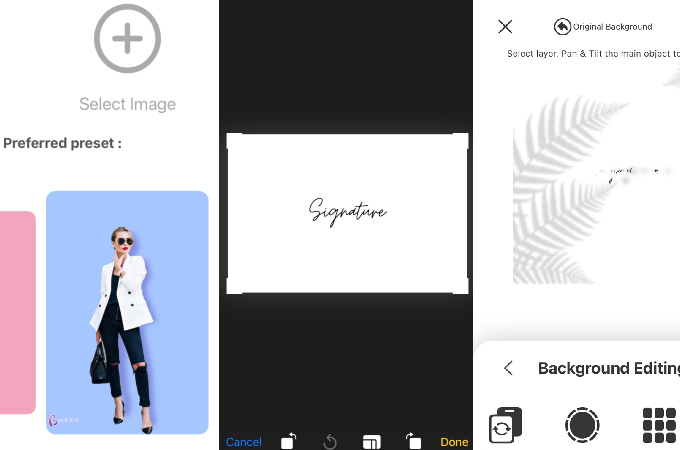 Remove BG (Android)
The tools needed won't be complete without Remove BG. It can change the signature background to white without hassle. It is well-known because of its ability to perform well in changing background and making a transparent photo. Check the steps below to learn how to use this app.
Visit Play Store on your Android device to install the app.
Tap the "Cut Out" button to import a photo.
Then use the "Eraser" icon to eliminate the background.
Next, hit "Background", then adjust the color palette till you get the color white.
Lastly, click the check-mark icon to save it.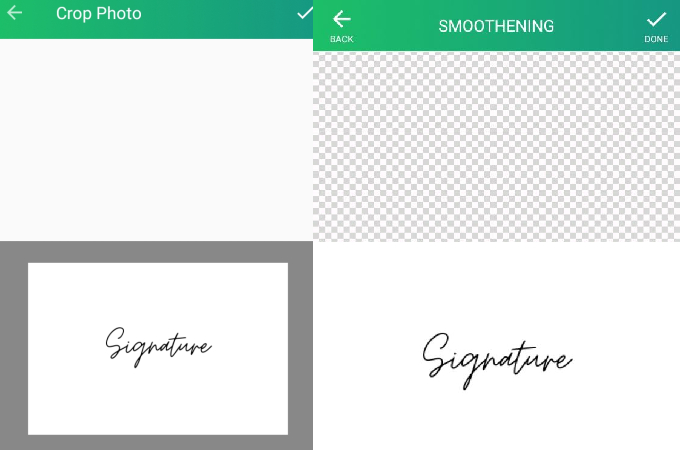 3 Best Online Solutions
Apowersoft Online Background Eraser
In a mere instant, you will have a white background signature. This online site can remove background in one second, and allows you to change it with a solid color background. With its intuitive interface, the process makes it easier and no hassle.
Main Features:
Automatic and manual background removal
Built with solid background colors
Follow these easy-to-follow steps listed below.
Go to its official site and click the third tab to upload your signature photo.

Then it will make your background transparent instantly, and click the "Edit" button.

Once satisfied, click the "Download" button to save it on your device.
Remove.bg
Next on the list is Remove.bg. This tool is designed specifically for changing background, and lets you easily change the signature background to white. It comes with more than one plain color background and creative backdrops that can be applied to your cut-out image with ease to make it more attractive and creative. Here's how you can use this simple and useful online site.
Visit its official site and click the "Upload Image" to upload your file.

Wait for it to make your background transparent.

Then click the "Edit" > "Color" button then pick the color white.
Clipping Magic
As its name suggests, it will magically remove image backgrounds that allow users also to make the signature background white. It is fully automatic with the auto-clip AI background remover and provides a smart editor that gives you complete creative control. Furthermore, it requires you to avail of the subscription plans in order to save them successfully.
Click the "UPLOAD IMAGE" button to pick a signature photo on the device you want to edit.

You'll see the background in your signature photo has been removed instantly.

Click "Background" below and pick a solid color white.

To save it, click the "Ok" and "Subscribe to Download" buttons.
Conclusion
The aforementioned online tool and smart apps can help you change the signature background to white easily and fast. Among them, the most suggested tool is Apowersoft Background Eraser. Not only it is easy to use, as well as no ads showing and reasonable subscription plans, unlike the rest solution. However, if you have a tool that works the same, please don't hesitate to drop it in the comment section for further review.
Download