Simple Methods on How to Edit a Picture to Make it Less Blurry
Apowersoft Background Eraser
Blurriness will be fixed with this amazing app that you may have on both Android and iOS. Apowersoft Background Eraser is an AI-enabled app that can enhance your photos in an instant. You don't need to work manually in this app for it will automatically process your files and give you spectacular results. Its powerful feature in unblurring images will make your photo editing effortless and will not consume your time.
Here are the 3 simple steps to make pic less blurry with Apowersoft Background Eraser.
Open the app, choose the "Blurry Portraits Cleaner" and load your blurry photo.

Then, the app will immediately present to you the processed result.

Just hit the "Save HD" button to save your clear photo.
Remini
Another app that you can rely on in enhancing your images is Remini. This versatile app uses state-of-the-art AI technology that turns your photos clearer compare to the original one. With this app, you can unblur, restore, and enhance any type of images you want without any hassle. However, this is a paid app to fully access it without any limit.
To successfully make a picture look less blurry, follow these simple steps below.
Download and install Remini from the Play Store or App Store.
Start by uploading your photo from your phone library.
Then, choose "Enhance" to process your file.
After that, tap "Save" to download your photo.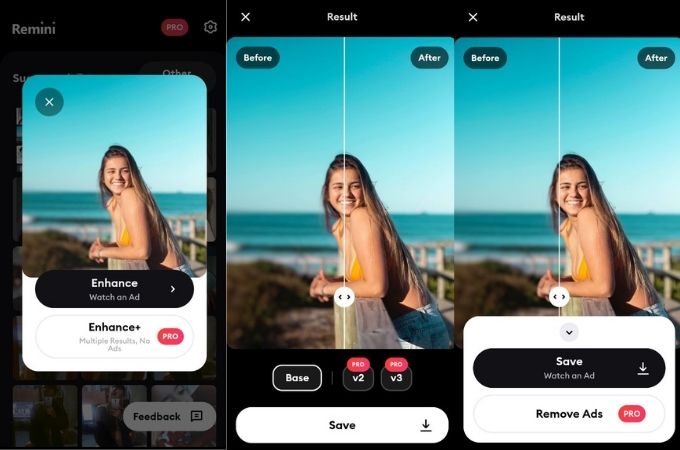 MintAi – Photo Enhancer
Powered by AI technology, MintAi is one of the best apps that you may have on your mobile phone to fix your blurry pictures. This app cannot only make your low-resolution photos high-resolution but also can restore old photos. Besides, MintAi is specially made for you to learn how to make an image less blurry with just some simple taps. On the other hand, ads are kept on popping out while using this app.
Have a clear photo with the help of MintAi.
Get the app from the Play Store.
From there, tap the "Get Started" button.
Choose the "Photo Enhancer" option to upload the image that you need.
The app will automatically unblur your image, giving you the result afterwards.
Finally, hit the download icon to save your work.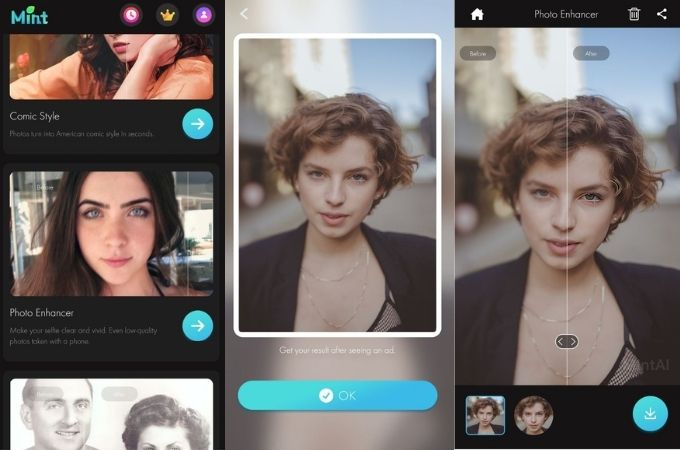 PicWish
PicWish allows you to unblur your photos in just one click. This 100% FREE web service tool claims to have advanced AI algorithms to automatically detect the blurry part of your photos. Learn how to edit a picture to make it less blurry and experience the beauty of your subject in its best clarity. With the powerful deblurring feature of this online tool, you can improve your out-of-focus or any pixelated photos.
Follow these simple steps to make your blurry photos clear for free.
Go to the official page of the photo enhancer tool.
Then, import your low-resolution photo by clicking the "Upload Image" button.

The tool will present a clear result, just click the "Download" button to save your photo.
VanceAi
Unblur your pictures in just five seconds with VanceAi. With its AI image sharpener feature, you can make pic less blurry. The tool will automatically fix your blurry photo caused by a shaky camera or poor-quality lens. Moreover, this online tool will clear uploaded images after 24 hours permanently, so you don't need to worry about your privacy.
Make low-quality photos to high-resolution with VanceAi.
Visit the official page of VanceAi on your browser.
Click the "Upload Image" button to get the photo from your computer library.

Then, select the mode that you need for your photo and hit the "Start to Process" button.

Once done, save your work.
Pixelied
Pixelied is an online tool that helps you to make a picture look less blurry. This web service tool can directly unblur your image on your browser. Enhance your low-quality image to high-quality for free. No need to have a complicated tool to enhance your photos. You can have it in just a few seconds with Pixelied.
You can have a high-quality photo with these simple steps.
Open your browser and look for the official page of the tool.
Click the "Upload Your Image" button to get your blurry picture.

Manually adjust the basic adjustment tool to have a clear result.
Once satisfied, hit the "Download" button.
Conclusion
If you wanna learn how to make an image less blurry, the Apowersoft Background Eraser and PicWish are highly recommended. They come with advanced AI technology and a simple interface that everyone can use. But it is still up to you which one you will use to have clear photos. Share with us your experience in using these tools in the comment box below.