4 Tools to Make a Quote Image
Quote Creator
User's rating: 4.5
System requirements: Android 4.1
Size: 45 M
Quotes Creator is an Android app that can create a quote image, with which you can have your own wonderful quote images. It has built-in high-quality background photo, as well as 55+ unique fonts, and various collections of quotations written by great persons. Also, this app offers high-quality wallpapers and backgrounds in different styles, such as nature, love, space, artistic, floral texture, and more. Besides that, you can also add your own logo, watermark or QR code on your photo with a quote, and directly share it on your social media accounts.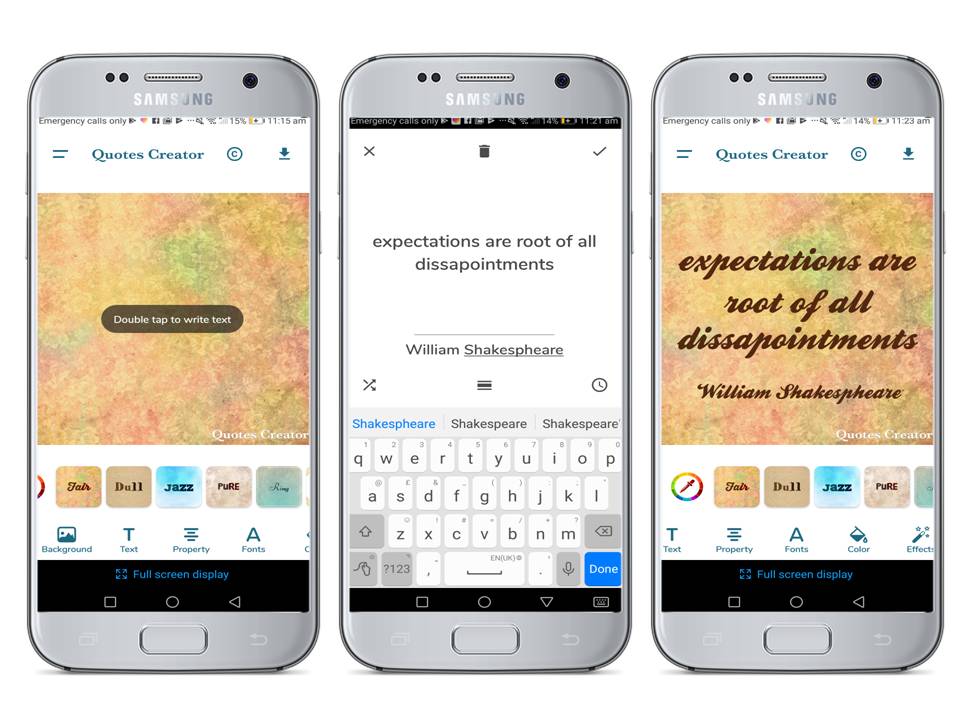 Pros:
It has a set of high definition background from its library.
More than 55 built fonts and background templates.
Users can add a shadow on text.
Cons:
You need to purchase to access all its features.
ImageQuote
User's rating: 4.7
System requirements: iOS 10.0 or later
Size: 33 MB
With ImageQuote, you can make a quote picture using your iOS phone. You can choose from its 20 superb templates and high-quality backgrounds to start. It will also allow you to import your own photos as backgrounds from your iPhone. Then you can adjust your background's hue, saturation, contrast, brightness, and blurriness. You just have to type your quotation and everything will be on control of this app.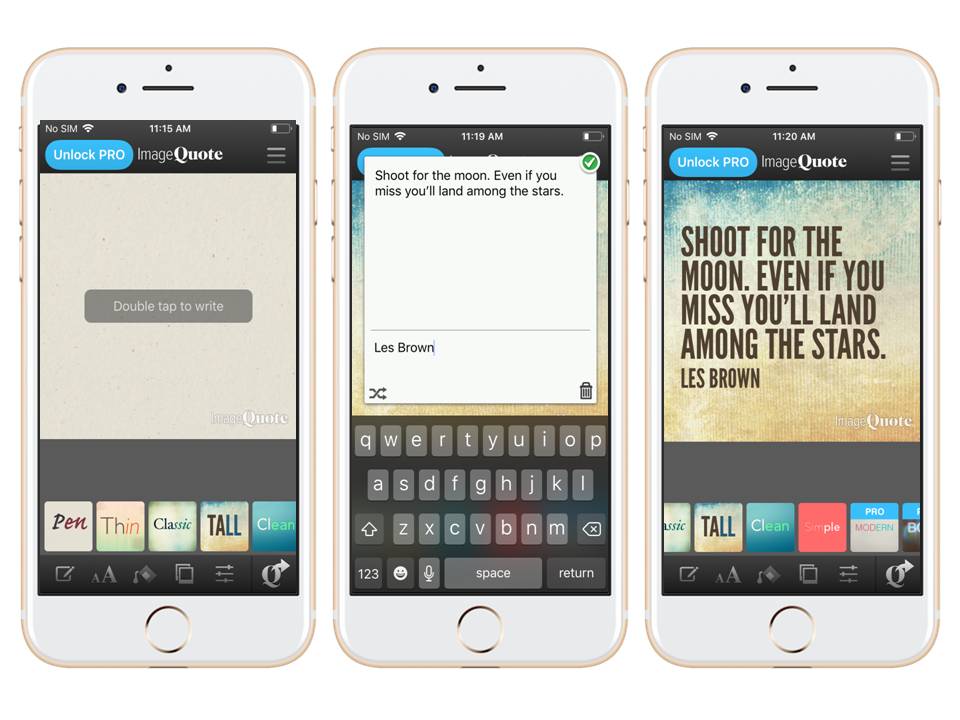 Pros:
It has 20 stunning designed templates.
50+ creative fonts that you can choose from.
Customize your own background and template.
Cons:
It is only available for iOS users.
Apowersoft Watermark Remover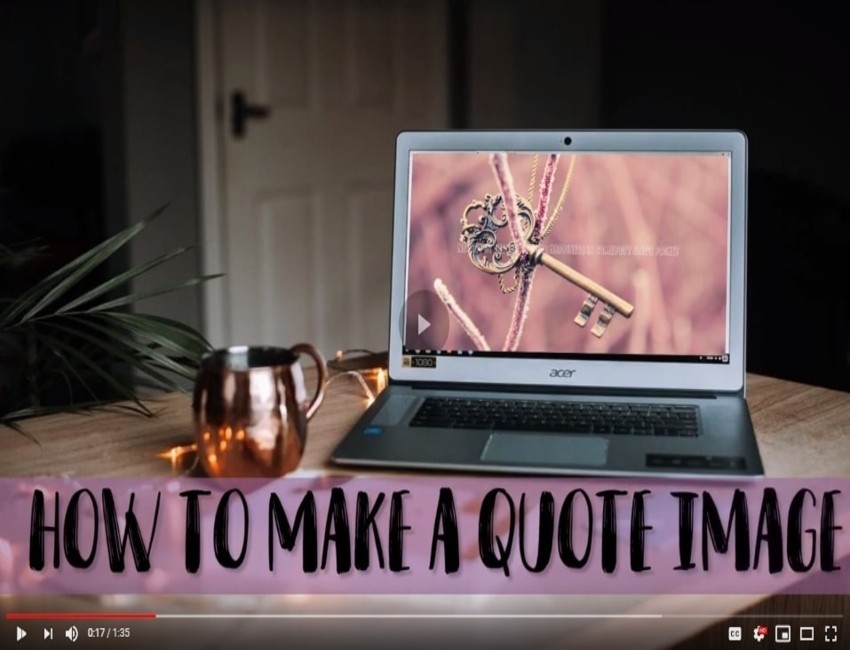 User's rating: 4.5
System requirements: Windows
Size: 1.64 MB
Apowersoft Watermark Remover is a professional watermark software that also lets you create your own beautiful inspirational quotes. This tool is the best quote picture maker that you can have on your desktop. By using it, you can upload your own stylish photo and write whatever you want with the built-in text editor. There're hundreds of fonts, including hand-writing fonts, fancy fonts, standard fonts, and many others. Besides that, it allows you to customize the font color, size, effect, location, rotation, transparency, etc.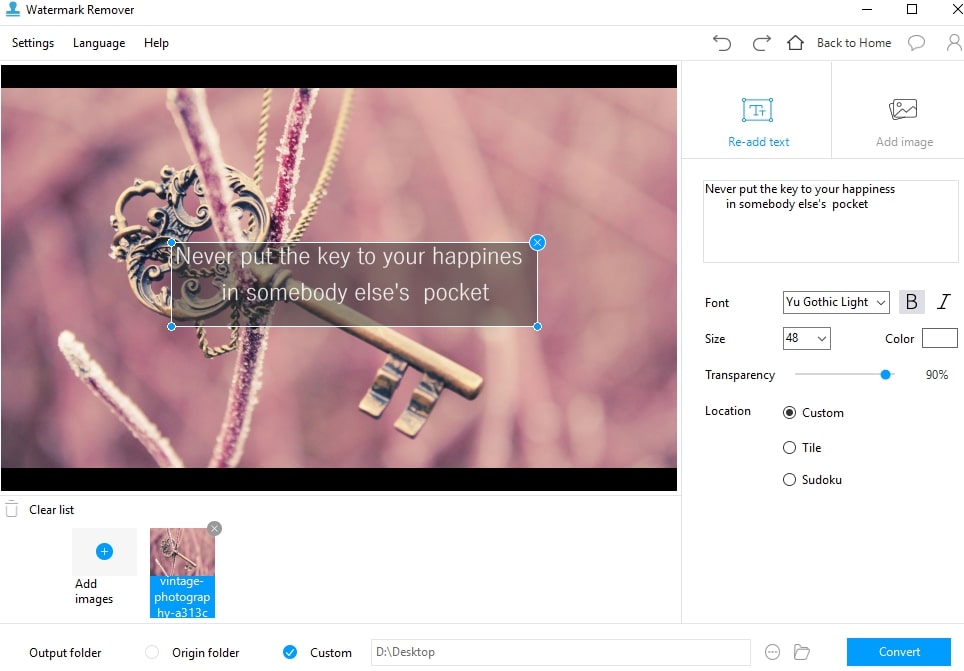 Pros:
Pre-made fonts with different font options.
It has a user-friendly interface.
You have full control of your quote picture.
Cons:
It doesn't have built-in backgrounds and templates.
Adobe Spark
User's rating: 4.5
System requirements: Online
Size: —
If you are looking for an online tool to make a quote image, you can use Adobe Spark, an online photo design website that you can not only create a quote image without downloading or installation of any software, but also design your social posts, banners, posters, etc. It provides as many tools as you want for create a stunning quote image.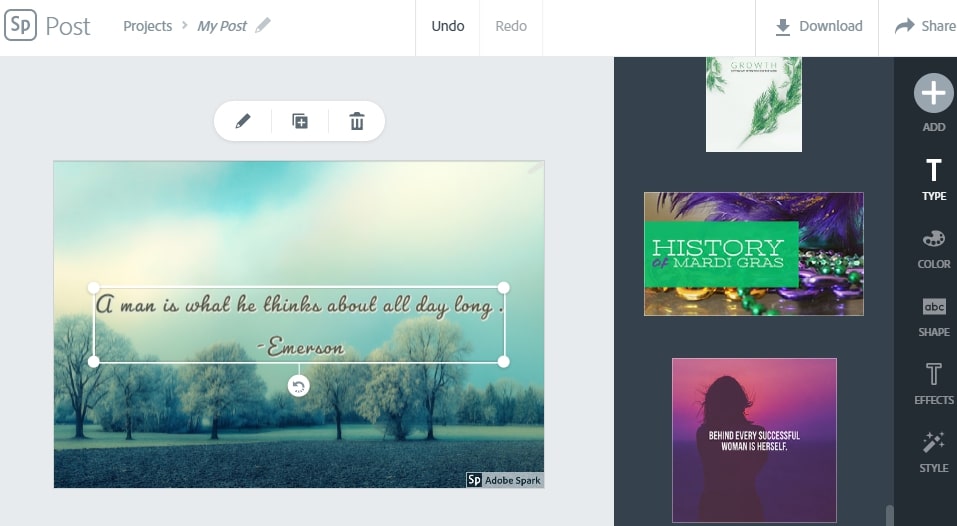 Pros:
Supports various photo sizes for different social media accounts.
Almost complete text editing features.
Cons:
It has limited features for free use.
Not easy to use.
Conclusion
Generally, all the tools mentioned above can create a quote image with just some few steps. You can have all these tools because they are for different platforms. If you know some tools that you highly recommend, don't hesitate to leave your comments below.