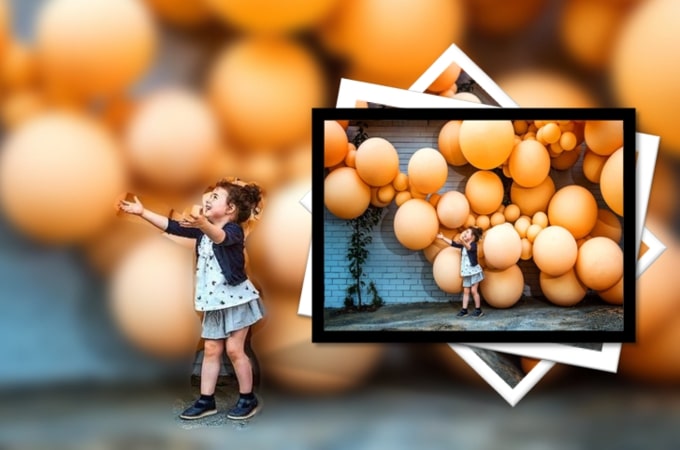 The blur effect is a common way to hide parts of the image that you don't want to show to your viewers. Also, it is a way to highlight the object that you want to emphasize in your photo. We know you probably don't want to waste your time looking for and testing the tools that can blur image background effortlessly. So here are some of the best ones that we sorted out for you.
Apps to Blur Image Background on Mobile Phones
Point Blur (Android)
Point Blur is an app for Android that can help you blur background of a picture quickly and easily. You can blur the background of your photo just like a professional photographer because it provides the mosaic and pixilation effects to blur the image. Not only can you blur the background, but also any unwanted object or person. After that, you can directly share the photo on different social media sites.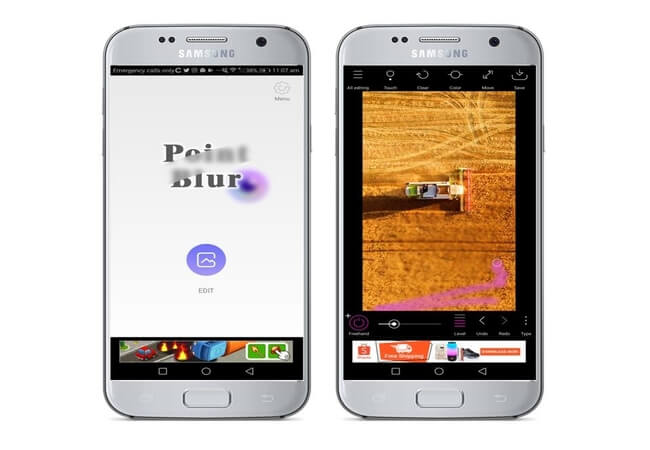 Pros:
User-friendly interface.
You have full control in order to blur your photo.
Cons:
The export quality is not the same.
Blur Photo (iOS)
Blur Photo is another blur app for pictures that you can use on your iOS devices. It is one of the most advanced photo-blurring apps, which has a magnifying box to identify parts of the photo that need to be blurred. In addition to that, there is a blur brush, as well as a magnifying glass, which make it easy to blur backgrounds, faces or any other content in of your photo. You just have to use your finger to touch the part where you want it to be blurred and the app will do the rest for you magically.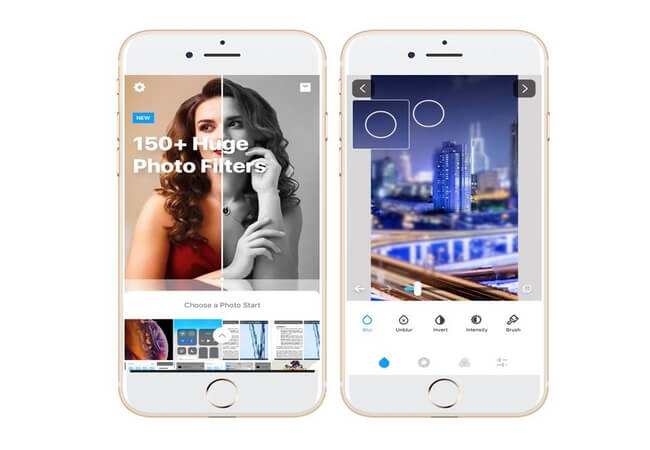 Pros:
It has a magnifying box to automatically detect the parts that need to be blurred.
It has advanced photo-editing features.
Cons:
You'll be asked to purchase the app if you want to save the photo
How to Blur Image Background on Computer
Apowersoft Watermark Remover (Windows)
Apowersoft Watermark Remover is a powerful tool that can blur background of a picture. Although this software is usually used when removing a watermark and unwanted objects, it is also able to blur anything in the pictures with its three versatile selection tools. These are namely the marquee tool used for blurring the regular object, the lasso tool for selecting objects in free types, and the brush tool for selecting the whole background of the picture. Just upload your photos from your computer, select the part that you want to blur, and click the "Convert" button. Then, the files will be processed and saved within a few minutes. It also enables you to process pictures in batch.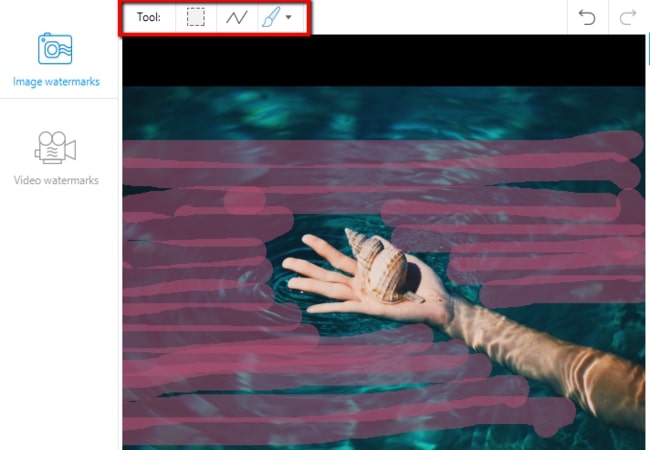 Pros:
Simple and easy to use interface.
Batch process multiple photos.
More choices to blur the picture.
Supports previewing the blur effect in real-time.
Output files maintain original quality.
Cons:
You cannot adjust the degree of the blur effect.
BeFunky (Online)
BeFunky is a great photo editor that can also help you to blur image online. You can blur the whole picture first and then use the "Paint" function to remove the blur effect of certain objects that you don't want to hide. And it allows you to set the blur intensity. The best part of it is the blur effect is completely free to use. After you blur the photo, you can also go to make some edits on it, for example, crop, rotate, add special effects, add text, etc. But some of these are only available as premium functions.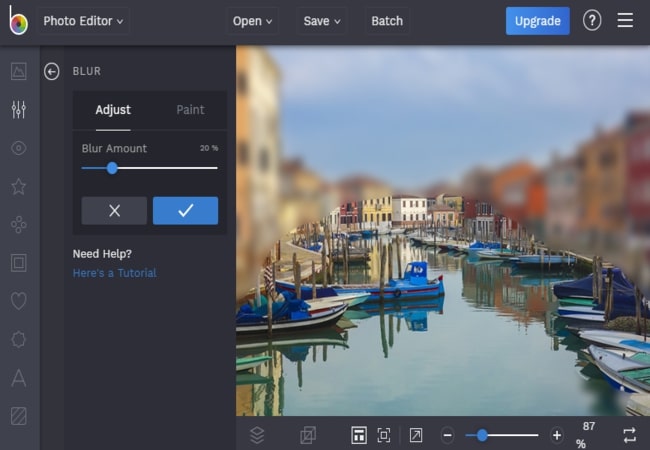 Pros
The blur effect is free to use.
Adequate helpful FAQs are available.
Many powerful editing functions are built in.
Cons:
Not all features are free.
Focus & Blur (Mac)
There are lots of creative ways to blur image background on Mac, and Focus & Blur is one of the best that you can choose. As its name implies, this software lets you professionally blur the background and add clarity to the important parts that you want to emphasize by simply adjusting the blurring effect of your photo. With the help of it, you can also add filters and overlays to the photo.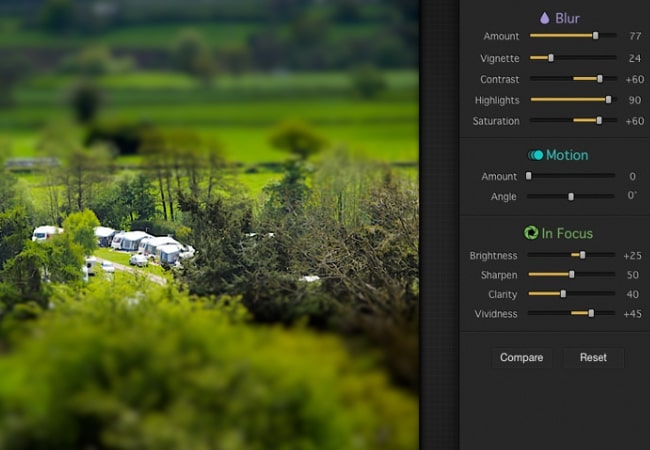 Pros:
Easy to use.
Supports a lot of photo formats.
Offers adjustment tools to correct the photo.
Overlays and filters available.
Cons:
Limited photo editing features.
Fotor (Windows, Mac, Android & iOS)
The last application we recommend is the well-rounded tool Fotor that works on Windows, Mac, Android and iOS. This tool allows you to blur photo background and leave focal points on the parts that you want in just a few clicks. It has two selection options, circle and tilt-shift, which you can use to control which part of the photo you will focus on. Besidesthat, Fotor also has tons of other photo editing functions, which can help you remove imperfections and make your photos look even more amazing.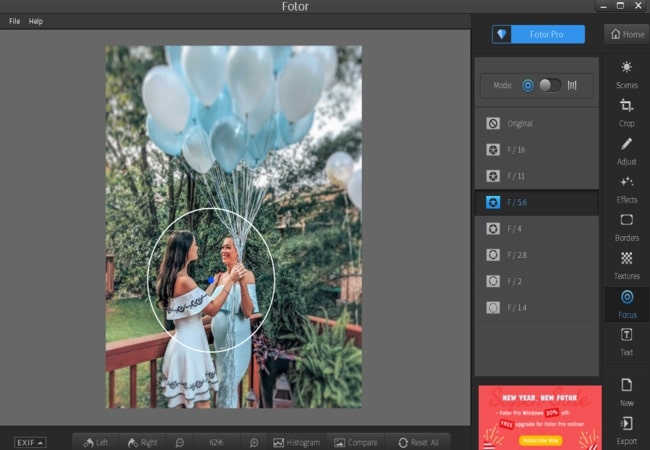 Pros:
Easy to use with self-explanatory icons.
Full photo editing features.
Cons:
Payment is required to access its more advanced features.
Conclusion
Those are the best tools that you can use to blur an  image's background. Each tool that was mentioned above really works well, but they have own different features and functionalities. And to know which one really suits you best, you need to compare the features, pros, and cons based on your own needs. Let us know if there are any other applications you use or would like to know more about. We always welcome your comments below!