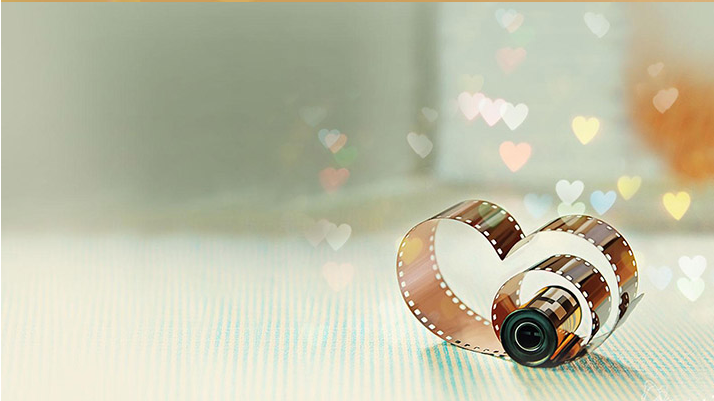 Have you ever desired to share or show something interesting to people around more actively, for example, with photos of elegant scenery, with display of selfies, or with a series of photos of all ages to indicate the trace of growup, etc? Even though photos are able to display happy time intuitively, it cannot convey cheerful atmosphere as compared to a photo slideshow since the impression that a video leaves on people are more vivid and colorful than a picture. If you just wondered how to make a slideshow with photos, here come 5 practical ways for you.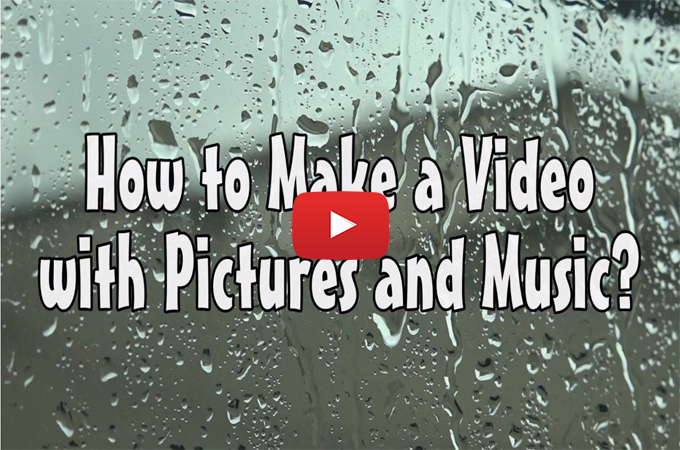 6 tools to make a video with pictures and music
Use LightMV
LightMV is one of the video editing tools you can use to create a video with images and music. Furthermore, it has a straightforward interface that lets first-time users produce a video with ease. Not to mention, this tool allows you to create a video for different purposes using its extensive collection of video templates. Besides that, you can enhance the video by adding text, filters, background music, and a lot more. In addition, you can also save the video in Full HD quality and share it with different platforms directly. See the steps below on how to make a video with pictures and music using the LightMV online tool.
Head on to the official website of LightMV and click the "Get Started" button to see all available templates.
Next, choose your desired template to proceed with its editing functions.


Tips: Click the picture below to watch this wedding template.

From here, click the "+" icon to upload the photos you want to add in the video.

After uploading photos, go to the "Change Music" option then click the "Add Music" to import the background music you want to use.

Finally, click the "Produce" button below to render the video. Once done rendering the video, click the "Download" button to save the video on your computer.
Utilize ApowerEdit
When it comes to photo video maker with music, ApowerEdit is also a wonderful choice to do this job. This program is generally known as an editing software for media files including image, video and audio file. Actually, since this tool comes with various transitions, special effects, stylish texts and layouts, it can also make a video with pictures and music. In the meanwhile, you can drag the favorite music to merge them together. The program also allows you to customize the music, such as adjusting volume, fade in and fade out. Below is the instruction of this video editor.
Hit on the button to download and then install it on your computer.
Launch the program and then add desired image files and music.
Select all pictures and right click them and then choose "Add to Project".
Customize the media project by adding text, transition, filter, etc.
Double click the texts and transitions to customize fonts, color, duration and motion.
Drag the music to sound track and then adjust it to fit the media file.
Click "Export" > "Export video" to generate the video.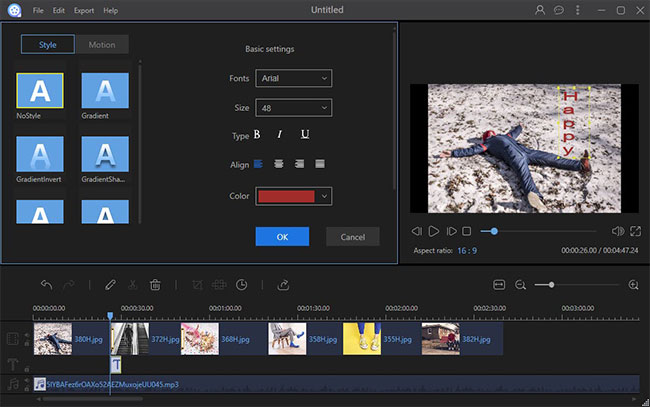 Use ApowerShow
Compared to other built-in photo video maker with song on Windows or Mac operating system or video editors released on the internet, ApowerShow might be the easiest tool to create a video with pictures and music. It comes with lots of interesting and fashionable themes along with background music. If you don't like the original background music, you may replace it by adding a new song from your computer hard disk. Without spending much time mastering the tool, you can start to make picture slideshow with it very effortlessly. Here are the guided steps you may refer to:
Visit ApowerShow and launch it online by clicking "Launch Online" button. Or click the Download button to get its desktop version.Download
Click "Add files" button or drag and drop files into the "+" area to import your pictures. Select the theme on the right pane and click "Play" button to preview the effect.
Click the second "Music" tab and "+ Add music" button to add the song that you would like to use as the background music.
Click "Export" tab, select the size as 1080P or 720P, then click "Export" button to output your work.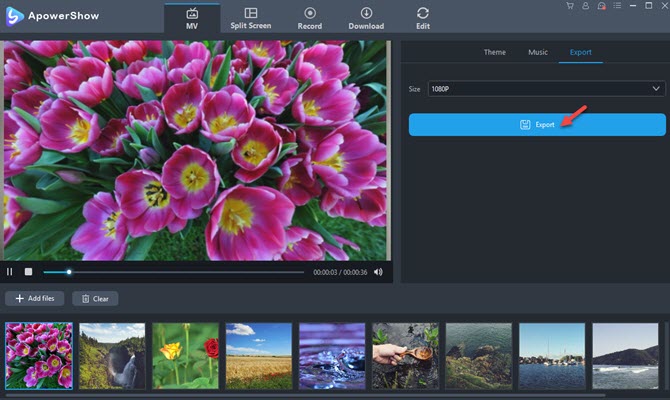 ApowerShow can also help you make split screen picture video. It offers you nearly 20 kinds of split screen styles which include one screen, two screens, three screens, four screens and five screens modes. Moreover, the tool has many professional-level filters allowing you to make your video more attractive and innovative.
Utilize the original application in Windows
There are so many helpful and useful built-in photo video app with music on Windows system and the Movie Maker is the best one, which is quite professional in making movies with photos. This software is very convenient to let users create movies with various features. If you do not have the Movie Maker in your computer you can download it from the official website. And then you can follow these steps to make a video with pictures and music.
Add videos and photos: Launch the software, directly drag your pictures or music into the main panel; or you can also import them by clicking "Add videos and photos" on the left top corner or you can find "Click here to browse for videos and photos" at right.
Make a movie: After the photos are loaded fully, you can adjust the order of those photos to make them appear within the sequence by dragging the photo to the place you'd like to put. Then edit the "Animation" and "Visual Effects" in the "Home" page. After they are all set well, click "Add music" to add background music.
Save it: Click the "File" button and choose "Save movie" – "Recommended for this project" after previewing the whole slideshow.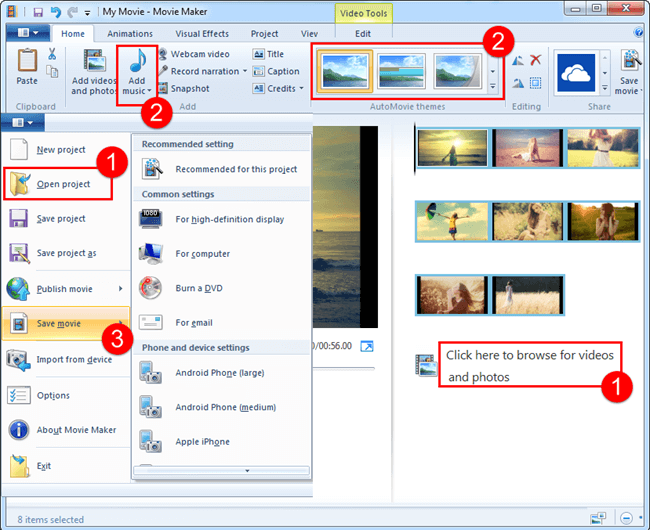 Windows movie maker is definitely a good tool to let you create a video with pictures and music on PC. However, it crashes sometimes when you are making some editing jobs. You have to save the project momentarily in case you lose your effort. If you don't want to suffer loss from any crash, it is wiser to choose a third party application.
Make use of Apowersoft Video Converter
To make up for the shortages of Movie Maker, many third-party applications promote themselves to decrease the limit of formats. Apowersoft Video Converter Studio is the one that improves itself to support various photo formats such as png, jpg, etc. And the music is also without limit of formats(music in M4A, MP3, WMA all supported to be loaded). Besides, it has 64 stylish transition effects such as bubble, ripple and small diamonds, etc and possesses more clear and friendly interface to make the process easier. Refer to the below how-to-use guide. Firstly you need to download and install it in your computer.
Add pictures: Open the software and choose "Make MV" on the top of interface, click "Add pictures" in the middle of panel or you can just drag pictures in.
Make a Movie: After pictures are imported, click the photo and add transition effect for each image under "Transition". Then hit "Music" > "Add music" to import the songs. By the way you can adjust the size and duration of pictures and click "Preview" to check whether it's suitable.
Save it: Hit "Save MV" to get your own picture video saved to PC.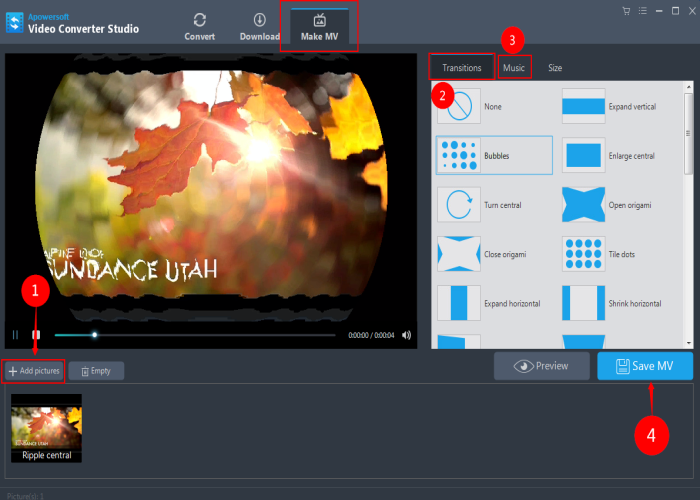 As a useful desktop application, Video Converter Studio can easily help you make videos with pictures and music. The default format the video saves is MP4. If you'd like to share it online or export into your devices, you'll need to transform it into other formats. You can just use this tool to make a conversion into various formats or devices. And you can also find a video editor in this application, with which it's easy for you to adjust saturation and brightness to make it more beautiful. Apart from the conversion and picture videos, it possesses an excellent online video downloader which makes it accessible for you to download every online video without any other plugins. What's more, it's completely available for Windows 10.
Make it by iMovie from Mac OS
As for the users in Mac OS, iMovie is a beneficial tool which helps to make a movie or a video. Cooperated with social websites like Facebook and Twitter, it allows users to share the result to these social network when they finish making a video with pictures and music. Now refer to the below how to create a video with pictures and music.
Open the software and click "Theater" on the top and click the "New" button to commence making a video.
Hit the "Import" button to choose the pictures and music you'd like to add in.
After importing the pictures and music, move the mouse on them until the "+" mark appears, and then click to add it.
The "CONTENT LIBRARY" in the left lower corner allows you adjust settings of the photo video. When you complete it, click "Share" button on the right top corner to export it.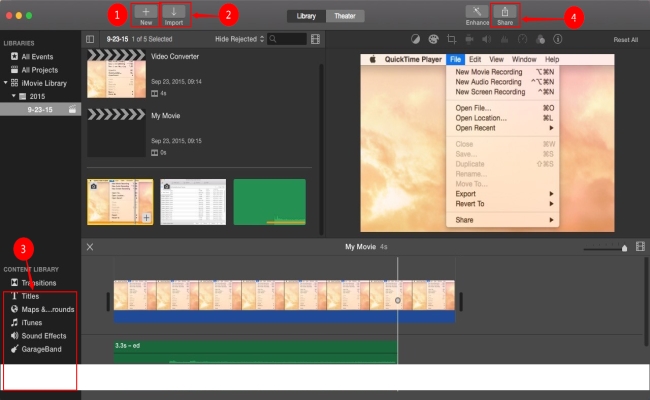 Currently, iMovie only supports to output videos in MOV format. If you want to make the video you made available for devices or websites that do not compatible with MOV file format, you'd better convert it to a more popular format otherwise it's impossible to play it on your devices. Or if you are not a Mac user, this one is not usable for you as well.
Summary
These five methods above are all available for users to create a video with pictures and music. Get the suitable application after you read this article. Although using built-in software is good in the ideal state, yet a third-party application can exactly help you more. When you use the Apowersoft Video Converter, it's available for you to not only make a wonderful video but also convert or edit it. So it's a better choice indeed.