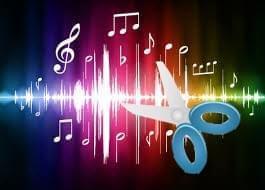 Splitting tracks from an audio is a common activity that we tend to do if we want to rip directly from a CD or DVD, or even downloaded a whole album from a music sharing site where all tracks are integrated in one huge audio file. Things like that can be seen a lot in our daily life, so when we want to split audio file for one day, we need to get enough preparation for that.
Seriously, this process can be complicated if you're going to use an unappropriate program, because there can be different screnarios where we need to split audio tracks. It may be split an long audio file into separate tracks, or may be split audio track from a video file. No matter which side you belong to, the problem can be easily solved as long as you get the right tool.
How to Split Audio File into Tracks?
In this instance we are going to use a convenient online tool named Online MP3 Cutter. By using it, splitting audio files can be done in three simple steps, that is, Open file, Cut and Save. When you cut the part you want, click Save button, and then there is a download link for you to save the split audio track onto your computer. By now, it supports output audio formats like MP3, AAC, WAV and AMR. And it can be used for making iPhone ringtone if you want.

How to Split Audio Track from a Video File?
Unlike the first situation talked above, this time we are going to separate audio tracks from a video clip. To give you more options, we have two powerful software for this event. The first audio file splitter that you can utilize is the Streaming Audio Recorder, and the other is the Apowersoft Video Editior.
Streaming Audio Recorder
Yes, Streaming Audio Recorder actually is an audio recorder, but it is packed with the functions that we can use in splitting tracks. You don't have to convert video to audio format, but can directly load your video file to split by clicking Audio Editor from the Tools option. After selecting the part you want, you can export it as MP3, WMA, WAV, OGG and AAC. Except splitting audio files from video files, this program also has other functions, like record audio, convert format, burn to CD, listen to Internet radios.

Apowersoft Video Editor
Apowersoft Video Editor is a professional editing software for video and audio. To rip the audio from the video clip, you just need to drag and drop the video file into the timeline. After that, move the cursor into the video and hit right click and opt for Audio Detach and the audio file from your video clip will be instantly shown in the music timeline. Now delete the video track of the timeline since it is separated from the audio. Locate the portion of the audio that you want to split using the control markers, and cut it. And to finalize it, hit the Create to split audio file and save it into your computer's hard drive.

Which audio format to use?
I bet many of us are confused to which audio format to select since there are a bunch of them. There are some explanations around the net, but they seem to be too hard to understand. However, to help you guys out, we generally recommend audio file type such as MP3 and AAC, since these are the formats that are widely compatible with every portable device and gadgets that are out in the market.