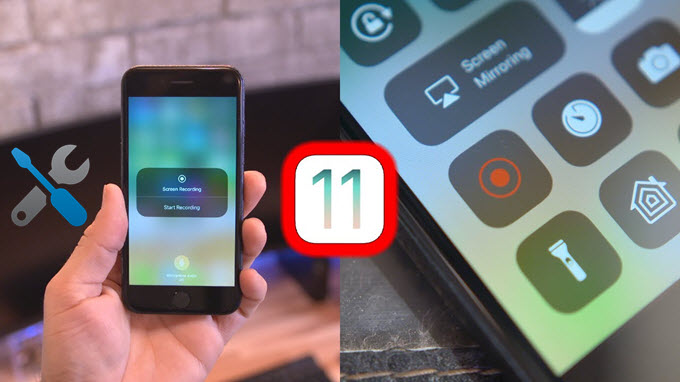 Even though the Beta version was out several months ago, the final copy of the iOS 11 was made available to all iOS users just couple of days ago. Apple did a major makeover on this new iOS version since it brings a new look with a lot of features that includes the screen recording attribute. However, there's an issue with iOS 11 screen recording not working. If you are one of those experiencing the problem, then don't panic, instead go through this post and learn about the best ways to fix these issues as it is specified throughout the article.
5 Tips to Fix iOS 11 Screen Recording Not Working
Before thinking that it's a bug related problem, it's better to check out these tips that might solve your problem.
Screen Recording is Not Enabled
We all know that the iOS 11 screen recording feature can be accessed at the Control Center. But what if this function is not available upon swiping into your Control Center? Well before bashing the iOS 11 on social media you might want to check if this screen recording function is enabled. In order to do this, go to your device's "Settings" and then select "Control Center". Now choose "Customizable Controls", where a list of applications will be shown, in which you can look for "Screen Recording" and add it. You will then notice the screen recording toggle will be added instantly to your Control Center.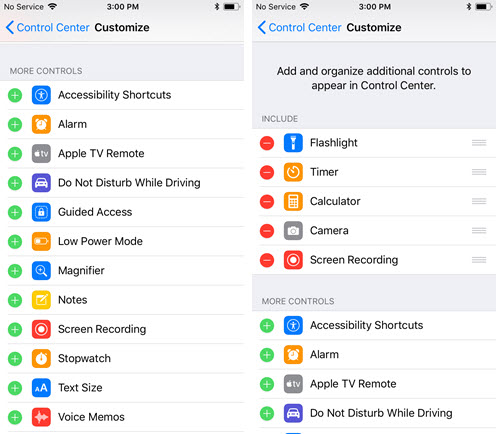 Screen Recorder Crashes on iOS 11
If you experience that screen recording not working on iOS 11, then you should better check your device model whether it supports or can handle such update. Since iOS 11 is created based on newly created platform, some earlier devices might not work properly on this platform. Some of the Apple devices that are not compatible with this update include the iPhone 5, iPhone 5C and those that were released earlier.
If you insist on installing the iOS 11 update, your screen recording will be compromised thus leading into recording crashes. To fix this, simply get a newer model than the ones shown above or find alternative iOS screen recorder for using.
iOS 11 Screen Recording No Audio Issue
If all of a sudden you notice that your recorded clip is muted then you might have just turned off your microphone by accident. Maybe you're not aware of this yet, but the new screen recorder gives various options whether to record the audio and video or capture video alone. Now to solve this issue, simply re-do the recording but this time tap the "Microphone Audio" and make sure that it's enabled.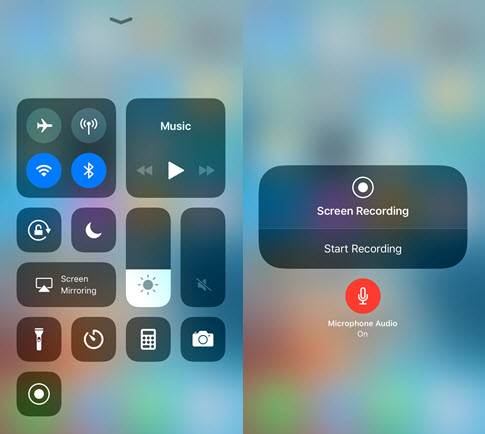 iOS 11 Screen Recording Not Saving to Photos App
If you have problem with saving your screen recording or the screen recording does not allow you to save what you've just recorded, then there might be an issue with your memory storage. To check if you have sufficient memory, go to "Settings" and then pick "General", under it tap "iPhone Storage". If you find out that your storage is almost full but don't want to erase anything at the moment, you can try saving your captured video on iCloud, or save it to your computer.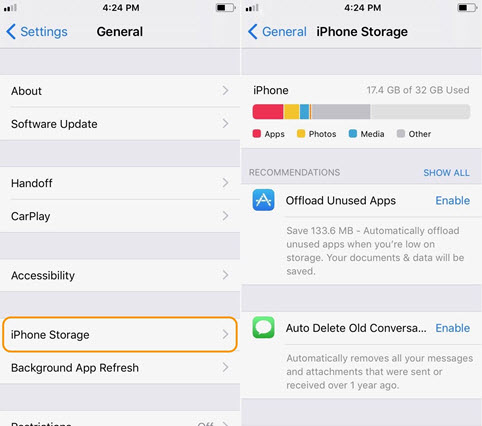 Overheating issue When Recording Screen on iOS 11
If you notice that your Apple device suddenly becomes very hot while you are recording screen, then here are some things that you can do to stop this from happening. Firstly, turn off your Bluetooth and GPS service while recording. Secondly, unplug your iPhone if you are charging it and wait until it cools off. The third option is to reboot your iPhone and start with your recording all over again. If the problem still exists, you can visit your Apple repair center and have your phone checked.
Alternative Option to Native iOS 11 Screen Recorder
On the other hand, if your iOS 11 screen recording doesn't work in spite trying all of the solutions given above, then you can try an alternative way of recording your screen using Apowersoft iPhone/iPad Recorder.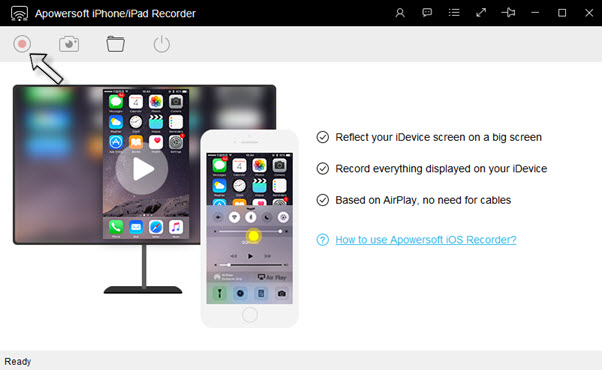 This tool will work on all Apple devices and it's compatible with the latest iOS 11. By using this program, you will get a screen mirroring, screen recording, and screen capture function in one.
Why Choose?
You will instantly eliminate the possibilities of overheating as the app isn't installed on your device and it won't affect your performance especially when you are playing games.
Your screen recording will also be saved directly to your computer's hard drive, so not having enough phone memory is not an issue anymore.
It supports additional video output formats including GIF and can easily choose audio input for recording in settings.
Those are the things that you might consider if you have trouble using the latest iOS screen recorder. Try to troubleshoot yourselves and if the problem still insists, opting for an alternative will also be a good choice.