Within Instagram
Instagram Reels videos are creative and fun to share on your Instagram account with your followers. To avoid limiting your video creation on Instagram, you can save or share it with another sharing site. You can download Instagram Reels video within the Instagram app by just following the steps below.
Third-Party Tools
Video Downloader for Instagram(Android)
Video Downloader is an Android app that will help you with how to download Reels video in just one click. This app will help you download the Reels video that you need by just copying its link. With this app, you can save fun Instagram Reels and re-share them to other social media accounts.
Insaver for Instagram(iOS)
Insaver is another app that can download reels video. This app is for all iOS users out there. You can save Reels video automatically just by copying its link from Instagram. In that way, you can keep your videos and also images stored in your phone gallery.
Instavideo (Online)
If you are looking for an online tool to download Instagram Reels video, you should try Instavideo. This free web service simply requires the Reels video link that you want to download and it will do the processing. It is hassle-free and its interface is easy to use for anyone.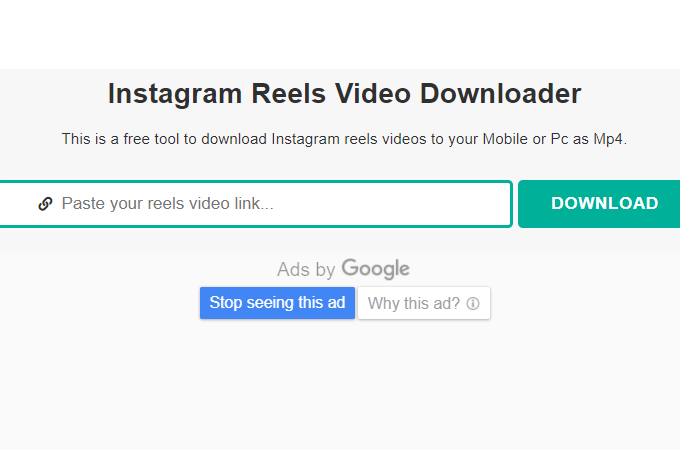 Remove Watermark from Downloaded Reels Video
To fully enjoy your Reels video and share it with other social media sites like Facebook, Twitter, WhatsApp, and more, learn how to remove Reels watermark with just a simple guide.
Apowersoft Watermark Remover is a desktop program that will help you remove watermarks from Reels video in a few seconds. It uses a blur and a smoothing technique to delete the unwanted watermarks not only from Reels video any other videos with unwanted objects.
Note:
Apowersoft Watermark Remover is not only for Windows users, but this tool is also available for mobile and online.
Conclusion
Knowing how to download Instagram Reels video is actually quick and easy. With the tools listed above, you can finally save your fun Instagram Reels video and share with other social media platforms. What's more, with the help of Apowersot Watermark Remover you can have your video free from any unwanted watermarks or objects. Share with us your experience in using these tools in the comment section below.